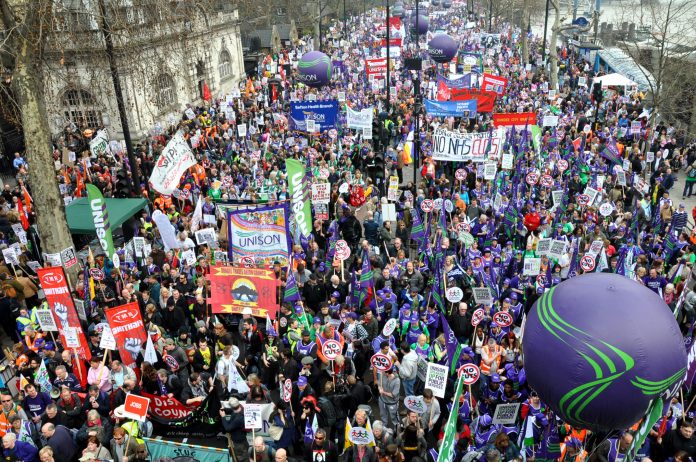 OVER half a million trade unionists and youth from every town and city in Britain joined Saturday's TUC march against the savage spending cuts.
The March For The Alternative assembled near parliament on the Embankment as thousands and thousands of people streamed across the bridges over the River Thames.
Stephen Collins, a member of the National Union of Teachers from Dorset, said he was marching to stop the state education system being dismantled.
'If you're stripping it all out, you're going to lose everything,' he warned.
Sandra Smith, a mental health worker and Unison member from Bromley, said: 'I've come to march because of a pay freeze for two years.
'They're messing around with my pension again, education, uni fees.
'My son is marching with me. He's a graduate and can't get a job and the large corporations don't give a damn – gas, electric, telephone, petrol. That's my say.'
Kevin Forsley, from Middlesbrough, said: 'I've come out of university and I can't get a job. All I get is a pittance as a freelance photographer.'
Chris Sparksman, a mental health advocate from Lowestoft, said: 'I'm here because my clients are going to be really badly affected by the cuts.
'People with severe mental health problems risk being left destitute. That happens now, but the situation is becoming worse because there are less people to plug the gaps.
'We're facing a 30 per cent cut over the next three years and we're a small charity, so that's a lot of money.'
Shareen McLean, from Hackney Young Socialists, said: 'The government need to go. Like Margaret Thatcher, she had to step down. They need to step down, they need to come out.'
Rosetta F Reeves, a Unison member from London, said: 'I think that the cuts are damaging our society and keeping back the youngsters who want to improve their education and are hindered by the rising costs and big bills. And I am disgusted by the cuts in the National Health Service, affecting nearly all areas of the community.'
There was a very big contingent on the march from the Chartered Society of Physiotherapists (CSP).
Davina Lambie, a CSP member from Norwich, said: 'I am really worried about the future of the NHS.
'It's already being privatised, and plus what they call savings but are really cuts are going to directly affect patient care.
'I think the unions should call a strike to stop the Health and Social Care Bill.'
Paul Kelly of Unite was part of the BAe Systems shop stewards contingent.
He said: 'We're just here to try and do something about the cuts.
'I'm from Liverpool and there are cutbacks in all social services and it's just bleak.
'We work at BAe Systems and we've just had our second load of redundancies in as many years.
'There's just not enough jobs. There's investment, but it's all in apartments and retail, make a quick buck and move out. There's no investment in manufacturing or industry.'
Kimberly Stapleton, a student from Liverpool John Moores University, who was also with the Unite contingent, said: 'There's no jobs for graduates and they're taking all the opportunities off people – the young people – when all these MPs, they've already got their degrees.'
There was a mass contingent of thousands of workers from the GMB union, carrying banners from all parts of the country.
Viv Smart, a GMB shop steward from Dudley, said: 'Our council are cutting jobs. There won't be any services left in the end.'
Viv added: 'I think things will happen from today. Trade unions are fighting in their own councils. I think it may come to an all-out general strike if the government don't listen to us.'
Paul Bissett, a full-time GMB officer for NHS and local authority workers in the Midlands and East Coast Region, said: 'I worked in the NHS for 19 years and I feel this government is going to totally destroy public services. They've told us that.
'We're here for a peaceful demonstration to show this country and this government we won't stand back and be beaten with these proposed cuts.'
Carolyn Murrell, a GMB member from Eastbourne, said: 'I'm a classroom assistant and I'm really, really worried about the cuts they're going to make. It will hit pupils and their education.
'Also about the health service – I'm very concerned we'll end up like an American system where we all have to insure ourselves.
'Stop them. Stop these cuts, stop these bankers taking huge bonuses which we're funding.'
Barbara Bethune, a Unison member from Waltham Forest, said: 'I work for the NHS and I'm really worried about the Health and Social Care Bill and the impact it's going to have on the NHS, particularly around the "any willing provider''.'
Student Anna Strhan and doctor Martin Block said: 'We believe the cuts aren't necessary and the government have no mandate for them.
'This is essentially George Osborne's plan. He doesn't have a mandate and it's immoral and it's affecting the most vulnerable people in society disproportionately.'
'I think a general strike is a good idea,' said Martin.
Mohammed Arshad, a Unite member from Lancashire, said: 'I'm marching to stop the cuts to frontline services for young people.
'I think the unions need to get more organised and get more vocal, not just in London but in all the major cities.
'The coalition definitely needs to be brought down. It needs smashing. It's not good for the country, it's not good for services and it's not good for jobs.'
As the march reached parliament, Lucie Smith said: 'I came from Cheltenham in Gloucestershire and we're losing four libraries and our youth service, which is really drastic. That goes in June. For the youth it's really tragic. I don't think this coalition will last long.'
There were many different placards on Saturday's massive demonstration including anti-war placards saying 'Hands off Libya'.
Libyan students protesting against the bombing of Libya by NATO forces greeted the march, chanting: 'No cuts for war!'
The marchers went past Downing Street towards Trafalgar Square, which was already full of people.
'General Strike now' was chalked on the road in Whitehall.
Among the demands on placards were: 'Fight all cuts', 'Cut Cameron and Clegg', 'No cuts in social services while RBS get £950 million bonus', 'Don't Hit Welfare and Jobs to Spend Billions on Trident', 'No Cuts', 'General Strike Now', 'There Is An Alternative: Don't cut jobs or public services!', 'Cut Trident – Not Jobs', 'Health and Education', 'Con-Dem criminal cuts', 'Unite and Fight' and 'Libya – Costing Britain £3 million a day'.
Others attacked the government over the NHS, saying: 'Cutting the NHS to pay for war makes me mad!', 'Smash the privatisation of the NHS', 'Our hospitals, our welfare, our NHS!' and 'Save the NHS'.
Other placards said: 'Con-Dem to hell!' 'Keep Remploy Factories Open!' 'Benefits Yes!' and 'Teachers say our pensions are affordable'.
A contingent with the All-Trades Union Alliance banner was joined by the Young Socialists and by Sacked gate Gourmet workers with their banner and they chanted slogans including: 'Workers, students, youth unite – forward to a general strike!', 'No privatisation – defend the NHS!', 'Defend all jobs – Kick this government out!' and 'Hands off Libya – imperialism out!'
Phil Wilson, from south London, was with a banner that read: 'Battle for Britain, Fight the Cuts'.
He said: 'The cuts will affect everyone.
'I think they need to to reinvest money in the NHS and in social welfare and jobs.
'I think the unions should call a general strike. The government should be shown that people won't stand for their behaviour.'
Cathy and Chris, GMB members from Liverpool, said: 'We're marching for the right to work and our city and make sure 500,000 public sector families have the right to live.'
There was a deafening noise as the march reached Trafalgar Square and met the crowd there.
TUC stewards urged people to 'move over to the left', adding: 'It's just congestion, pure congestion. That's all.'
Beverley Edwards, 18, from Norwich, told News Line: 'I want to be a part of it today and hopefully look back and see that we made a change.
'There should definitely be a General Strike now. We need a socialist future, definitely.'
Patrick Johnson, a Fire Brigades Union member from London, said: 'Our main concern is the reduction in fire cover in London at nights, when the main amount of fire deaths occur, and cutting fire engines.
'Coleman and Johnson are backed by Cameron and Clegg.'
BMA member Alisha Day, a doctor from Manchester, said: 'I've come to march against the NHS reforms and privatisation and the attacks on social services, which have a direct impact on the NHS.
'If this Health and Social Care Bill goes through, it won't be the NHS as we know it.'
As the marchers went through Piccadilly towards Hyde Park, there was a big sign being put up by some protesters, simply saying: 'Save the Arts'.
Pat Noons, from Liverpool Unison, said: 'We think the cuts are unfair and pernicious and will have repercussions for generations to come.
'I think this government should go.'
Paulette Smith, a PCS member from Wimbledon Valuation Office, said: 'I'm just so proud of all these people who have come out in force to show this government we are the people and we've got power. No cuts!'
Jeeva Prabu, another PCS member, added: 'It is really amazing to see so many people. It's really grand to see.
'The unions should really stick to this and recognise what we are doing. We have to bring this government down.'
John Kelly, from Durham, a member of the Unite Disabled Members Committee, was with workers shouting: 'Save our Services!' and holding up a banner in Hyde Park demanding: 'Dignity and Justice for Disabled Workers'.
He said: 'The government cuts are going to hit vulnerable workers.
'Loss of Disability Living Allowance will hit many people and that will cause them difficulty in finding work.
'The government says it would like disabled workers to work and most diabled workers would like to work, but the cuts the government have got lined up are creating barriers to work.'
John Coberts, from the BASSA British Airways cabin crew contingent, said: 'We're here to fight for our rights and to defend our communities and services and let the government know what they're doing is unacceptable.
'The workers are paying the price for the rich.
'There should be a general strike.
'We need to do everything in our power to bring them down.
'They didn't have a mandate for the NHS reforms, they have no mandate to do this.'
At the TUC rally in Hyde Park there were many speakers including trade union leaders and the Labour Party leader Ed Miliband also addressed the march.
More placards in the park said: 'No cuts – make the millionaires pay, not the millions', 'Education cuts never heal', 'the Big Sacked Society' and 'Rights not Charity'.
The message emblazoned above the main stage was: 'The cuts don't work.'
'They have no mandate whatsoever for these cuts,' said Mark Serwotka, general secretary of the civil service union PCS.
Director Sam West, of the actors' union Equity, said: 'The entire Arts Council budget is £450 million – that's half what we spend subsidising the arms trade.'
He said the spending cuts would close 520 libraries and warned: 'Britain will become a cultural desert.'
Billy Hayes, general secretary of the postal workers' union CWU, said: 'This government wants to privatise Royal Mail and we say no!
'There's always money to launch a war, there's always a million pounds to fire an Exocet missile, but there's never money to look after pensioners, to look after the people of this country.
'But it's not just about what we say on this lectern, it's about what we do and if we have to strike to defend our services, so be it Mr Cameron.'
Leo Gerrard of the AFL-CIO American trade union federation, brought greetings to the march on behalf of 1.2 million steelworkers in the United States and Canada and 16 million workers affiliated to the AFL-CIO.
'We will stand with you, march with you and fight with you and take on the banksters, here there and everywhere,' he declared.
'These banksters caused this mess and they've robbed us and now they want to rob the future of our kids.'
He added that in the United States: 'Four hundred families control more wealth than 155 million people at the bottom of the ladder.'
Vicky Yardley, from the Chartered Society of Physiotherapists, said: 'My patients are living with complex disabilities and I love my job and I'm proud of the service I work in and all my work colleagues.
'I fear for the NHS's future. Ministers describe the £20 billion being stripped out of the NHS as efficiency savings. We call this cuts.
'If getting rid of 50,000 NHS jobs doesn't count as a cut, I shudder to think what does.'
She said before the Health and Social Care Bill has even been passed, NHS services are being tendered out to private providers.
'I fear the introduction of "any willing provider'',' she said, adding to loud applause: 'Everybody is entitled to be treated in terms of need, not what they can afford to pay. There is still time to stop this happening, but we have to act now.'
NUT General Secretary Christine Blower said the massive turnout was 'fantastic'.
She demanded: 'We want schools properly funded and locally accountable, not Free Schools and Academies.'
Donna Covey, from the Refugee Council, said: 'There are many countries in the world where an anti-government demonstration like this would be illegal.'
She condemned cuts to aid to refugees that 'can make the difference between being allowed to stay in the UK or returning to a country where their lives are in danger.'
Shaun McGovern of the TUC Disability Rights Committee said: 'Shame on the government and their media hounds who need a scapegoat. It's bankers who caused this crisis and disabled people's support benefits are being blamed.
'Every day disabled people are dying due to Con-Dem ideology and policies. They must go.'
Chris Keats, NASUWT general secretary, condemned '10 months of relentless cuts and reforms attacking our public services and Welfare State' since the Tory/Lib-Dem coalition took office.
She warned that they were 'turning our school system into a free market free-for-all'.
She added: 'They talk about listening to what the people in the Middle East are saying. Well David Cameron, listen to what your people are saying!'
People were still coming into Hyde Park as Keats was speaking.
Brendan Barber, the TUC General Secretary, said: 'All parts of the country, black and white, young and old have united to send a message: it's time for change.
'We need to stay strong, we need to stay united and we need to stay determined.
'Change is coming,' he said, telling the crowd that the unions could 'get this government to change course', before he closed the rally.
Labour Party leader Ed Miliband had also addressed the rally, saying: 'Everyone knows this country faces difficult times but we know too there is a different way.'
As the marchers made their way back across central London there were dozens of riot police with shields guarding major stores.
Dozens of people were injured and arrested in clashes which were unconnected with the demonstration.
• See more pictures in photo gallery