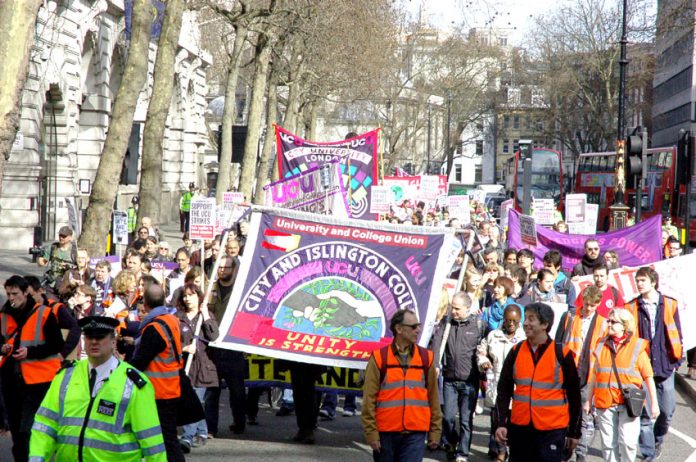 Today's massive London march against the coalition government will be the biggest since the two million-strong march against the Iraq war under the Blair government.
There will be masses of trade unionists, youth and students marching from the Embankment to Hyde Park Corner.
Yesterday, on the eve of the march, Public and Commercial Services (PCS) union general secretary Mark Serwotka said: 'In just a few short months this coalition government has sought to blame and punish public sector workers, the low paid, the sick, pensioners and children, for an economic crisis caused by City speculators and spivs.'
He added: 'We must use the march as a springboard to united action.
'We will continue to meet together and march together, but we must also be prepared to strike together to defend jobs, pensions and pay.
'And to show we refuse to allow generations of social progress for the benefit of the many to be torn down in the interests of privilege and the greedy few.
'There is an alternative but it will not be handed to us, we must be prepared to make it happen for ourselves.'
The Coalition of Resistance said the 'protest must be the launch-pad for a huge upsurge of mass resistance from below, with national demonstrations, local protests, occupations to protect services, and strikes against redundancies and closures'.
The group added: 'Cameron and Clegg are determined to drive through a programme of austerity and privatisation designed to "transform" Britain.'
It added: 'They envisage a return to the 1920s, where everything had a price, and working people lived in fear of unemployment, sickness, and old age.'
Unite union general secretary Len McCluskey warned: 'The labour movement is at a crossroads.
'Either we stand at the heart of a broad, powerful, and militant movement against the government's economic agenda or we risk decline and marginalisation.'
Unison general secretary Dave Prentis said yesterday: 'Millions of lives have already, or will shortly be, touched by the Tory's reckless plans.
'We know the government has other choices – but the Tories are ideologically wedded to cutting back on vital local services and public sector jobs.
'This is not only a disaster strategy for our society – it is already hitting our chances of recovery.
'Instead of making cuts that close children's centres, Connexions offices and cut hospital beds, the Tory-led coalition should impose a Robin Hood Tax on banks, and make taxation fairer.'
Midwives are marching to demand the government honour its pre-election pledge to recruit 3,000 more midwives.
Sara Eades, 54, a Royal College of Midwives steward from East Anglia, said: 'It is important that we show solidarity with the whole of the NHS and with all of our colleagues.
'The cuts will dramatically impact the quality of care that we can give to mothers and babies.
'I want to see an increase in the number of midwives and an increase in choice.'
The Workers Revolutionary Party's general secretary Frank Sweeney said yesterday: 'It is very clear what we must have. The entire strength of the working class must be mobilised in a general strike to bring down the coalition and bring in a workers government and socialism. Anything else is an evasion.'