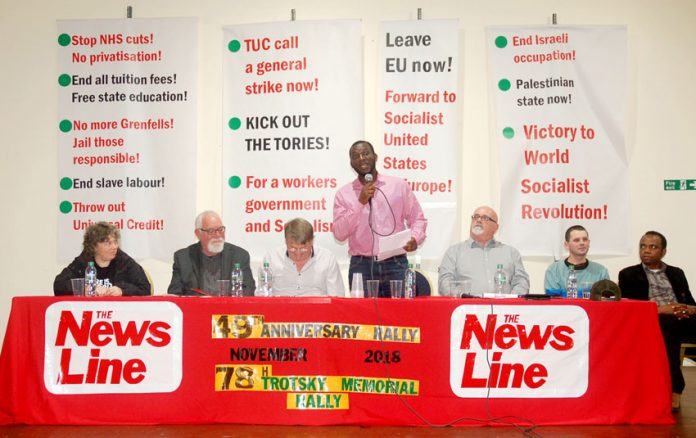 OVER 100 workers, trade unionists and youth attended the rally at the Indian YMCA in Fitzroy Square, central London on Sunday to mark the 49th anniversary of the daily News Line and the 78th anniversary of the assassination of Leon Trotsky.
Delivering the opening address, All Trades Unions Alliance National Secretary Dave Wiltshire said: 'Today's rally marks another anniversary along with the News Line and Trotsky – the 10th anniversary of the collapse of Lehmans bank, which, when it went, brought down all the other banks as well.
'In response, the Federal Reserve and the Bank of England printed trillions of pounds and dollars to bail them out, with the working class not seeing a penny.
'The working class was forced to pay for their crisis, with none of the bankers being held to account.
'Cameron and Osborne said pay off the debt by "shrinking the state" as they called it – pay caps and pay freezes for public sector workers, make the working class pay for the bailouts, austerity, which has been going on for 10 years, waging war on the NHS and public services, withdrawing funds, closing beds and A&Es – this has been their programme.
'Global debt at the moment is 217% of GDP (gross domestic product) globally, meaning that what's owed is over twice what is produced in a year globally. 'Two months ago the Bank for International Settlements brought out a report saying one-in-ten companies in America are "zombie companies" – companies which don't make enough to even pay off the interest on their loans.
'Manufacturing industry is virtually dead, it exists on debt. In Italy, every single bank is bankrupt, a couple of weeks ago a report said Italy is in a "doom loop". But it's happening in every single country in Europe and the US and they can't do anything about it.
'We're talking about a historic crisis of the capitalist system. 'When the Wall Street Crash happened in 1929 it ushered in an acute famine. When Northern Rock bank crashed in 2007 prime minister Gordon Brown put his head in his hands and said "oh my god it will mean troops on the streets."
'When Trotsky founded the 4th International as the party of socialist revolution in 1938 he founded it as the party of world revolution in a period of defeats. He was absolutely confident that the working class would rise up again. 'Today is when that perspective has become a reality. Trotsky was able to see that the working class is the decisive force in history and that it will bring its concsiousness into line with its task.
'This world crisis has put revolutionary leadership on the agenda. 'Trotsky's final words were that he is "confident of the victory of the Fourth International. Go forward".'
Next speaker, Gary Palmer, GMB Southern Regional Organiser, spoke about the 'disastrous' Tory pay deal in the NHS. He said: 'The pressure now on hospital workers and ambulance workers is unbelievable and stress is an occupational hazard for workers in the NHS.
'The Tory government is supporting private companies taking over the NHS and bullying management is everywhere. 'The three year pay deal is a disaster. We're all aware of ex-Health Secretary Hunt's rationale in putting in a three-year pay deal – taking away one-year pay negotiations. It is absolutely horrific.
'But what's most shocking is that of the 14 unions involved, the leadership of 13 of them urged their members to vote in favour. 'And Unison has actually admitted that it was a lead negotiator – and its leaders are still claiming that it is a good deal!
'Our members solidly voted to reject the deal and the RCN (Royal College of Nursing) members have now voted to get rid of their executive because they supported the deal – a lot of these RCN executive members have now found new jobs in Unison.'
Palmer explained that the deal brings in 'performance related pay' for the first time into the NHS, saying 'the so-called yearly incremental pay rises mean you have to go before your manager to achieve it.'
He went on: 'Those at the top of the band were told they were getting 3%, but they lose hugely from their pensions and the debacle of 13 unions backing a three-year pay deal has left many members wondering if the unions are really backing them.
'We are arguing for a real living wage – halt all aspects of NHS performance-related pay immediately. The support is out there for a battle. We need to fight. NHS staff will walk out and the unions will have to publicly support them.
'The other 13 unions must admit they have been complicit in promoting the disastrous three-year pay deal. There's a queue of people to stand with us. We will stand up for the NHS, we will stand strong and we will win.'
Workers Revolutionary Party General Secretary Joshua Ogunleye said: 'There is revolutionary determination to smash capitalism, be it in America, France, Italy, Germany, Greece, or here in Britain – workers and young people are refusing to pay for the capitalist crisis.
'All over Europe students and young people are fighting. In Greece they have occupied their universities. It's the same in the US, where workers are marching for 15 dollars an hour. 'In Palestine young people are fighting Zionist occupation every day, facing live rounds, determined to junk capitalism, a system that has to be overthrown.
'In Britain students are living in university halls infested with vermin, universities are facing bankruptcy and students are leaving with first class degrees but they can't get a job. This government is desperate to see an end to free education.
'The Tories want people to work for nothing and bankrupt a whole generation.
'But developing in the masses is a movement, a whole generation marching forward because it can't accept capitalism, marching against imperialism in Syria, Yemen and Palestine.
'We're for a socialist society. Young people see their struggle against the system, we have to go forward to socialism. 'The working class is being driven forward, but it needs a revolutionary leadership.
'It means building the WRP and the Young Socialists. The crisis shows who weak capitalism is and the working class is fighting in every way. Our party must come forward, grow and provide that leadership.'
Karen Menpes, GMB Cab Drivers, spoke next, saying that Black Cab drivers support the fight by Uber drivers against their bosses. She said: 'I attended the demonstration at the Royal Courts of Justice last week for the Uber appeal against the court's ruling that Uber drivers are workers rather than self-employed independent contractors.
'The judgement is expected next week and if Uber loses they can be expected to appeal again to the Supreme Court. This will just be another delaying tactic. They can't win in the long run.
'I support the Uber drivers in their case. They are brutally exploited and deserve to be treated fairly. 'As a Black Cab driver, I am self-employed, paying taxes etc, unlike Uber and most of its drivers. 'Uber has a terrible reputation, making its drivers drive 70 hours a week to make a living and often ending up having horrendous accidents.
'The black taxi trade is severely undermined by private hire, but I believe it's symbiotic. These drivers are in fact workers, not self-employed. 'This government supports Uber all the way in forcing people to live on poverty wages, so we support them in their fight for justice. 'And the London Taxi Drivers have been granted a judicial review over Uber, so they may still lose their licence.'
Mohamed Barry, from Ridley Road Traders in Hackney, said: 'We had bad news coming from the landlord last month. He gave us two weeks' notice to leave. Some of us have been there for 45 years. I've been there 11 years. 'Where are we supposed to go? My children grew up here. I'm here today to say the system is against us. We have to stop this privatisation. The rich people are buying up everywhere and trying to drive us out.
'The system and the government are threatening our survival. All we know is market trading and I'm here to ask everyone to stand with us. This is affecting our children and our families.'
News Line Editor Jonty Leff said: 'There's no future under capitalism – people have had enough. There is a slash and burn policy, the system is trying to turn society backwards. 'When 13 health unions told their members to vote for this three-year pay deal it was a monumental betrayal. The RCN leadership has been removed, which is an expression of the revolutionary movement today.
'Trump has spat on the inscription on the Statue of Liberty which reads: "Give me your tired, your poor, your huddled masses", but the US workers are not going to stand by and watch these 15,000 troops shoot down this caravan from Honduras. The scene has been set for a revolutionary confrontation. 'Trump has also declared war on the Palestinians. The Great March of Return has seen over 200 Palestinians killed and more than 18,000 injured. But no matter what, the fight continues until the Palestinian state is recognised with Jerusalem as its capital, with the right of return for all Palestinians.
'In Europe there have been revolutionary uprisings, with France having general strike after general strike and Macron hated. In Italy the workers are fighting against the EU's dictats and in Britain May's capitulation over Brexit and acceptance of the Customs Union is completely unacceptable for workers.
'Last month Corbyn made May an offer, urging her to put the nation before the party. The last time we heard that was from Ramsey Macdonald – to hell with the referendum result, to hell with the Labour manifesto, she can't rely on the DUP, she can't rely on the Tory Brexiteers, but if she comes back with the Customs Union in two weeks time, Labour will support her.
'She's coming back with this deal in mid-November, in two weeks' time, which will split the Tory Party and the Labour Party. 'Last month May declared that austerity has ended now, while Hammond said it is in ending in the future, but that's not the same. Then Hammond said Universal Credit is here to stay.
'The Tory government means homelessness, destitution, food bank use and Grenfell survivors put on Universal Credit before Christmas. 'At the public meeting on toxity around Grenfell last week, the Public Health England lady claimed fears of toxicity might all be psychosimatic, but a local doctor said he had seen a spike in extraordinary symptoms.'
Leff announced: 'We have called a meeting for the setting up of a Council of Action in North Kensington. A council of action is a workers government in embryo.' He concluded: 'We can't go forward without socialism. The unions have to bring out every section of the working class in a general strike to bring this government down. Labour and the Tories are split and moving towards a national government. Capitalism is a system which for its essence exploits the many for the few. Join the WRP today and build this party up.'