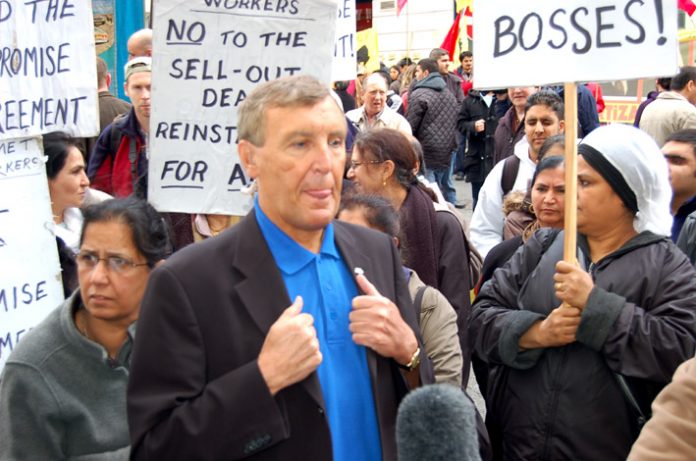 OVER 25,000 refugees, workers and youth marched through the centre of Paris on Saturday, demanding, 'Withdraw the CESEDA'! and 'Immigrants are not disposable like pieces of rubbish – they are human beings with rights too!'
The CESEDA is known as 'Sarkozy's law' because it has the support of right-wing interior minister, Nicolas Sarkozy, who has ambitions to become the new French president in elections due next year.
Demonstrators denounced the planned law as 'racist', and vowed to fight until it is withdrawn like the CPE 'first job contract'.
The CPE was defeated by a mass uprising of French youth and workers last month.
Anti-racist campaigners warned that the new law, which is being debated in the French National Assembly today, will allow employers to recruit immigrant workers from overseas – only for the government to deport them once their employment is over.
It will also make it much harder for refugees to claim the right to asylum in France – and one human rights campaigner warned that it could even force children born in France out of the country, if their parents are not French citizens.
Anyone who marries a French citizen could be monitored for at least four years to prove their fidelity, if the new law is passed.
Workers marching through Paris on Saturday said it was time to end the precarious situation of 'sans papiers' – immigrant workers and refugees denied official papers and French citizenship.
Laurine Bricard, Joanna Etchecopar, Olivier Valery, Camille Valerion and Aurore Bordier, students from Universite d'Evry outside Paris, brought their banner to the demonstration, which assembled at Place de la Republique.
They said: 'The law the government wants to impose is against the French immigrants, to deny them the right to live in France.
'It will make it much more difficult for them to live in France. It's Sarkozy's law.
'We will demonstrate today to demand the withdrawal of the CESEDA.
'The government is trying to stop immigration and we are for the free movement of people across borders.'
Refugees and workers came from 'Sans Papiers' collectives and workers' trade unions and human rights organisations across the French capital.
Nasr, from Paris, said: 'This law is part of the drive to the right in France, just like the CPE.
'It is part of the so-called "liberalisation'' policies of the government.
Solen Ayika, also from Paris, said: 'There is no respect for the plight of immigrants and refugees by the government.
'The police are arresting people and deporting them. We can't accept it.
'There is no respect for the human rights of everyone,' she continued.
'It's not the same as what Hitler did, but there are worrying parts about this law which have echoes of what the Nazis did!' she warned.
'In a country that stands for human rights, this is not acceptable.
'This government does not listen to people and it doesn't really represent the majority of people.
'It was not the majority of people who voted them in.
'Even schoolchildren are being threatened with police going into schools to arrest them and deport them. It's like hunting a beast!'
Nadia Salama, who was with her daughter Violaine, said: 'Yes, we are angry about the new law CESEDA. That's why we are here!
'It's a law that will mean selective immigration. It is completely unfair.
'I think the government is encouraging racism.
'It doesn't respect workers' rights, and of course it thinks it's easier to act against foreigners because they are not in a strong situation.
'Every rich country exploits immigrant workers.
'There are many people in France who are strongly opposed to this racism.'
All along the march workers and refugees carried banners and placards saying 'Immigrants are not disposable'.
Hamid Lalani, a teacher from Paris and supporter of the Network for Education Without Frontiers, said: 'Without papers we can't work, even if we have been here for 15 years.
'Now they want to pass new laws in May which will reinforce these restrictions, which will mean immigrant workers and refugees will have no chance to get papers at all.
'The status of refugees will disappear progressively – if this law is passed.'
He warned there would be new restrictions against refugees, which would make it very difficult for them to get recognition from the French government that they have been persecuted in their countries.
He added: 'Sarkozy is trying to seduce far-right voters by putting the blame on immigrants for unemployment and law and order.
'I am a teacher and, for example, we have students at our school who have no papers, who are afraid of being expelled from the country as soon as they are no longer minors. They could then be expelled at any time.'
Catherine Choquet, from the French Human Rights League, told News Line: 'I think it's a dangerous law and we must stop it.
'It will create a precarious situation for all the people.
'In France we have young people who are French, but who have parents who are not French.
'But with the new law there will be a lot of temporary residence cards, which will mean if you lose your job, you lose your residence card and you will be expelled from the country.
'It is depriving people of their basic rights,' she said.
'The government is closing our borders, just like the British government, and it is happening all over Europe.
'Those foreigners who have children born in France could have to take their children back with them, if they lose their jobs.
'It will create a lot of problems for lots of families.
'With this law, the Minister of the Interior Sarkozy is trying to win the support of the electorate of (extreme-right leader) Le Pen,' she charged.
Mohammed, from Paris, said: 'We don't have papers in France. It makes life very hard for us.'
An appeal to Paris residents to join Saturday's march warned: 'If this plan is accepted, France will become a country where immigrants will see the rights of their families to live in France, their rights to marry, to have children, to study, all placed in serious danger.
'These are fundamental constitutional rights, along with the right to asylum, which the government calls "instant immigration''.'
The appeal said that if the law was passed it would mean the acceptance of discrimination against human beings according to their country of origin or the colour of their skin.
The appeal said: 'Allowing the CESEDA to be passed without revolt would be totally incoherent with regard to the rejection of the CPE.
'The precarious situation which the government wants to condemn foreigners to is exactly the same form of economic exploitation that the youth rose up against.
'This plan opens the door to plans to place the whole of society in difficulty and condemns those without papers to a clandestine life.'
Saturday's demonstration was prevented from reaching the Conseil d'Etat (Council of State) by a line of riot police blocking its path towards Place du Palais Royal.
Yesterday there was another mass demonstration in Paris to celebrate May Day, where workers demanded the withdrawal of the CESEDA and the scrapping of the rest of the employment law that sparked the CPE revolt.
A march has also been called for this Saturday May 6 to the American embassy, against the threat to bomb Iran.