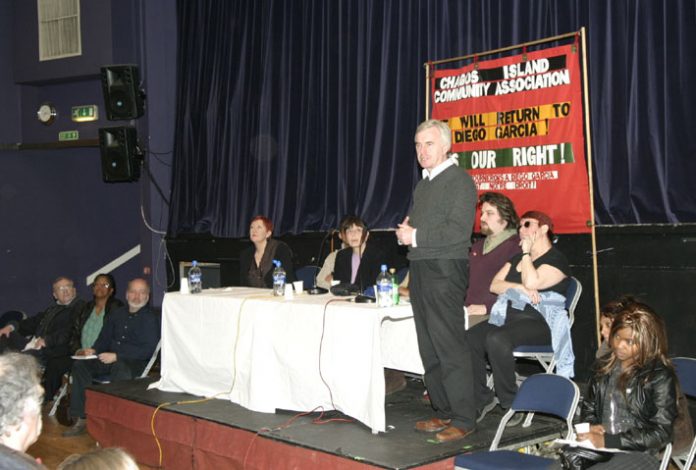 OVER 400 people attended the Chagos Islands Community Association rally in central London on Saturday evening, to demand the Chagossians' right to return to their islands and the closure of the American base on the main island, Diego Garcia.
Chairman Sheila Torrance opened the rally.
The first speaker, Labour MP John McDonnell, said 'This is a fantastic turnout and the reason, I think, is because everybody within the labour and trade union movement, and the wider community, is angry once they hear the story about how the islanders have been treated.
'I think this is one of the most brutal examples of British imperialism that we've seen in recent decades.
'The Chagos Islanders have been forced into penury, into degrading conditions.'
McDonnell said that the British government worked with the Americans to get a military base on the islands – and they didn't care how badly they treated the people there to get it.
'It's a brutality that's gone on for too long!' he declared.
'The only way we can win is by building solidarity and that's what this meeting is about.
'The labour and trade union movement has to stand up and be counted on the side of justice in this case.'
He said that, 'As we explain to MPs, we gain more and more support.'
He added: 'When the Foreign Affairs Committee report comes out, we'll be demanding Gordon Brown fulfils his responsibility on behalf of the people of this country to ensure the islanders are returned to their home and the Americans thrown out.'
McDonnell concluded: 'The response on today's (anti-war) march was fantastic.
'As Pilger's film goes round, it exposes the issue to many more people, the conspiracy between the United States and Britain. They will feel the same sense of injustice that we do.
'Anything I can do as a Labour MP and within my trade union, I will do.
'I will do everything I can to ensure that in this campaign we achieve justice.'
Hengride Permal, chairman of the Chagos Islands Community Association, said: 'Thank you all for being here to support us, especially MPs and trade unions.
'I'm pleased to be here to speak on behalf of the Chagossian community.
'While we are a local organisation, serving the needs of Chagossians in Crawley, it is important to hear our voice, as we are stakeholders in any strategies to return to the Chagos Islands.
'We assert our right to determine our own destiny.
'We come from a community not of passive people, but one that has actively asserted our cause from the very start.
'We want to return to our islands and to remove the US base.
'We camped day and night outside the social services building in Crawley, until West Sussex Council took us to court to silence our protest in January 2007.
'We took to the streets when the Queen came to Crawley and last year in September we had a demonstration in front of Downing Street and we handed in a letter and petition to Gordon Brown to demand the removal of the military base and compensation for 40 years in exile and our rights to return to the Chagos Islands, including Diego Garcia.'
Hengride Permal demanded an end to the separation of Chagossian families.
She said that all Chagossian children have the right to a British passport.
She continued that the Chagossians faced 'big problems' after they came to Britain to escape the poverty and discrimination they were subjected to after being forcibly deported to the Seychelles Islands and Mauritius.
'The British government would have preferred we quietly suffer as a consequence of being removed from our homes, but we came here to Britain to bring the chicken home to roost and life hasn't been easy.
'Having been denied secure housing by the council, we also have the problem of families being divided because cannot secure British passports.'
There was also a big problem with language, she said.
'English classes are limited and there is a long waiting list for those who want to learn.
'Aside from acting as a support network for local Chagossians, we are also engaged in a national campaign.'
She said that, 'We welcome the legal case on our behalf, in which we are stakeholders,' but added: 'We assert there should be wider consultation before any decisions are taken on our future.'
She insisted once again that the US base must be removed from Diego Garcia and said the Chagossians must have 'the right to self-government'.
She concluded: 'We claim the right to return, to lead peaceful lives on the Chagos Islands as the indigenous population and their descendants.
'We must ensure the survival of our nation as Chagossians.
'Thanks to the News Line for publicising our struggles when others do not have the guts to do it, as well as to MPs and trade unions and other organisations.'
Joni McDougall, from the GMB International Committee, said: 'I bring greetings from the general secretary of our union, Paul Kenny, and the regional secretary, Richard Askell.
'We salute the tenacity of the Chagossian people.
'It is going to be very difficult now for Britain and America to give up the Chagos Islands, because of where it's are based and its position in the Iraq war and the Afghan war and as a base for rendition.'
She said that 'American imperialism doesn't come as such a shock' to most people, but for 'those who bought into the myth of the British legal system, it comes as quite a shock.'
She added: 'We need to publicise the campaign. The problem is not enough people know.
'I think we should mount a bigger campaign within the legal community.
'There is no way, morally or ethically, that this can be upheld.
'It's been turned over several times.
'America and Britain need a base near the Middle East, so they're not going to give it up easy.
'We'll do everything we can.
'Trade unions can only do a limited amount,' she said, 'but what they can do they can do really well.
'Some unions still have a voice within government and they can make it effective if they do it collectively.
'It's a real honour to be here in the presence of people who've been fighting this since the 1970s,' she added.
Chagossian Frankie Bontemps said he had come to Britain from Mauritius.
'Thanks everyone here today for your presence, and the News Line, who have given a helping hand to our quest for justice and try and open the British government's eyes to their responsibility for this injustice to the Chagossian people.'
He said that since the Chagossians were forced from their islands, they have been denied housing, education and employment facilities.
'We lived a simple life in the Chagos Islands,' he said.
'Life in Mauritius was very difficult for the Chagossians, but even though they struggled to cope, they were always fighting for their right to return to the Chagos Islands.
'It is our right to return to the Chagos Islands, free of all military presence.'
He explained that some Chagossians were 'granted British citizenship in 2002 after a very long struggle.
'Yet this same government has been claiming sovereignty over the Chagos Islands.
'We thought we'd be treated with more decency here, but still we have to fight for our basic needs and we have had to face unscrupulous landlords.
'We have the feeling of being looked on as second-class citizens here.
'On the Chagos Islands we laboured for the benefit of the whole community. It was a kind of socialistic society we had.
'But here the only jobs we can get are low paid ones.
'Many Chagossian people, due to poor linguistic ability, have their rights at work being abused.
'Even where I am working, we are forbidden to speak our native language.'
He concluded: 'I'd like to thank the speakers from the trade union movement and a big thanks to News Line.
'Our main concern is justice for our community. Forty years is enough suffering.
'All those who are concerned about our fight are always welcome to join us.'
James Rolls, from the South East Region of the TUC (SERTUC), said: 'Fraternal greetings from SERTUC, the largest constituent member of the Trade Union Congress.
'The primary fight for trade unions is the fight against injustice, which has many manifestations, both in the workplace and internationally.'
Condemning 'imperialism, cynicism and racism' against the Chagossians, he said: 'The Chagos Islanders have been treated badly by the British government and American government, and frankly it has got to stop.
'As trade unions, we educate, organise and agitate, and this is what SERTUC will do for the Chagos Islanders.
'We will fight for your cause every way we can.
'We still stand shoulder to shoulder against this injustice against your people.
'It makes me sick to my stomach what has happened to Diego Garcia and it has got to stop.'
Bernadette Dugasse, from the Chagossian community on the Seychelles Islands, explained: 'It is the same situation for Chagossians in the Seychelles, even though there are not as many as in Mauritius.
'There are around 500 natives and 400 descendants living on the Seychelles.
'We didn't have the opportunity to open our mouths because of the one-party state policy in Seychelles. So we have to suffer in silence.'
She said it was not any better for the Chagossians living on the Seychelles than it was for those living in Mauritius.
'We know what suffering is, like them also.'
Zina Dodgson, East Surrey UNISON branch secretary, said: 'I am honoured to be invited to speak.
'It's an appalling situation and I'm totally ashamed our government has had anything to do with it.
'The islanders I've met are wonderful people. I've even managed to prise money from my branch.'
She added: 'There's no way you can ignore what's going on here.
'I'm going to try and get a motion onto our union's summer conference agenda.
'The march today was almost 40 years since my first demonstration, the St Patrick's Day "riot'' in Grosvenor Square against the Vietnam War, and my daughter came with me today.'
Regina Mandarin, an elderly Chagossian, said through an interpreter: 'I got a British passport. I have five children. Two have got passports, three don't.
'We want to know what's the difference? I am their mother.
'I was born on Diego Garcia. Why is my family separated?
'Most of us, the first generation, are dying.
'We are getting older and older.
'We want compensation for the treatment we've suffered all our lives.
'We want a life pension for the rest of our lives.
'We are all dying. We are over 75 now. When is the government going to start looking after us, as we are all British citizens?'
She added: 'We were forced to come to Mauritius and when we got British passports, we were forced to move to England.
'We just can't go anywhere.
'If we go anywhere else, they will take our passports away!
'We have been working here. We have the right to that money, to be compensated for the rest of our lives.
'When we were sent to Mauritius, half our families were born in Diego Garcia, and then we started having children in Mauritius, so some are "British'' and some "are not''!
'Why are they separating our families, our children?
'Even for visiting our families, we can't get a visa!
'I have a niece, who is a British citizen. The dad is here. The daughter can't come because she is over 18.
'Why, if we are British citizens, don't we have the same rights as everyone else?'
Andy Reid, from the PCS National Executive Committee, 'I bring greetings from the National Executive Committee and the International Committee of the PCS.'
He said that his union represented ordinary civil servants providing services to the public, and said: 'We're not the ones in the Ministry of Defence and the Foreign and Commonwealth Office who have treated you abominably.
'We were appalled when we heard how you had been treated.
'No one thinks it's right or excusable, or that it's something that should be put up with.
'Rules and laws are how a state looks after its people – and its constitution.
'When people heard what had happened to you, they were shocked and appalled.'
He condemned 'government ministers and senior civil servants' for 'refusing to abide by High Court orders' and for lying and not telling the truth about the situation, even to parliament.
He said 'the same imperialist logic and arrogance' that was involved in the illegal deportation of the Chagossians from their islands, that also led to the invasion of Iraq and Afghanistan, was now being used to take people on rendition flights to Diego Garcia.
He added: 'We're committed as a union to doing what we can to support your fight and publicise your fight.
'I hope the campaign will continue sending press releases to the PCS.
'When the parliamentary reports come out, we'll get that news across to our members.
'Our strength is when we stick together as working people and people fighting injustice.
'You've got the right to hold the whole labour and trade union movement to that standard and say: "We are fighting and want your support.'' '
Laurina Edouard, a young Chagossian living in Britain, said: 'I'm speaking for the young people in the Chagos Islands Community Association.
'I want to say we want more opportunities in future for the young people.
'We need lots of help, especially on education.
'Lots of parents find it hard to help their children.
'We'd also like lots of help for education and activities in the summer time.'
The final speaker was Paddy O'Regan, News Line editor.
He told the rally that: 'The issue of the Chagos Islands is a very important one for British workers.
'The clearances of the Chagossian people were carried out by a Labour government, by Wilson.
It was the Americans who cracked the whip and said they wanted a nuclear base near the Middle East, with a view to stealing the oil of the Middle Eastern countries.
'It was a Labour government that jumped to it.'
He added that it was the Blair government, after Robin Cook resigned as foreign minister, that intervened and said "no'' to the return of the Chagos Islanders after their legal victory and 'now they're fighting desperately to defend that base, a base that has been used to bomb Somalia, Iraq and various other parts of the Middle East, and the base that they're going to use to bomb Iran.
'"Old'' Labour, "New'' Labour, they both served imperialism.'
Turning his attention to the situation in Britain, he warned that they wanted to treat the British workers just like they did the Chagossian people. 'This government can't wait to close District General Hospitals by the score.
'And it has a minister, Hutton, who can't wait for the next billionaire to hit the streets – he think it's wonderful!
'Tt's a government that says two million people on disability benefit should be dumped, should be cut off benefit.
'What they did to the Chagos Islanders, the same kind of governments are trying to dish out the same kind of treatment to the British working class.
'We are involved in the same struggle as the Chagossian people. We are fighting the same enemy.
'These clearances of the Chagos Islands were done by an Order in Council, signed by the Queen. It wasn't done by parliament.
'They killed their animals and smashed their homes, to have an American base there that was used to kill tens of thousands and hundreds of thousands of people.
'David Miliband (the foreign secretary) said they made a "mistake'' when they said Diego Garcia wasn't being used as a base for rendition flights.
'They said "we now know'' there were "two cases'' of rendition.
'And yet we now know from the statement of a former British SAS soldier to a press conference two weeks ago that the British government is involved in rounding up hundreds of people to be taken to places like Diego Garcia to be interrogated.
'Britain is up to its neck in rendition. It works hand in hand with the United States.
'The base was given to the Americans without renting or without even leasing it to them, it was just done by an exchange of notes, to be reviewed in 2016, and even if the British tell the Americans to go, they might refuse.
'We have to give our support to the Chagos Islanders. They must have the right to return, they must be compensated.
'The Chagossians do have the right to self-determination, to have their own government and country,' O'Regan insisted.'
He warned workers that in a period of worldwide economic crisis for capitalism, 'We're going to be dealt with in exactly the same way, unless we wake up to the time of day.'
He said that Republican presidential candidate John McCain was coming to Britain next week and had already delivered his message to the British government in advance, that British troops mustn't quit Iraq.
'In a period of huge crisis, this drive to war is continuing,' he said.
He said British workers won't go along with an attack on Iran, just as they didn't go along with the invasion of Iraq.
'Millions marched against the Iraq war, to no avail. Blair did as Bush wanted.
'If they start to beat the war drums against Iran, millions of people going onto the streets won't be enough to stop them. That's been proven.
'The week after the invasion of Iraq there was a London Assembly called and a motion was passed for the TUC to call a general strike. The TUC didn't do it.
'Stopping war does mean industrial and political action by the trade unions saying "enough is enough''.'
'It does mean a general strike.'
He concluded: 'The Chagos Islanders have the right to self-government and the right to get rid of the US base.
'The trade unions and the anti-war movement must fight alongside them.
'Both must campaign and demand that that Brown drops the appeal to the House of Lords and finances the return of the Chagossian people and tells the Americans and their base to go.
'Brown will not do these things, so that it is his government that's going to have to go and be replaced by a workers' government.
'The struggle of the Chagossian people and the British working people is as one.
'We must both go forward together.'
A collection at the meeting raised over £600 for the Chagos Islanders campaign.
Many people also bought Chagos t-shirts and after a break stayed to watch John Pilger's film 'Stealing A Nation'.