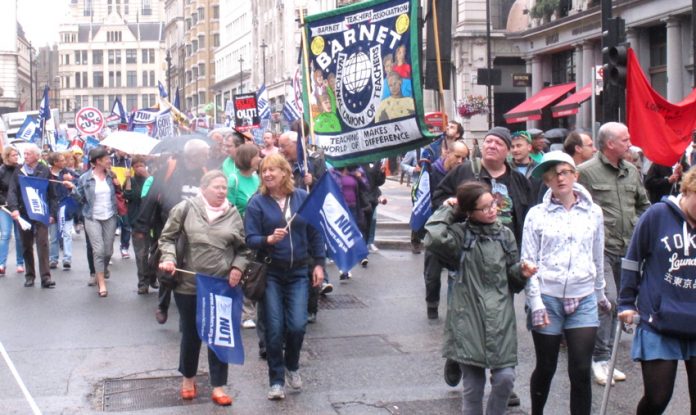 TWO million teachers, education support workers, lecturers, local government workers, firefighters, civil servants and other public sector workers went on a 24-hour strike on Thursday 10th July, furious at the Tory coalition government's attacks on their pay, pensions and the services they provide.
There were thousands of picket lines outside schools, council and benefits offices, fire stations and other workplaces across the country, with hundreds of rallies and marches.
There was fury at the announcement from Tory Cabinet Secretary Maude on the eve of the strike, that the government is planning new anti-union laws to make striking illegal.
Christine Blower, General Secretary of the National Union of Teachers, said: 'Thank you to all the teachers who took strike action today alongside five other public sector unions.
'Extraordinarily the government's response to today's action has been to completely ignore the issues and instead seek to reduce people's right to strike.
'It is a clear indication that this government does not want to listen to our concerns, nor do they want them drawn to the general public's attention.'
Brian Strutton, GMB National Secretary for Public Services said 'The majority of schools are closed or partially closed. Council services are significantly affected.'
In Cambridge, over 500 strikers marched from Parker's Piece through the city centre.
Cameron Matthews, Brigade Secretary for Cambridgeshire FBU, spoke to the News Line after addressing the rally on Parker's Piece. "What needs to happen, what is now coming into the consciousness of working class people, is that we need to come together in our unions, come together in our class.
'Hopefully this first general strike action will produce more in the future, which will help us win back our terms and conditions. Working class people have no other option but to go forward to a general strike.
'Our political representatives represent business interests, not working people, the government is intent on tearing down all the benefits and achievements which we have secured since the Second World War. In the light of that, we have no other option but to initiate a general strike and fight for working people.'
In London, Colin Jones FBU Holloway, said from the picket line: 'We need more action, and less waiting for people to talk.
'We need to unite and kick this government out and replace it with a government that values people not profit. Not even the Labour government can guarantee that. If the government bring in anti-union laws, they are only effective if the unions leaderships, go along with it.
'It is down to members of unions to form their own leaders and defy the anti-union laws. It is a democratic right of people to withdraw their labour. By them imposing laws that make it illegal to strike they become a dictatorship.'
There were lively picket lines in Norwich, with Jack Rogers, treasurer of Norfolk and Suffolk PCS, outside the DWP office, telling News Line: 'It's disgusting that ministers can give themselves a 11% pay rise, while public service workers have to be content with 1% over four years.
'I personally have lost £2,800 per year. They still state that we go from the minimum to the maximum wage in five years – but this is a blatant lie. I've been working here for ten years and have not even got to half way.
'We're haemorrhaging staff at a rapid rate through stress and overwork. The government's put a ban on recruitment. About 46% of civil servants are relying on pay day loans to get through and claiming working tax credits.
Yet the government can waste £84m on an IT system for Universal Credit which doesn't work. The whole universal credit idea cannot work and is failing miserably. The sanctions regime is awful. There ARE targets. Staff have been put on personal improvement plans in job centres to sanction claimants. A one-day strike is not enough.'
At County Hall, Unison pickets were at the gates. Ian Baldwin said: 'Cameron got 23% of the vote, but is telling unions that they can't go on strike. They won't negotiate. The rich are getting richer and the poor are getting poorer. There were more luxury cars sold last year than ever. Why aren't any of the bankers that caused this in the first place, taken to court?'
John Harries said: 'People are just fed up. It's bit by bit, by bit. Sometimes you have to say enough is enough.'
On the picket line in Hackney, Paul Mason, Branch Secretary Cooperative Rep, Hackney Unite, told News Line: 'Young people get a really bad deal. Youth unemployment is disgraceful and it's the government's fault.
'We are out on strike today to get fair pay for council workers. We've been offered 1%, which has been rejected by all the unions. Today is the beginning of an escalation of strike action. I am for a general strike, we should have called a general strike a long time ago. I am putting the Young Socialists March for Jobs before our committee to win support.'
Una, from Hackney Libraries Unison, said: 'The strike is important because we are not being paid enough. I have two children, what are their future job prospects? We must strike as often as possible and for as long as possible.'
Dionne Thompson, Unison Education Convenor, Stoke Newington School, said: 'Everything is going up, gas, electric, food, rent. No matter how much you earn, people are struggling. It is not just about us, it's about the next generation. I support and coordinate schools in Hackney. We want young people to get an education and go on to university.
'But what are the prospects when they get to the other side! We need to go out on strike for two days and then three days and then longer. I absolutely believe everyone should come out together, all at the same time.'
More than 20,000 strikers assembled outside the BBC Broadcasting House in Portland Place for the London demonstration and marched to Trafalgar Square.
There were hundreds of placards and flags, scores of banners and some massive union balloons.
These included Greater London Unison, PCS London Courts Branch, Bectu, TUC Southern Region, Croydon, Newham, Hounslow, Ealing and Camden NUT, Southwark Unison Ritzy Living Wage.
Teachers and other education workers chanted: 'What Do We Want? Gove Out! When Do We Want It? Now!', while other marchers shouted One Per Cent Won't Pay the Rent!'
A lively Workers Revolutionary Party and Young Socialists delegation marched behind their banner shouting: 'TUC get off your knees call a general strike, One day not enough indefinite general strike now! Low Pay No Way! Youth Demand a Future Youth Demand Jobs! No Cuts No Closures Kick the Governmnent Out!
Young Socialist Editor Paul Lepper told News Line: 'We are getting loads of support for our March for Jobs from London to Liverpool to demand the TUC calls a general strike to bring down the government.
'We are leaving London on 19th August and are on the road for three weeks. Today's strike shows that people want a general strike and we are going to take this demand to the TUC. This government cannot be allowed to continue with austerity cuts, it must be brought down.'
Many of the strikers spoke to News Line as the march assembled and as it proceeded along the busy streets, getting enthusiastic support from office workers and shoppers.
Many told how shocked and angry they were about the threats coming from the government to ban the right to strike, while many others said that a one-day strike was not enough and an all out general strike was needed.
Rod Quarmby, an electrician, had travelled all the way from Combe Martin in Devon to join the march. He said: 'Parliamentary democracy isn't working. It only exists to maintain the system. People like us just service the wealthy. We need a general strike to bring down the government.'
Jasmine Stone, a young mother, came with the Focus E15 Mothers and Residents in Solidarity with People of Newham, London and the World banner.
She said: 'I'm here from Focus E15 in Stratford. It's a hostel for young people under 25. There's a unit for 29 mothers and babies. They sent us eviction notices last August saying we had to be out by 20th October. They tried to send us to Manchester, Hastings or Birmingham. So we got together and started a campaign group fighting for local social housing.
'In February this year we got a victory for the mothers and started being re-housed in the borough. So now we've widened the campaign and we are fighting for local social housing for all.'
Kayleigh Greatorex said: 'I'm Jasmine's neice and I've been supporting the campaign. I think everybody deserves social housing and they deserve to be able to live where they grow up. I think the government are out of order. It's not fair that they are making housing so expensive and say it's affordable, when it's not affordable.'
Nagoua, a Unison member and teaching assistant at St Peter's Primary School in London Dock, Wapping, said: 'They've made clear that if they get in for another session a judge will be left to rule if we have the right to strike. Our main reason for striking is the privatisation agenda and the constant demoralisation of the public sector.'
Her colleague at St Peter's, nursery nurse and GMB member Marie Hooper, said: 'One day strike is not enough. They are laughing at us, just saying "they have lost a day's pay, so what!". We need an all out general strike. He's trying to get a law passed saying we can't strike anymore, so we'd better take notice and act now.'
Fellow St Peter's teaching assistant and GMB member, Vivian Aziz, said: 'It sickens me to my stomach that they can say they can stop us from our fundamental right to strike.
'We've worked at St Peter's for a long time and we love our work, but the money has gone down by at least a quarter in five years and under this government things will get worse. So we all want an all out general strike to kick this government out now.'
Kim Winter, Unite, Haringey, told News Line: 'I've had ten years trying to get into employment and it hasn't happened. Three years ago I became my mum's full time carer. She needed full-time support and I needed a job, so it suited both of us.
'Capitalism has failed. Years ago you could leave school at 16 and go straight into employment. Now, all there is is zero hours slave labour or crap jobs. The TUC must be made to call an all-out general strike.'
John Fitzmaurice, Unison Tower Hamlets Public Library, said: 'I'm on strike because capitalism is an unfair, nasty system which encourages greed, selfishness and violence. The best way to fight that system and bring about socialism is through the organised working class. That's why I've just joined the union. But a one-day strike is not enough. We need all-out action.'
Jennifer Ford, Unison Day Centre worker from Bethnal Green, said: 'I'm striking for better pay for council workers. It's ridiculous, we haven't had a pay rise in over three years. They have now turned round and want to offer us 1%, which is an insult. I understand the MPs got 20%, it's outrageous.
'All those who are sitting on the fence need to wake up and see what's going on. You don't get given anything, you have to fight for it.'
Juanita Lendon, NUT Hounslow, said: 'All they are interested in is getting rid of their own responsibility for education by making it privatised.
'This is fundamentally harmful, not only for today's children but for the future. What strikes me about changing the laws on striking is that it is the one tool that the person on the ground has to use their voice and the government wants to stamp it out. A general strike is the only response we can make.'
Tom Foot, Unison Waltham Forest Adult Social Care, said: 'I'm really striking against cuts and undoable levels of work. Staff are leaving left, right and centre and it's got to change. I think there should be a general strike. If they are talking about making it illegal then that's what we have to do.'
Dave Shek, North West London FBU Secretary who works at Northolt Fire Station, said: 'We've been taking pay cuts every year, while the politicians have been giving themselves 11%. It's farcical that they think they can get away with it.
'I am 100% behind the Young Socialists march on the TUC to demand an all-out general strike to kick this government out.
'Hopefully, today will spur other unions to get involved and come out with us, because the way we are being treated is disgraceful. All the public services are being cut to shreds. Now they are privatising the NHS. They should hang their heads in shame because the NHS is the best thing we have ever achieved.
'I was overjoyed to hear we were striking today, with the rest of the unions. A general strike is needed with all the unions, whether public or private. Now they are talking about banning strikes, on the eve of the biggest strike in years. It's because they are frightened of us. So let's organise a general strike to kick them out now.'
Mark Lett, NUT Wandsworth, said: 'I'm striking for fair pensions, fair pay, less bureaucracy. I don't want to be in the classroom at age 68.
'I'm against performance related pay and against academies. Now they are planning to ban striking, so a general strike is the only answer. One day is not enough, they are not taking any notice of us. We need an all-out general strike.'
Ashe Andrew, a young builder from Covent Garden, said: 'A general strike is the only way we are going to save the NHS.
'The building industry is being de-unionised, we are sacked or blacklisted for joining a union. I'm going to support the Young Socialists March for Jobs from London to Liverpool, hopefully all the way. I want this government out!'