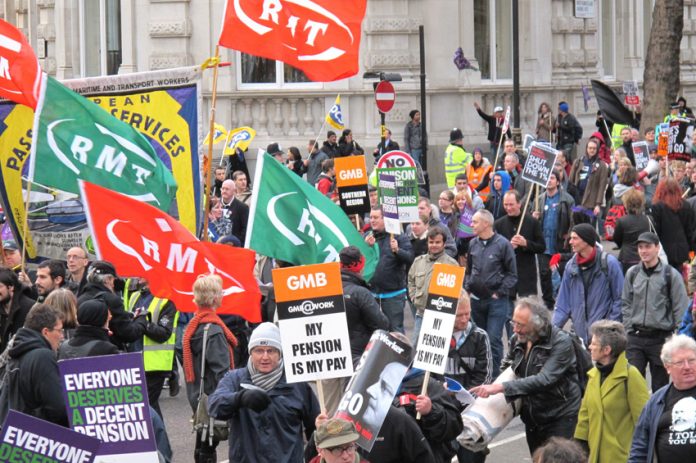 TRADE unions responded angrily to the Tory Chancellor Osborne's Autumn Budget Statement in which he announced permanent austerity, raising the state pension age to 69 and further attacks on workers, unemployed youth and students.
Martin Freedman, director of economic strategy at the Association of Teachers and Lecturers (ATL), said: 'For the Chancellor, austerity is a lifestyle choice not an economic necessity.
'The rise in pension age will have no effect on his friends in the City or his millionaire colleagues on the government's front bench.
'But millions of hard-working teachers, teaching assistants, nurses and social workers in the public sector, whose retirement age is now linked to the state pension age, face working far longer in challenging and or difficult jobs or suffering increasing ill-health and poverty in their old age.'
On the increase in the state pension age Public and Commercial Services union (PCS) general secretary Mark Serwotka said: 'This will condemn millions of people to work until they drop and will effectively mean poorer people with lower than average life expectancy will pay for the pensions of the rich.'
He added: 'George Osborne's ludicrous claim that austerity is working will be news to those whose living standards are continuing to fall, who are having to turn to payday lenders and foodbanks in what is one of the world's richest countries.
'This is not an economic plan, it's austerity for austerity's sake, as the Tories – propped up by the LibDems – look to reshape our society for years to come and make the poor, sick and unemployed pay for the greed and recklessness of wealthy elites.'
On further cuts to government departments' budgets he said: 'Government departments, already struggling under budget cuts of up to half and the loss of tens of thousands of civil servants, will simply not be able to cope.
'We desperately need investment in our public services, not more cuts, and a much more ambitious and determined plan to target the tax dodgers than this government is committed to.'
GMB also responded to the Autumn Statement by the Chancellor of the Exchequer.
Paul Kenny, GMB General Secretary, said: 'Last week it was announced that the level of household debts in the UK hit a record high. Britain is near the top of the international league table for household indebtedness.
'Millions of families with low and middle incomes are saddled with very high mortgages and they are under severe pressure, even with low interest rates, to pay their weekly bills given they have faced inflation and have received little or no pay rises.
'The recovery is at long last under way, having been delayed by policies he followed,' claimed Kenny, who added: 'We did not hear today from the Chancellor any predictions when wage increases will start to match and even outstrip inflation.
'Britain's workers deserve and need a pay rise. Wage rises above inflation for both public and private sector workers is the only way we can have a recovery shared by all. Unless wages increase in real terms there is no way families on low and middle incomes, saddled with very high mortgages, can face higher interest payments.'
Christine Blower, General Secretary of the National Union of Teachers, said: 'Increasing the pension age is a backward step. The fact that we are living longer does not mean that people are capable of full-time or strenuous work.
'For some jobs, working to 68 and beyond is simply impossible. No one wants 70-year-old teachers in classrooms full of infants or teenagers.
'Nor, I am sure, do we want 70-year-old nurses, builders, police officers or firefighters, to name but a few professions where this increase in working age is simply not feasible.
'Increasing life expectancy is not universal across the population.
'These pension proposals are being thought up by people who have a secure economic future and will be able to retire at a reasonable age on their assets.
'The majority of the population will be left with nothing: no money, no jobs, and no pension.
'This does not make economic sense as the state will have to make some provision for the millions who will be thrown into financial hardship or ruin as a result of this increase.
'In light of the alarming increase in food banks, universal free school meals for infants are welcome, though it is essential that the government provides enough additional resources for schools to meet the capital and staffing costs involved.
'It must be stressed that while the NUT fully supports this move, children over the age of seven also urgently need the same provision and we ask again that government extends free school meals to all pupils.
'Investment in education is essential for economic prosperity and social cohesion. This government has not protected school funding.
'Funding for schools has been frozen in cash terms, meaning significant "real terms" reductions in the value of school funding due to the effects of inflation.
'The government now proposes wholesale reform of the school funding system and a national funding formula which will simply move funding losses around the system, unless it is accompanied by an increase in funding which at least restores the cuts imposed so far.
'FE and college funding has been cut by almost a fifth in real terms.
'There was no proposal in the Chancellor's statement to help us cope with the unfolding school places crisis which could see 1 in 4 children without a school place by 2016.
'Government continues to refuse to allow local authorities to build or open new schools. Instead, it wastes money on free schools, established regardless of need for extra places locally, rather than seeking a rational, planned resolution of the school places crisis.
'With tuition fees trebled, the Education Maintenance Allowance cut, 16-19 funding cut by a fifth and youth unemployment around a million, the government is letting young people down.
'The Chancellor does not seem to understand that increases in university places and higher apprenticeships, while welcome, will mean nothing if students cannot afford to continue in education or training.
'Cuts in public sector pay, including for teachers, have contributed to the longest decline in wages since Victorian times.
'A government which has already attacked teachers' pay and pensions is now trying to dismantle our national pay structure. This will harm both recruitment and retention of teachers, just# as we face a huge increase in demand through growing pupil numbers.
'The NUT campaign to protect teachers and defend education, with the NASUWT alongside, shows that we are determined to resist these attacks.'
Unison branded the Chancellor's Autumn Statement talking up the economic recovery as a 'mirage'.
Unison said that the picture he paints 'is not being felt by ordinary working people across most of the country.
Unison General Secretary Dave Prentis said: 'The Chancellor can produce this mirage of an economic recovery and massage the figures as much as he wants, but it doesn't mask what is being felt in the real world. Prices have risen faster than wages for 40 out of the 41 months in the past years.
Average earnings are £1,600 lower in real terms than when they came to power.
'There has been a massive explosion in the number of people forced to work part-time, on zero-hours contracts and stuck on low pay.
'Raising the state pension age is cruel and unnecessary. It may be ok for the better off to work until they are 70 because they will have some years to enjoy their retirement.
'But for millions, they will never see their pension because they will die before that age.
'But does anyone seriously expect a 70-year old paramedic or nurse attending them in a medical emergency.
'And should we expect people who sweep our streets, clean our hospitals and schools to carry on doing those jobs?
'The fact is the Chancellor is rushing into saving money for today's government, but putting future generations at risk.
'Not all actuaries agree that we are all living longer so there should be a proper, evidence-based enquiry before any rash decisions are made. What about the quality of people's life in retirement as well as the quantity?'
Unison also called for the cuts juggernaut to stop, pointing out that 'unless people had money to spend in their local shops and businesses, tax cuts wouldn't do them any good'.
Prentis added: 'Many millions of workers have had their pay frozen for the past three years – a pay cut of up to 15% – while those at the top still get their huge pay, perks and bonuses.
'Local government is almost on its knees – and I know some councils may have to stop delivering services. And make no mistake, these services are important.'