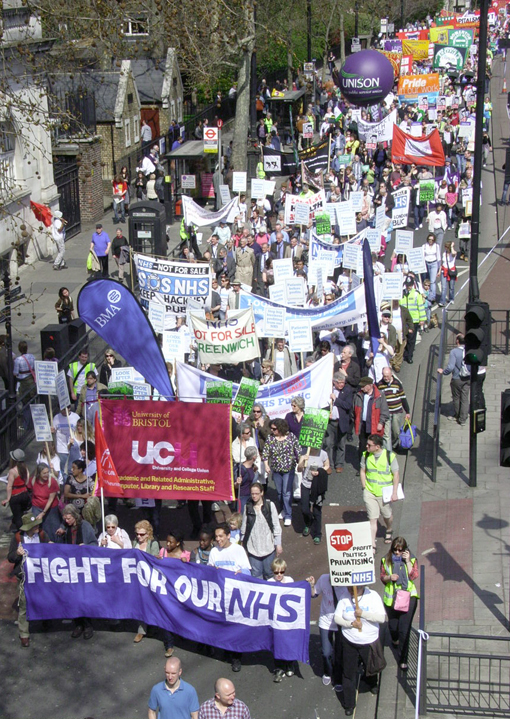 'NHS NOT FOR SALE – Keep Our NHS Public!' declared the banner which led the Defend the Welfare State march on Saturday, alongside that of the National Pensioners Convention.
Ten thousand public sector workers marched from Temple on the River Thames Embankment to a rally in Trafalgar Square.
Every public sector union was represented.
There were Unison banners from Camden and Islington, Derby, Oxford, Northern General Hospital Sheffield, East London Mental Health, London Met, Wolverhampton, Barnet Local Government, with a coffin saying, 'RIP Sheltered Housing', Leicestershire Health, Southend, and the London Fire Brigade Unison.
There was the NASUWT teachers' union national banner and area banners from Leeds, Manchester, Salford, and Wolverhampton.
There was the Aslef Neasden branch banner, UCU Bristol and an RMT banner reading: 'Rail Cuts Cost Lives!'
There was the PCS Derbyshire banner, Sheffield busworkers' TGWU, Bristol Unite, City and Islington UCU.
There were GMB banners from the Southern Region, Birmingham and the Midlands, Yorkshire and North Derbyshire, and London Ealing.
The BMA banner read 'Patients Before Profits!' and the NUT banner read 'Education Cuts Never Heal!'
The Workers Revolutionary Party and Young Socialists banner read: 'No Cuts! No Closures! Occupy!
Build Councils of Action. Bring the Government Down Now! For a Workers Government and Socialism!'
Workers Revolutionary Party General Election candidates all wore their red rosettes on the march and the Young Socialists led the loudest chants all the way. They shouted 'A living wage for pensioners – no more cuts!
'Education must be free – We won't pay tuition fees!'
'No privatisation – Defend the NHS! Defend the Welfare State – Socialism Now!'
Before the march set off, several participants spoke to News Line. Sven Palm, CWU West End Postal Branch, said: 'We all know about the election, whether you've got a red collar or a blue collar, they've all got the same policies – cut, cut, cut. I'm in the public sector and I'm here to support the public sector.
'There is a strange kind of atmosphere at the moment among the people I talk to on the shop floor.
'First of all there is a large bulk of people that are pissed off with both Royal Mail and the union leaders.
We were out for 18 days last year and most were really into it – a make or break strike and we thought that the Christmas period was our opportunity to really put the pressure on.
'But then the union leaders just caved in like they usually do. I suppose it's the usual union leadership/Labourgovernment partnership. They don't want to embarrass the government.
'Most of the reps and most of the members are opposed to this new deal, but some of the higher ups are pushing it and because of that there is a lot of disillusionment.
'I think, if it goes through, there'll be loads of strikes breaking out all over the place because the changes it brings in are intolerable.'
Paul Smith, from the National Pensioners Convention, said: 'I'm 83 now and I'm clearly using the medical side of the Welfare State. It's keeping me going. There's always been age discrimination in the health service and it's definitely in danger of getting worse.
'I'm in favour of getting rid of the enormous elephant of management, which has grown and grown, while nurses and other real health workers are being cut and cut.
'We've partly nationalised the banks, we should go the whole hog, but use the money to pay for health and education, not line the pockets of the filthy rich.
'The British state pension is now 4th lowest in Europe, with only Cyprus, Latvia and Spain lower.'
Marge Lacey was carrying a placard saying: 'Barnet has let us down. Sheltered Housing needs Wardens'.
She said: 'I live in sheltered housing in Burnt Oak, Edgware. We have a live-in warden at the moment and we are being threatened with having the warden removed, even though we have a tenancy agreement stating a live-in warden will be provided.
'There are 42 flats. Some residents are epileptic, which means that the warden needs to check on them to make sure they haven't collapsed in the night. On several occasions the warden has found a person unconscious on the floor, he's called for an ambulance and saved their life.
'One resident has got a tracheoctomy in her throatwhich very often gets blocked and he has to call an ambulance for her too. So this cut would actually be a death sentence.'
Martin Clift, an electrician for Birmingham City Council and a Unite member, said: '2,000 redundancies have just been announced, this follows 1,000 gone in the last year through so-called natural wastage.
'We're just about to be privatised in the Highways Department under a PFI. That's 350 jobs transferred to the private sector. I agree with the call for a general strike.'
Jim Duff, from Staffordshire explained that his wife had died from a stroke at Mid Staffs hospital in 2008.
He was part of a delegation marching yesterday demanding a public enquiry into the tragedy of 400 deaths at the Mid Staffs hospital.
He said that the hospital had been extremely short staffed as, in order to gain Foundation status, the Heath Authority had made huge cuts and over 100 nurses had been sacked.
He added that the old and the vulnerable were not considered financially viable by the Trust and they did not want to treat them.
He said that financial targets were considered more important than treating patients.
He added that the Board awarded itself large pay rises while it was getting rid of nurses.
There is now a new chief executive for the hospital and more funding has been pumped in but the local community are still demanding a public enquiry into the deaths of over 400 patients at the hospital over the last few years.
Brian Caton, General Secretary of the Prison Officers Association was holding the POA national banner. He said: 'If only they'd listened to me at the TUC we would have had a general strike. I made the call at the TUCs in 2007, 2008 and 2009. But although they applauded loud, with the exception of ourselves, the NUM and the RMT, we saw little support in the vote.
'We take to the streets and we've got banners and we make a lot of noise, but the only way to get a proper result is a general strike.'
Kim Edwards, a trombonist for the 26-strong RMT Easington Colliery Band which performed brilliantly on the march, said: 'I work in local government for Sunderland City Council and I think a general strike to defend the Welfare State is a great idea.
'We have to protect what we've got.'
Wayne Geoghegan, a TSSA railway workers' union organiser condemned the banning of the RMT and TSSA strike which was meant to have taken place against job cuts and in defence of safety on the railways last week.
He said: 'It's a total disgrace the courts getting involved in a democratic trade union vote. I'd like to see a general strike against cuts. All the political parties' agendas now are the same – cuts, cuts, cuts.'
Dick North, Bristol NUT Membership Secretary, said: 'At our conference in Liverpool, which I've just come back from, we did call for a one-day public sector general strike.
'Astonishingly, it was passed unanimously. Members realised that nothing short of that would deal with the scale of the problem we're likely to be faced with after the election. We also agreed with the PCS at our conference that all future ballots by the two unions for action against a pay freeze or public sector cuts will be co-ordinated.'
At the rally in Trafalgar Square, Unison General Secretary, Dave Prentis, said: 'I bring greetings from 1.4 million Unison members and 100,000 retired members.
'This crisis was not of their making and we will not allow them to pay for it. No cuts in social spending, no cuts in social care!'
Christine Blower, NUT General Secretary, said: 'Take money from the rich bankers and give it to the Welfare State.'
BMA leader Hamish Meldrum said: 'It is ludicrous that at the same time we're nationalising the banks, we're privatising the NHS. Speak out, join us, together we must defend the NHS.'
GMB officer Mary Turner said: 'Our health service is the most important thing. It's our saviour and we intend to protect it. No privatisation of the public services and NHS.
'It's ours and that's how it's going to stay.'
FBU General Secretary Matt Wrack, after paying tribute to the two brave firefighters who died in Southampton last week, said: 'We won't accept cuts now or after the election.'
Dougie Rooney, President of the TUC, said: 'Regardless of who wins theelection, it is the duty of the public sector unions here today to fight to defend our public services and the TUC will be alongside you in that.'
Tony Conway from the PCS, said: 'On 24th March for the first time ever, all PCS members were on strike.
'Our members aren't thick, they know massive cuts are coming and yes, we will take further industrial action.'
Alex Gordon, RMT President, said: 'We are faced with a public sector infiltrated by privatisation, and public services taken over by PFI companies. When the cuts come these companies will be the first to collapse.'
He continued: 'My union had an injunction taken out against it. This is the first time a union has been injuncted. Comrades, we must defend the Welfare State and we must repeal the anti-union laws.'
POA General Secretary Brian Caton said: 'Where there are bad laws we should break those laws. Take to the streets and break the bad laws.'
Joshua Ogunleye, representing Kingston University No Cuts No Fees, said: 'This government are preparing to privatise universities. Theyhave already presented plans for £1 billion cuts.
'Education must be defended and we must occupy universities against cuts. Education must be defended as part of the Welfare State. We have to form a proper fighting leadership to go forward to socialism!'
'I am speaking today to represent students and their struggle to defend free state education.
'I am from Kingston University and our college is very concerned at the huge cuts taking place in university education.
'Students already pay £3,100 for fees and that has made it difficult for many students from working class families to study – many give up halfway through their course because they can't afford it.
'On top, we have to pay huge rents if we stay in accommodation near ouruniversities. I have to live at home and travel large distances every day because I cannot afford to live in Kingston.
'Now this government is planning millions more cuts in the education budget which will be disastrous.
'Some universities have already made cuts – London Met, Kings, Sussex, Portsmouth, Aberdeen – to name but a few. All over the country universities and colleges are axing courses and sacking lecturers.
'After the election, whoever is elected, they promise draconian cuts. This will mean some universities closing down completely and most youth from working class families being unable to afford further education.
'Some colleges are planning £10,000 or more fees, making university education only available to the rich.
'Our NUS leaders must be forced to take action to end all fees, and support the lecturers who are fighting for their jobs and organise students to join in actions, occupations and strikes to stop any university closing.
'If they don't I am sure at the NUS Conference next week, students will elect a leadership that does fight for them.
'Young people want a future. I believe this capitalist system is bankrupt and will never give us a decent life.
'I, alongside millions of youth, want an end to this capitalist state and want a future under socialism. This is the only way to defend the welfare state!'