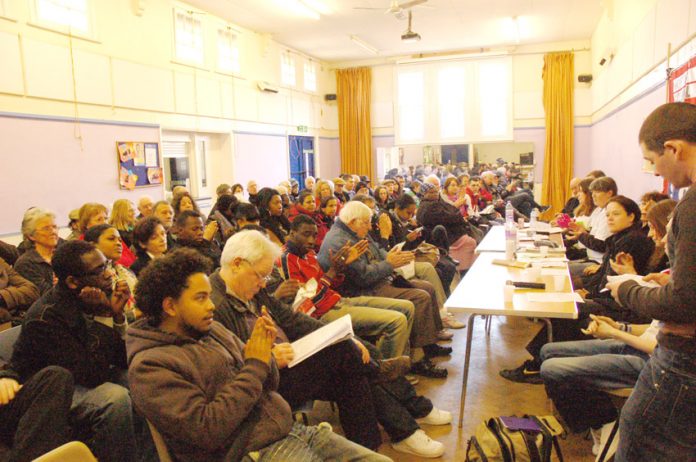 OVER two hundred workers, trade unionists and youth attended the News Line-North East London Council of Action Special Conference to defend our hospitals and the Welfare State, in Enfield, north London on Saturday.
The Main Resolution opened: 'This government has declared war on the working class, the pensioners, the youth and all those that value the welfare state and its services. It is being driven forward by the greatest ever crisis in the capitalist system.'
The resolution elaborated the depth of the crisis and the bankruptcy of capitalism, the attacks by the British and international capitalist class on the working class and the welfare state and the mass revolutionary response of the working class.
'This conference decides that nothing must be allowed to close – hospitals, fire stations, schools, community centres and libraries, they must be occupied . . . Councils of Action must be built in every area to unite the trade unions and the communities to drive the bailiffs off the streets, to prevent bedroom tax evictions, and to organise to stop all closures.
'But this is just the start. The issue today is for the trade unions to mobilise the strength of their members into an all-out general strike which will create conditions to bring this government down.'
Moving the resolution, Bill Rogers, Secretary of the North East London Council of Action, said: 'The resolution starts with the government has declared war on the working class and that is what they have done.
'I'm a train driver and an Aslef member. My union branch set up the Council of Action to defend Whipps Cross, Chase Farm and North Middlesex hospitals back in 2007.
'Since then we've had demonstrations, marches, petitions, an occupation, but most importantly we picketed.
'For four years we picketed Chase Farm Hospital on a monthly basis. We stepped up our fight and decided to have a daily picket.
'At the beginning of this year, on 2nd February we marched through Enfield. 1,000 of us marched. We were led into the hospital grounds by the police. I put it to the rally that we should occupy and we moved in to occupy.
'We went in at 4pm. At about 9pm the security guards withdrew and they called in the riot squad to remove us.
'The main lesson of the occupation wasn't lack of leadership. We need hundreds and thousands of workers. We need the trade unions.
'Now the TUC is to discuss a general strike at the next meeting of its general council on 23rd April.
'It is 65 years since the foundation of the NHS. The Health Act, which came in on 1st April is an act of war. Sixty District General Hospitals are threatened with closure.
'The reality is that everything is to be put out to tender. This Act is the complete fragmentation of services. Everything is to be split up, smashed up, exactly like they did on the railways.
'It's been chaos ever since they privatised the railways. But this is so much bigger.
'When you look at the resolution, we say there has to be a general strike.
'There's no way that a Labour government coming in would reverse anything the Tory coalition has done.
'They are making £20 billion cuts. It is a war. The only way to respond to a war is a general strike.
'Unite has one-and-a-half million members and they are suffering. So are Unison members, so are teachers. This system is totally and utterly bankrupt.
'They are spending £20 billion on their nuclear submarines and prepared to snatch £20 billion from the NHS.
'Their declaration of war has to be answered. For the next occupation of Chase Farm we are going to need everyone, but above all we are going to need a general strike.
'The union bureaucrats, under pressure from their members, feel compelled to discuss a general strike. But we don't just want a one day general strike. We need a general strike to bring the government down. Not to replace it with a Labour government, but with a workers government and socialism. That's the way forward.'
The next speaker, Kelly McMullan, FBU rep at Downham Fire Station, said: 'They are planning to close 12 fire stations in London. That is a massive chunk. The net affect of the planned closure of Downham and New Cross fire stations would be a massive increase in workload at Lewisham.
'Every second counts in a fire. At the moment there is a six minute target for the arrival of the first appliance and eight minutes for the second, but they want to add a minute to these targets. They also want 530 highly skilled professionals to go.
'To be brutally honest, they've tried to close my station three times before, but this time the threat is very real.
'They are treating the electorate with complete and utter contempt, attacking nurses, doctors, teachers, firefighters.
'The fire service is such a good service. I'm really proud to be part of it. If we don't fight now there will be nothing left.'
Michelle Mattocks, from the Connaught House Residents Association, speaking about the forced eviction of nearly 100 long-term residents, said: 'We were not informed by the council we were going to be evicted, but they evicted us.
'They want to sell the land, which is owned by the police, for millions.
'I'm speaking for lots of people who are not here today.
'Our children and friends have been split up, it was heart-breaking.
'It was daunting for us to stand up at first, but we did and we are fighting.'
Tom Davies, Vice President Ealing NUT, said: 'This Tory-led government was not elected. It's like living under a military junta. We can't tolerate it.
'I totally support the motion, in every respect.
'Education Secretary Gove is attacking us from all directions. He's done an amazing thing, he's brought all the teachers unions together.
'We are striking against the attacks. We are being prevented from doing our jobs. NUT membership has rocketed up and members have had enough of what this government is doing.
'Gove refuses to meet the NUT. He's quite happy to have unqualified people teaching – including people from the military. Privatisation of education is this government's policy.
'Five years ago I had a very serious operation in Ealing hospital. Now Ealing hospital is threatened and I will do anything to save it.
'In west London there is a school that has been sold off, it's called the Alec Reed Academy, named after a man who has employment agencies all over London.
'Our teachers were being bullied by management, we had six days of strike action. We had to fight and stand strong. But the executive of the union had to be really pushed to support it.'
Jonty Leff spoke for the News Line Editorial Board. He said: 'The News Line has played an absolutely pivotal role, not just at Chase Farm, but in defence of the NHS as a whole.
'The News Line has made it crystal clear that this is a struggle to defeat the government.
'The defence of the Welfare State requires occupations and a general strike, not just taking on the government, but bringing it down.
'And what comes next? It must be a workers government. The Labour Party is wedded to capitalism. They are determined to maintain capitalism at all costs.
'This system is utterly bankrupt. But a workers government would develop the NHS and raise the whole of society to a new level.
'This government has declared the most vicious attack on the NHS since it was founded and the forces have come on the scene to defend it. The working class is surging forward – doctors, postal workers, teachers, firefighters . . .
'The TUC leaders believe in capitalism. They are trying to reform it. And Labour set up the foundation trusts in the NHS, brought in tuition fees brought in PFI, which is taking billions out of the NHS.
'The working class is not going to pay for this crisis. It won't accept its children's future being thrown to the wolves.
'Build a leadership within the unions that will fight. That means a general strike. And we need to build Councils of Action everywhere and fight for a general strike to bring the government down. Councils of Action will form the basis of a workers government.
'The News Line has a great role to play as organiser, educator and agitator in this struggle. The News Line has played a vital role at Chase Farm, while the Unison leadership at Chase Farm has done absolutely nothing. Union leaders who refuse to carry out a fight should be removed.
'I urge you from this conference to move forward to join the Workers Revolutionary Party and build a new leadership to mobilise the working class for an indefinite general strike, and from there to go forward to a workers government and socialism.'
Sandra Lowe, from Save Hammersmith and Charing Cross Hospitals, said: 'I have residents coming up to me saying you have to save me from bedroom tax.
'We have been told we can't put up our banners outside the hospital. We have been called thugs.
'We have to save our hospitals. We can never pay for private care.
'In north west London they are planning to close four District General Hospitals. They are claiming the future of Charing Cross is secure. It's not true. Charing Cross is being knocked to the floor.
'These are our rights they are attacking. They must be beaten.'
Maryanne Cripps, also from Save Hammersmith and Charing Cross Hospitals, said: 'When I first started I thought it was just Charing Cross hospital that was being closed, but then I saw it's Lewisham, Whittington, Ealing, Chase Farm, Hammersmith, Central Middlesex and I thought, what's going on here?
'These are our hospitals, they are taking our NHS. People, the elderly, are going to suffer and die. We've got two million people who will not have an A&E.'
She concluded: 'Please come to our Saturday 27th April rally, with marches from Acton Park and Southall Park to Ealing Common.'
Mario Bellafonte, ex-Visteon worker, said: 'Unity will create power. All these hospital fights must come together. We're not going to change Cameron. We've got to beat him.
'Four years ago we were sacked and we occupied. That's the only way.
'They are pushing with this bedroom tax. People are saying enough is enough.
'I had all my children at Chase Farm and four hip replacements.
'They advertise Act Fast if you have a stroke, but if they close our hospital, by the time you get to the next one it will be too late.'
RCN member Peggy Idem said: 'Where I work, at North Middlesex Hospital, the staff are pushed to the limit. Many are having nervous breakdowns.
'The government is trying to substitute untrained staff for trained staff. There is general low morale in the workplace because of what is happening.
'Now they are waking people up in the middle of the night because they need the bed, saying you're well enough you have to go.
'I want to acknowledge what people are doing at Chase Farm, fighting to save the NHS.'
Young Socialist Editor, Paul Lepper said: 'They stole EMA, the right to go to university, putting fees up to £9000, the right to a job. We won't stand by and let it happen. They are taking our NHS and we won't stand for it.
'At Dexters Community Centre in south west London they have been doing a great job for a long time. The council say they are going to close it, but the staff won't give up the keys. That's the mood of people today. People want action. This government don't give a damn, taking away what we need to survive – hospitals, council houses.
'Build our party, fight every step of the way, fight to win, fight for socialism.'
BMA member Anna Athow said: 'The Health and Social Care Act came in on 1st April to destroy the NHS, which has been built up over 65 years. Under it they've set up the NHS Commissioning Board, which is a privatisation board.
'What this act does is open the whole NHS up to takeover by private corporations. Central to it is the closing of District General Hospitals. DGHs, with A&E, Maternity, Paediatrics, Intensive Care and Emergency Surgery are the centrepiece of the NHS.
'This government wants to close 60 DGHs, 22 of them in London. They've already got rid of 6,000 trained nurses. They are selling off the land, forcing hospitals to become foundation trusts.
'A&Es are the main target of attack. Without our DGHs we won't be able to live. We have to take direct actions, occupy, and the whole trade union movement has to come out.'
Amanda Christie, from the Barnet Alliance for Public Services (BAPS), said: 'I'm a council worker, a Unison member and a resident and I will be out of a job by the end of the year.
'They are outsourcing 70% of council services. In terms of value my wage has dropped by 18% in the last four years. There have been massive redundancies in Barnet.
'BAPS was launched on 23rd September 2010 to fight to defend jobs and services.'
Hillingdon Hospital Strike leader Malkiat Bilku said: 'We fought at Hillingdon Hospital for five long years and we won our struggle. I support the resolution.
'We have to defend all our services. We go to Ealing Hospital and picket every Friday. This hospital must not close.'
Dave Wiltshire, Secretary of the All Trade Unions Alliance, was the last speaker. He said: 'We have to understand what is behind all these attacks – a war on the working class to the finish.
'What's driving them is the crisis of capitalism, it is forcing them to attack. In 2007 the bubble burst, Lehmann Brothers went bust, the government said we can't have this, we'll have to prop up the banks. The state took over the debts.
'They have to smash the Welfare State entirely. Capitalism today can't go forward. It's got to drive the working class back into the gutter. But the working class won't have it. That's why there is now talk of a general strike and it's on the agenda for the TUC General Council meeting on 23rd April.
'Unite, the largest union, says a general strike would be desirable. It's not desirable, it's essential.
'The trade union bureaucracy is retreating before the working class. But 24 hours is not enough. I agree with the resolution, we have to occupy, but the trade unions have to call action.
'In 1926 the General Council of the TUC was forced to call a general strike, but after nine days they called it off. They were politically incapable of taking the struggle forward to a struggle for power, incapable of going toward socialism.
'We have to build a leadership that will take the struggle forward all the way. Join the Workers Revolutionary Party. You've got nothing to lose, but as Marx said, you've got a world to win.'
The main resolution concluded: 'There must be fundamental changes: the government must be brought down and replaced with a workers government that will immediately carry out a socialist planned economy so that all the resources are used to develop the NHS, free state education, council housing, pensions and provide jobs for workers and youth. We want socialism. This is the way forward.'
The resolution was carried unanimously.