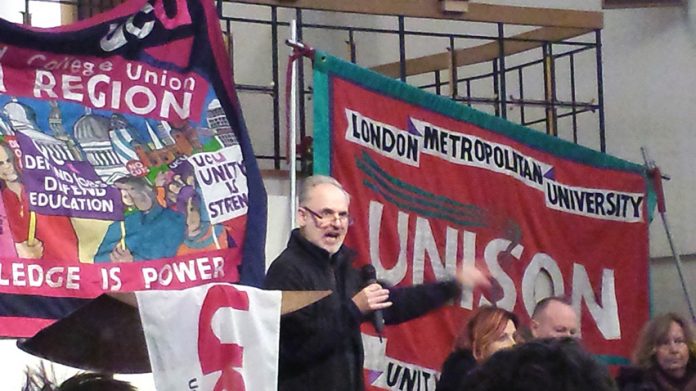 THOUSANDS of striking university and college lecturers, along with other workers in higher education, were solidly on 24-hour strike on Tuesday.
Four unions – University and College Union (UCU), Unison, Unite, and EIS – were taking the action.
They received great backing from their students including in Sheffield and at Goldsmith's in London, where occupations of facilities were organised in support.
Staff in universities were offered a miserly 1% pay rise this year, despite their pay plummeting by 13% in real terms in last four years.
They took action on 31 October and then members of UCU, Unite, Unison and the EIS trade unions walked out for a second time on Tuesday.
They were joined by lecturers in further education colleges in England who rejected a pay offer of just 0.7% from their national employers. They have seen their pay cut by 15% in real terms since 2009.
UCU general secretary, Sally Hunt, said: 'The strength of support for this action by staff has meant it has not been business as usual at many of our colleges and universities.
'Staff have reached rock bottom with massive pay cuts over a long period yet they see their institutions ploughing money into new buildings and giving those at the top six-figure salaries.
'What we are asking for is a modest and affordable pay rise to reward those who are the backbone of our post-16 education system and who have made it the success story it is today.'
In some locations, security teams walked out at midnight, with postal delivery services refusing to cross picket lines. Several universities cancelled classes before the industrial action started, while the University of the West of Scotland closed.
John Hart, a Unison member who works in the library at Lincoln University, said: 'I am on strike today for many reasons. Staff are low paid and are worth so much more, and we need to be listened to.'
Rhiannon Owen, a Unison member who works as a library assistant at Aberystwyth University, said: 'I am protesting against the derisory 1% pay offer. Universities can afford to pay more, and should pay more.'
One student at the University of Bath said: 'Money is being creamed off to go in the pockets of Vice Chancellors, but there are no toilet seats in the students' toilets!'
Barbara McKenna, Unison regional organiser in the East Midlands, said: 'We have all gates covered at Lincoln University. The vice chancellor brought coffee out to the picket line this morning, and students have pledged their support for us as well as the extra study time.'
Sam Leigh, Unison regional organiser in Norwich, said: 'Unison member support for the strike has been so strong that the public gallery and museum at the University of East Anglia has been closed for the day.'
There were good picket lines at the University of East Anglia for the second national strike day with members of UCU and Unite and Unison. This time they were joined by student members of the UEA student union.
On the back gate, Jimmy Cross from Unite said: 'We've had good support so far. Everyone seems positive from staff and students.
'Fees are quite high for students and they need value for money. The staff should be well paid to provide that service for students.
'Regarding privatisation, education should stay as a public service and keep services in-house and not outsource. This will give a better service to students.
'I hope that there will be some more action.'
Student Merlin Seller, helping put up the UEA student union banner, said: 'They're cutting the real income of staff, which is horrendous in this day and age.
'Students should support their lecturers for the sake of the campus environment and the sustainability of higher education.
'The same people who are cutting staff wages are privatising student loans.
'We're pleased that the student union is backing today's strike.'
Unite picket Danny Turner, said: 'It's part of a move, towards part-time casual labour and falling wages in real terms.
'You can link it to the privatisation of education, which is virtually self funded now.
'They're cutting the number of courses and modules, and saddling students with a minimum of £27,000 of graduate debt.
'I think it is part of a wider agenda, affecting services like Royal Mail, the universities and the NHS.
The only solution is for people to work collectively through the trade unions and civil disobedience.
'This is a class issue and people must be aware that they're part of a collective class identity. The Conservatives and Lib Dems represent the financial interests that run their parties, like hedge funds.'
At Goldsmith's there were picket lines all across the campus and an occupation of the Deptford Town Hall building.
Dr Sally Scane, a lecturer on the picket line, told News Line: 'Everybody is under attack at the moment. The unions are under attack, the students, and the graduates.
'Today's strike is not just about our wages and conditions. We are striking to defend higher education.
'We are against this government's plans for privatisating higher education.
'Lecturers being able to earn a living while the costs of living are rising is an important part of that.
'The drive towards privatisation has seen our working conditions attacked. The workload has increased along with pressure from management.
'Further education must return fully into the public sector. That's the only way to fund quality education including the wages of staff.'
Conrad Grant, Goldsmith's NUS union president, told News Line: 'I feel it is important that students support their lecturers, that is why we occupied.
'I feel students should see the material aspect of their educations.
'The lecturers are a major asset in further education and they are facing a 13 per cent pay cut.
'The lecturers should be supported to do their job properly in order for us to get the best quality of education.
'There is a major problem in the way this government is running the public sector down.
'You just have to look at the NHS, fire services and of course education. All are being packed so they can be sold off as commodities.
'We need to go beyond this way of doing things. The fight for a general strike is growing because everyone is under attack and wants to fight. I would like a general strike. It has to be done.'
At Harrow College in north west London, UCU Branch Chair Steve Hayward told News Line: 'This is a national dispute about lack of pay rises, increased workloads and attacks on work conditions and an attack on collective pay bargaining.
'We have had no pay rise for five years, the national offer is 0.7%, but we've lost 15% of our purchasing power in the last five years.
'If they want to stimulate the economy, people need to have money in their pockets to purchase goods.
'We are working to improve the students' chances in life. The cutbacks on lecturers' training and increases in tuition fees has created a shambles.
'I think everyone should strike together to defend pensions, wages and jobs.'
Lecturers, joined by students, picketed every single gate of Birmingham University's sprawling campus.
UCU member Andrew Olson, who teaches psychology, said: 'We are striking over pay because in the last six years our pay has gone down by 17%.
'The 1% pay rise is below inflation, it's just not enough to keep up with inflation, it's really a pay cut.
'At Birmingham University our vice chancellor had no hesitation in accepting a near 7% pay increase. He is now on above £400,000. He is the highest paid vice chancellor in the country.
'He is engaged in discussions to raise student tuition fees even higher.
'Students have been very helpful and supportive and they're on strike as well today.
'We support their plan to re-occupy.'
UCU member Chris Mayhew said: 'I am appalled at the disparity of pay between the management and the staff. They should be leading by example.
'The privatisation of the university is absolutely immoral. The way the university system is going it will just be education for the rich.'
Another UCU member, Steve, told News Line: 'The strike is going well. I'm new at the university, personally, I've been working very long hours. But I'm not here just for personal issues or just the pay dispute, I'm here for the broader issues.
'The whole university system is changing. The fact that university students have to pay £9000 a year; the disparity between the lowest paid and the highest paid is getting wider; that universities are starting to look and act like corporations.
'I'm angry at how staff targets are driven increasingly by money and not by the quality of research or by the quality of teaching.
'Anything that doesn't bring in money is marginalised.
'Students are discouraged from such courses because they are told they are not going to make any money when they graduate.
'Subjects like philosophy, the arts, classics, social sciences like anthropology are being devalued.'
Hattie Craig, a student who was involved in the occupation of Birmingham University, added: 'They shut down the Institute of Antiquities and Archaeology, which meant the closure of the single honours archaeology course. The sociology department, which was world renowned closed in 2008.'
Another student involved in the occupation, Kitty Howse, said: 'We just heard that Sheffield University went into occupation last night.
'They have occupied the Arts Tower, which is the second tallest building in Sheffield.
'I think students at all universities should follow suit. If you believe in free education and are against the commercialisation of education, then you should occupy.'
In the afternoon, over 200 lecturers and staff from all across the West Midlands packed out the John Lee Theatre at the Birmingham and Midland Institute after a day of picketing their universities and colleges over the escalating dispute over pay.
Opening the rally, West Midlands UCU Regional Chair Brian O'Sullivan said: 'This is a historic day, the first time that Higher Education University staff and Further Education Colleges staff have taken industrial action together.'
Matt Raine, West Midlands Regional Rep for Unison addressed the rally. He said: 'This is the second historic day of strike action our unions have taken together.
'At Birmingham University the university management complain about the volatility of the market and use that as an excuse to drive down our pay.
'But at the same time, they want to push fees up to £16,000 a year. This is hypocrisy.
'I am for national pay bargaining, but at Birmingham University, staff in Unison and Unite have a local pay agreement. I am against the break up of the national agreements.
'To all those who believe that the way forward is to have local agreements, they should see what happened at Birmingham.
'Suddenly the staff had their pay downgraded. Suddenly we have had to pay a lot more to park our cars on campus and suddenly we lose our final salary pension schemes. So no, I am not for these local agreements. We have to defend free education for everyone and that means taking united nation wide action until we win.'
Ian Murray, the Midlands Regional rep for NUT then spoke. He said: 'I bring solidarity from Midlands NUT. Our strike action was postponed, so unfortunately we are not on strike with you. And I say unfortunately because Michael Gove offered us talks so we postponed the strike.
'Gove only wanted to talk about how the government imposes its plans not if the government will impose their plans. So we will be back on the trail of strike action to oppose what is happening.
'I would have liked the NUT to have come out on strike with the UCU today and I hope in January, if you are still fighting then we will be joining you in strike action.
'They are all in it together, bankers, business people and the government. If you look at the way that bankers' bonuses have continued, if you look at the latest attempts to bring in more anti-union legislation then you can see that they are all in it together.
'We need to all be in it together, whether it is health workers, teachers, black listed construction workers, firefighters or Royal Mail workers, we need to fight together.
'The Hovis workers in Wigan who recently won an outstanding victory – what we need to do is link all of these struggles together.
'Then we will have a force which can defeat this government, defeat the employers who are trying to drive down our pay and defeat private business which is ripping through our education system.
'We are in it together, that means we have to win it together.'
Liz Lawrence, National Vice President of the UCU told the rally: 'Greetings from the UCU and to everyone who has been out picketing against austerity and cuts.
'We were out together, FE Universities and HE colleges, Unison, Unite and the United unions of Scotland. We are not prepared to accept another pay cut for another year in a row.
'Our members are expected to work even harder and year on year take an under-inflation pay rise. It just does not add up.
'It is time that they valued their staff instead of devaluing our pay cheque. We have said that enough is enough. It is time to take a stand against the cut in our standard of living.
'People just have not got enough money to live on. What was the point in going in to talks? When it came to pay, all they offered was 1%. They totally ignored the claim from Unison for a living wage. It was not even worth the train fares!
'Both the disputes in the HE and FE are about national pay bargaining machinery. If we do not fight then national bargaining will begin to wither away.
'They want a long-term downward trend of accepting pay freezes and below inflation pay rises which over the years become severe pay cuts.
'What is the pay going to be like for future employees of colleges and universities? Universities have a surplus of £1.1bn. They have the money; they just do not want to spend it on us.
'Education has been devalued by marketisation and privatisation.
'Education is not a commodity to be bought and sold, it is a social relationship between people. It is a relationship and a social process.
'We need to campaign with students for the defence of public universities and against the privatisation of education.
'We have to defend education as a public institution and not as a competitive business.
'It is time to kick the market out of education,' she said to applause.
Lawrence concluded to a cheering audience: 'We need to unite the struggles against privatisation. We need to coordinate action; let's build towards a general strike!'
Finally, the rally was addressed by Hattie Craig, the Vice President of the Birmingham University Guild of Students.
She told the audience: 'Students have occupied at Goldsmiths, they have occupied in Essex, Ulster and Sheffield and the Sussex occupation continues.
'We recently occupied at our Birmingham University. We are all occupying because we understand the importance of standing in solidarity with the university staff. More and more students are waking up to this fact.
'The interests of both students and staff are inextricably linked.
'At Birmingham we occupied the Senate Chamber at the Aston Webb building because of its historical importance. It used to be that the decisions concerning the university were all made democratically within this chamber with all university staff being involved in this process.
'Fast forward to today and our university is run by a board of directors, all on over £100,000 each.
'There are 111 that are paid over £100,000. Our Vice Chancellor is on £404,000 a year and refuses to pay university staff even the minimum wage.
'We have been calling for a whole range of issues.
'We want our Vice Chancellor to publicly come out against the privatisation of student loans and against the student tuition fee rises.
'Currently his position is that fees should be uncapped.
'Our demands concerning staff, which have got a lot of attention, are that everyone working at the university must be paid at least the living wage and that management should not be paid any more than ten times the amount of other workers.
'The heavy-handed way in which they evicted us from our occupation shows what they think of their students. They used bailiffs and police in the early hours of Thursday morning to forcibly evict the students that were left in the occupation.
'Students feel so strongly about these issues that they are willing to risk court fines, bailiffs and arrest because they are appalled at the way in which the university treats its staff.
'Our union has a policy of overwhelming support for your strike. We have not got labour power ourselves to withdraw so we are relying on you to protect education in so many ways.'
Pickets were out in force at University of Sussex in Falmer in Brighton, covering all the entrances.
At the southern ring road pedestrian entrance, Becky Cameron, a senior finance assistant and Unison member, told News Line: 'We've had a lot of support and positive comments.
'We're here to show we have a united voice and that all the unions are pulling together over this.
'I think the whole country needs to unite and pull together. The TUC should be talking to all relevant unions and employers to get through this dreadful time.
'The ultimate action would be a general strike.
'It's great the students are out supporting us and I think it's great that they occupied this campus.
'It can't carry on like this, people can't go on living in debt.'
Paula Burr, Sussex Unite Secretary said: 'The negotiations are a waste of time. It's become a game of words.
'If they don't move then we'll step up the action after Christmas, perhaps two-day strikes.
'A general strike is certainly something people want to do. There's definitely more coordinated action involving communities as well, and I see that as growing.
'People are being pinched financially. They're cold and hungry, and lots are out of work, who feel something needs to be done, so I support a general strike.'
Sussex students, who have been reoccupying the university's conference centre against the privatisation of services for over one week, were threatened with an injunction yesterday.
They decided to end the occupation and support the strike.
Adriano said: 'We wanted to send a message out that we support the lecturers and the other staff – a strong message that we are united with them.'
Students held long banners across the entrances of the university, barring private contractors from entering.
Several vehicles rammed them, but the students stood firm and refused to back down and the vehicles had to turn around and leave.
At Sheffield University several buildings were picketed and students had occupied the campus Arts Tower overnight to assist the strike and show their support.
One of the occupying students told News Line:
'Why are we in occupation? On strike days we occupy buildings to prevent the work of strikebreaking staff.
'Staff members who come in to work as normal are undermining colleagues' ability to fight for better conditions.
'We also occupy to assert ownership over our university. The University belongs to its staff and students; a community, not a corporation. By claiming this building, we ask that everybody is given a fair wage and fair treatment.
'Cuts to staff pay are another sign of the ongoing attack on our education. Alongside departmental cuts and fee increases, we are losing control of our right to education.'
In front of the tower, Kath Southern, Unite branch chair, told News Line: 'We've got three trade unions – Unite, UCU and Unison – on campus.
'It's really great that all are working together, with support from the students' union.
'We're out campaigning against the very low pay offer this year. We wanted a pay offer at least in line with the rise in the cost of living, estimated to be 3%. They offered 1%.
'We also think it's very important to help disabled staff and keep them in work.
'I still think of education as a public service. Regrettably, I think management do see it nowadays as a private business.
'Sadly I think it will come to many more days like this. I don't think that education should be a commodity.'
She also emphasised: 'We very much appreciate the support we are getting from the students. They've been in the Arts Tower from last night to support us.'
A picket from the UCU lecturers' union, Sam Marsh said: 'In general terms, I think below-inflation pay increases are not acceptable without a good reason.
'The employers have no good argument for not raising pay in line with inflation.
'It's a question of whether people can live properly.
'And solidarity across the workforce is really important.
'It's clear that things can't go on in the same way indefinitely.
'If there aren't significant changes to the way money is distributed in this country, it's not sustainable.
'There need to be definite changes, and if it needs general strikes then that's the way to go.'
He added: 'The last thing we want to be doing is disrupt any student's education.
'The students have been very supportive and understanding of what is going on.'