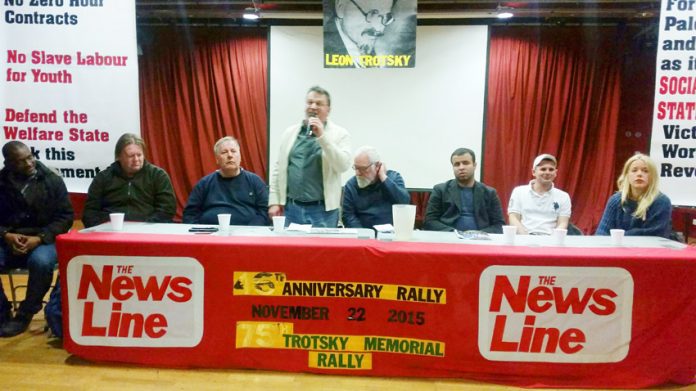 JONTY Leff the Assistant General Secretary of the WRP told the News Line Rally yesterday that 'Today at this 46th anniversary rally we celebrate the struggle of Leon Trotsky, who alongside Lenin lead the 1917 Russian revolution, the first successful socialist revolution.'
He added: 'This drove forward the world socialist revolution, and the national liberation movements to smash imperialism, with the Chinese workers revolution in 1949, and the victory of the Vietnamese people in 1974 when the US occupation army fled from the country. Both Lenin and Trotsky held that the 1917 revolution was the beginning of the world socialist revolution.'
He continued: 'Today the workers of the world are faced with the task of completing it, and of going forward to a world socialist republic, where the productive forces will be planned on a worldwide scale to satisfy all of the needs of humanity.'
Leff condemned the Cameron government saying: 'Despite the whole catastrophe of the Iraq war in 2003, Cameron is desperate to go to war on Syria and prop up Israel.However their international war policy is just an extension of their home policy – this is to destroy all of the gains of the working class with a policy of more and more repression and savage cuts and closures. To save capitalism Cameron and Co are making war both at home and abroad!
He said: 'It not ISIL which is destroying the British way of life. It is Cameron who is destroying the British way of life. The Tories want to smash the NHS, destroy council housing, and end the welfare state. No cut is big enough. It is permanent austerity as they call it and they have only just begun.
'So it is war against the working class at home and abroad.
Leff condemned the TUC saying: 'The TUC leaders, who have not lifted a finger to stop the new anti-trade union laws, have refused to offer their full support to the the junior doctors by joining the action. This is despite the fact that if the junior doctors are beaten and Hunt is able to dictate their contract, the NHS trade unions and all trade unions will be next.
'The Workers Revolutionary Party and the Young Socialists call on workers in the trade unions to take their leaders to task immediately and if they will not offer full support to the junior doctors and join the action, to remove them and replace them with leaders who will. We repeat that the whole working class must stop along with the junior doctors and that the mass movement of the working class must be mobilised to win their struggle and to bring down the Tory government, to go forward to a workers government and socialism. We urge all workers and youth to join the Workers Revolutionary Party and the Young Socialists so as to lead the struggle for the British socialist revolution.'
He concluded: 'World capitalism is in its greatest crisis, i.e. its death agony. The working class movement, because of this situation, itself is gripped by a crisis of leadership, with the old leaders acting in every way to prop up capitalism how ever viciously it acts against the working people of the world. We are building the Workers Revolutionary Party and the Young Socialists to lead the British socialist revolution. We urge you to join this struggle and to play your part in this and in the building of the Forth International to lead the world socialist revolution to its victory.