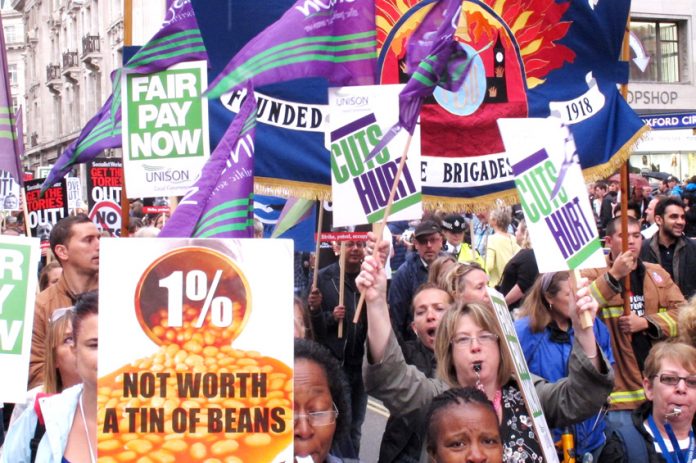 ALMOST a quarter of a million civil servants will take part in 72 hours of action in the public sector with a strike on Wednesday 15 October, the Public and Commercial Services union announced yesterday.
The 24-hour walkout is being co-ordinated with industrial action by unions in the health service on Monday 13 October and in local government on Tuesday 14 October, and comes ahead of the TUC's Britain Needs a Pay Rise national demonstration in London on Saturday 18 October.
The focus of the strikes is pay, with wages frozen for two years after 2010 and subsequently capped at 1%, and they follow the joint public sector strike on 10 July.
Since 2010, taking into account pay cuts, the increase in monthly pension contributions and inflation, many civil servants have suffered a 20% cut in their incomes, the PCS says.
It will include employees of Westminster government departments and agencies, and the Wales assembly, but not those who work in bodies under the jurisdiction of the Scottish government.
PCS general secretary Mark Serwotka said: 'These strikes show we are serious about bringing an end to pay cuts that have slashed the living standards of public servants while the super rich have been rewarded with tax cuts.'
Unison confirmed yesterday that its members working in the NHS in England will stage a four-hour stoppage between 7am and 11am on Monday 13 October.
This will be followed by four days of action short of strike action between Tuesday 14 and Friday 17 October when members will stop working through their breaks and instead take their breaks.
A strong 68% voted yes for industrial action and 88% to action short of strike action in a ballot which closed on 18 September.
Unison General Secretary Dave Prentis said: 'For many of our members this will be the first time they walk out as the last action over pay was 32 years ago. The NHS runs on the goodwill of its workers, but this government has shown utter contempt for them.'
Unison added: 'There are ten unions balloting in the NHS over pay and our action will be co-ordinated with them. Further discussions are taking place about the type of action short of strike action that will take place in the ten ambulance trusts in England and this will be announced at a later date.'
Unison, GMB and Unite local government members are holding a joint strike on October 14. Unison confirmed last Friday September 12: 'Tuesday 14 October: local government members in England, Wales and Northern Ireland will be taking their second day of action, after rejecting the employers' pay offer of just 1%.'
Prentis told the TUC Congress that now was the time 'to defend all we have achieved and yet not to be ashamed to ask for more'.
At the heart of that demand is 'a living wage for real people whose wellbeing is being ignored,' he said.