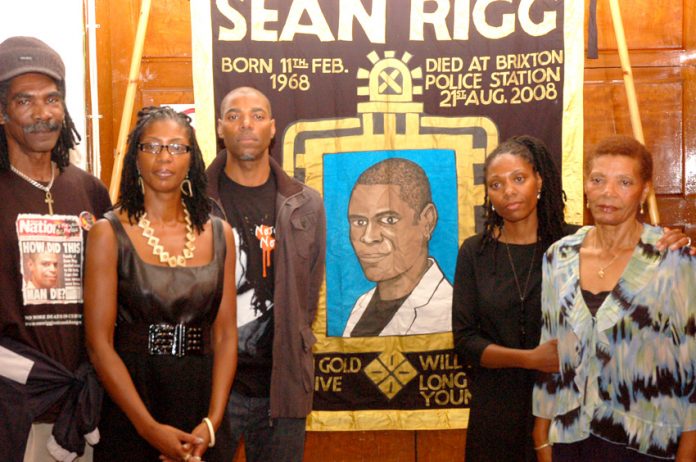 A 400 strong packed meeting at Lambeth Town Hall on Tuesday night commemorated the fourth anniversary of the death of Sean Rigg in Brixton Police Station.
Chairing the meeting, Matilda MacAttrum, of Black Mental Health UK, said: 'This meeting is about mental health and policing. It's time to change. It's about human rights and the fight for justice.'
She pointed to the number of black young men who had died at the hands of the police, adding: 'There is evidence of higher detention rates for black people.'
Citing Roger Sylvester and Sean Rigg who died as a result of police restraint, she continued: 'Kingsley Barrett-Brown was held down in the street only last week.'
She stressed: 'We want any death in custody subject to independent scrutiny. Half of the people who died in custody had mental health issues. Some of the highest rates of detention are in Lambeth and Lewisham.'
Sean Rigg's sister, Marcia Rigg, of the Sean Rigg Justice and Change Campaign, told the packed meeting: 'Today is the fourth anniversary of Sean's untimely death at Brixton Police Station.
'We will never forget and we will never let those responsible for his death forget. Lessons must be learned. Sean was a beautiful person with internal strength.
'He was a musician and a songwriter who was proud of his work. Just before he died he'd completed a youth opera.
'We miss him and his spirit. He was special to us. He was our brother. Now all the family are left with is to continue to fight for justice.
'We want improvement and change so there are no more of these deaths. But things seem to have gone backwards.'
Referring to the killing of Mark Duggan in Tottenham last August, Marcia said that the inquest jury was not allowed to find for unlawful killing.
Returning to the death of her brother, she said: 'It was the IPCC (Independent Police Complaints Commission) we got our evidence from.'
She went on to say: 'People have come forward in our fight for justice. We always believed in ourselves. We want justice as a basic human right to life.'
She thanked the inquest jury 'for their clear account of how Sean died' and said it had brought out 'the failures of SLAM' (South London and Maudsley NHS Foundation Trust).
The next speaker, Samantha Rigg-David, Sean's other sister, said: 'Words can't express how we feel.'
She continued: 'On Sunday evening we heard about a man in Windrush Square. Witnesses said the police choked him and stamped on his face and he lost consciousness.
'We don't know who he is. He is in a police station in south London. He was vulnerable. It could have happened to any of us – it could have been Sean.
'Witnesses saw what the police did to this man. How can such a thing happen on a Sunday night, the police being brutal and heavy-handed!'
She concluded: 'We're here to try to push these kinds of issues here for change.'
Estelle Du Boulay, from the Newham Monitoring Project, told the audience: 'In our work we've seen a greater and greater shift towards racism by the police. This is despite the Stephen Lawrence inquiry recommendations.
'The ground has shifted. The number of attacks on asylum seekers in the press has increased, particularly on Asian communities.
'The police have become better in the use of language for their public statements. But in terms of the police on the ground rooting out racism, that never happened.
'People have difficulties in coming forward. Oversight still raises wall after wall. No action is taken in cases, people are still being strip searched in police vans. There's a surge in cases of racial harassment against the police.
'The work of the Rigg family shows we need to keep race on the agenda.'
Next speaker Weyman Bennett, from Unite Against Racism, declared: 'The Rigg campaign has brought people together. I pay tribute to the family who have stood up for justice.'
He added: 'What needs to be done is a policeman needs to go to jail for murder. I'm a teacher. If someone dies in my care, I couldn't just say sorry. I'd go to jail for neglect of duty.'
He said that the policeman who killed Ian Tomlinson got off, adding, if someone died and you killed them, not only should you lose your job, you should go to jail.
He continued: 'People rioted last summer because Mark Duggan was murdered and there was all the covering up.'
He said that the IPCC should be abolished and that not only should those who kill people go to jail, but 'people who cover up for it should go to jail as well'.
Jelena Timotijevic from Defend the Right to Protest, said: 'We have common issues with you. Police kettled us and they battered students. A young man who was hit on the head was lucky to survive. A disabled young man was dragged out of his wheelchair twice, allegedly for his own safety.
'This is an attack on our democratic right to protest. There is a parallel between the inquest into Sean's death and the trials of students, where police told lies or presented evidence in such a way.
'It seems to me the police have been given a free hand to prosecute whenever we go onto the streets to protest. Not one police officer has been charged, but students have been charged with violent disorder, which is a very serious charge.'
Glenroy Watson of the RMT union, said: 'We need to recognise the community isn't separate from our work as trade unions. We need to support these community campaigns. MPs aren't going to do anything.
'The IPCC is not independent, they offer no protection, no resistance to bad police officers. Crimes are being committed by police, police must have accountability and must go to jail.
'Sean has been murdered. The inquest jury recognised that.'
He warned: 'The police in this country are becoming like a paramilitary force. They behave like they have the authority to kill black people.'
Referring to the death of Ian Tomlinson at the G20 protest and the trial of PC Harwood, Watson asked: 'Why are we told a police officer has a bad record after the murder. We need to show support for the families who are in struggle.'
Speaking from the floor after the main speakers, Aji and Kemi, the mother and sister of Seni Lewis, said: 'The day after Seni's life-support machine was switched off our pastor introduced us to Samantha Rigg. Without her help we wouldn't have known anything. We thank the whole Rigg family.
'Seni would have been two years into his PHD. He was a really lovely boy. Seni was in good physical health, a young 22-year-old who died after restraint after a mental health crisis.
'He went into hospital as a voluntary patient and an hour later he was dead. The thing that has kept us going is our faith. It is a continual emotional struggle. We have just started the campaign and we have a website www.justiceforseni.'
Minkah, from the United Families and Friends Campaign, said: 'We have to consider how we get justice. Police murder black people. We have to see this in a social context. We need to bring all these campaigns together.'
Referring to the fact that there were senior police officers in the audience, he declared: 'We can't have police among us when police kill our people.'
Sara Callaway, from Women of Colour Global Women's Strike, said: 'Police have carried out so many crimes. In South Africa police have just gunned down many people. The issue is international. Police must go to jail for these crimes.'
Responding to a question from the floor, Marcia Rigg said: 'Police need to care. They need to know right from wrong. You don't need training for that.'
Samantha Rigg-David said: 'Since 9/11, police seem to treat everyone as a suspect. Police need to change their attitudes towards citizens who pay their wages.' She added: 'We have to keep resisting.
Following the speeches and debate there was a fifteen minute film about the struggle of the Rigg family by Ken Faro, titled: 'Who Polices the Police?'
Its commentary noted that the police are protectors of the ruling class, of the rich against the poor. The film accused the IPCC of a cover-up.
Sean's brother, Wayne Rigg said on camera: 'Witnesses saw Sean being restrained but one witness who saw what happened did not have a statement taken from him.'
Marcia Rigg said on camera: 'Sean was dead for an hour before he was formally pronounced dead at King's College Hospital.'
Wayne Rigg said: 'When someone dies the state does a cover-up.'
The commentary concluded that 'there is a need for social organisations that are armed with political clarity'.
At the conclusion of the event, the Rigg sisters led a march from the hall to Brixton Police Station where a memorial ceremony was carried out, with tributes fixed to a tree outside the station.
Samantha Rigg-David named four police officers she held responsible for her brother's death and a sergeant she accused of covering up her brother's death by restraint on the station floor.
The crowd shouted: 'Who killed Sean Rigg – the police killed Sean Rigg'.