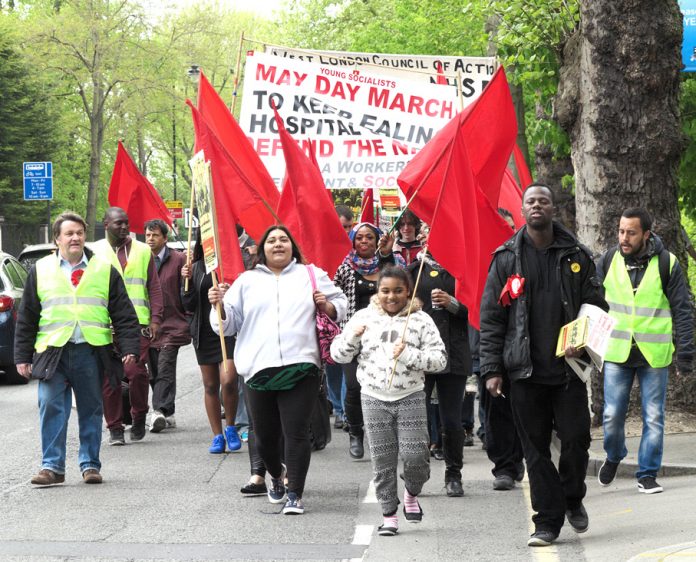 'WHEN they move to close the maternity and A&E at Ealing Hospital, staff, unions and the community must occupy. A General Strike is coming, we have to build the leadership the working class requires to ensure its victory. Join our party.'
Jonty Leff, Deputy General Secretary of the Workers Revolutionary Party was closing the rally at the end of the Young Socialists-Workers Revolutionary Party May Day March through Ealing in West London on Saturday afternoon.
More than 200 workers and youth were on the march, which was led by red flag waving youth, followed by the WRP/YS banner which called for the occupation of Ealing Hospital against closure, then the West London Council of Action banner and the YS Victory to Palestine banner.
'Defend Ealing Hospital – Occupy now! Defend the A&E, Defend our Maternity – Occupy Now!', rang out as the march moved off from its assembly point at the front of the hospital.
'No Zero hour contracts – youth demand jobs!, Capitalism is Collapsing – Socialism Now!, Defend our NHS – No privatisation, One solution – World revolution, No cuts, no closures – Kick this government out!', were other slogans on the march.
WRP General Secretary Frank Sweeney opened the rally by sending revolutionary greetings to working class struggles around the world, starting with Yemen and followed by Palestine, Ukraine, Greece and many others.
The first speaker was Scott Dore. He said: 'Greetings on May Day. All over the world workers are fighting against capitalism.
'In Britain almost every A&E is threatened with closure. They've already closed two A&Es in west London and now they plan to close a third and a fourth at Ealing and Charing Cross.
'To occupy, to physically occupy is what's needed.
'If the Tories are re-elected they will close these hospitals and if a Labour government gets elected they will also bring in austerity.
'When we spoke to Rupa Huq, the Labour candidate here, she said Labour will not re-open anything that's already closed and only review what's up for closure.
'When Blair was in power Labour brought in private companies to run the NHS, they brought in privateers to attack council housing.
'It's not enough to say that it is wrong. We have to be ready to bring down a Labour government.
'It's not enough to contemplate what's going on. Build the leadership. Recruit.
'Things will not improve, whether it's Tory or Labour. We are fighting for a socialist future.'
The next speaker was Radka Lackova, who said: 'I'm a mother living with my husband and three kids in a one bedroom flat in Harringay.
'I've been back and back to council telling them it's too small, but they always try to confuse me, telling me I should look for my own property or swap houses.
'It's time for change. We have to put our foot down and vote and fight for the WRP.'
Railway worker Bill Rogers told the rally: 'The response we got today was terrific.
'This week millions of workers are going to the polls and they want to kick the Tories out. The working class has taken a massive great hit over the last five years.
'This business out in Baltimore, the state has arrested hundreds of people, it's a huge uprising of workers, spreading across the US. There's a coming together of the working class around the world.
'In Greece they are going to default and this will blow up the EU.
'It's important to vote for Scott and I support the call to occupy Ealing Hospital.
'Our branch of Aslef was instrumental in setting up the North London Council of Action, which picketed Chase Farm Hospital for years and occupied against the closure of the maternity and A&E.
'Within four hours they brought in the riot police. The struggle for Chase Farm showed that we've got to have the support of the trade unions.
'But the trade union leaders just disappeared. Such leaders must be kicked out and replaced with leaders who will take action.
'We support the call for a general strike to bring down any government that tries to bring in austerity. If you do that you have to take the power and organise a socialist revolution.
'And for that, a revolutionary party is the main necessity.'
Fourteen-year-old Safie Emila Sellu, whose family is facing eviction from their home tomorrow morning at 11am, told the rally: 'Every year we have been made to move house. On Tuesday we're not going to school because we're being evicted.
'They are forcing us to move into a private flat. They are evicting, intimidating and scaring my little sisters. It's not right.
'They claim that they are interested in helping young people, but it's not true.'
Safie's mother, Aminata Sellu, said: 'I am from Sierra Leone, where my dad was killed and my brother's family in the civil war.
'I want to add a few words. As an African, we travel all this way for our safety and a better life for our children. They put us in private housing.
'Recently they moved us from Elephant and Castle to Plumpstead, so my children had to wake up at 5am to go to school. Now they have brought us back to Camberwell but they are planning to evict us on Tuesday.
'I work as a support worker for Care UK.
'It's too stressful. I said to my children, no more tears, I just want to fight for my rights.'
Frank Sweeney said: 'These comrades should be proud of themselves for refusing to be intimidated,' and a vote was taken to go to 51 Benhill Road, SE5 7QY at 10am tomorrow to prevent the planned eviction at 11.
Jasmin Parsons, from Our West Hendon, said: 'At West Hendon we have won a number of battles.
'Barnet Council are getting rid of 9,000 council homes, replacing them with private property.
'The privatisation of council housing plan is going on right the way throughout London.
'These are our homes, our assets, they were never given the mandate to sell off anything.
'They are thieves, selling off our public land, treating us like muck.
'We have to intervene, take control of these decisions they are making against us.'
Final speaker, Jonty Leff, said: 'Comrades here are being evicted as a whole family. We will support them on Tuesday. If capitalism can't offer people a roof over their heads it has to go.
'The United States are $7.9 trillion in debt, an impossible sum to repay. Young people and workers are saying they won't have it. Fast food workers are striking for a minimum wage of $15 an hour, which they have won in some areas.
'US workers are rising up and so are youth.
'When Freddie Gray was killed in Baltimore, his spinal cord broken by the police, the youth and community rose up. They have called a state of emergency and brought in hummer armoured vehicles against protesting youth.
'In Greece, the Syriza government has to dance to the tune of the Troika, but workers are saying they won't pay for the crisis. A revolutionary movement is emerging in Greece and it's the same in Britain, which is totally bankrupt.
'They paid £1.4 trillion to bail out the banks in the 2007/8 crash and to pay for it they are closing hospitals and schools and privatising everything.
'The Tories are aiming to install Johnson as their leader, who has bought water cannon to use against the uprising they know is coming.
'They are moving towards a National Government for the job in hand, which is to smash up all the gains of the working class.
'But we've had strike after strike, people are fighting, but there is a rotten leadership in the unions.
'These cowardly leaders who refuse to fight must be kicked out.
'The source of all these problems is capitalism, which has to go and we have to nationalise the banks and place all the services under workers control.
'When they move to close the maternity and A&E at Ealing Hospital, staff, unions and the community must occupy. A General Strike is coming, we have to build the leadership required to ensure its victory,' said Leff, before the rally concluded with the singing of The International.
News Line also spoke to marchers as they were assembling and as they made their way.
Nicky Parmer, a playwright from Southall, which is next to Ealing Hospital, joined the WRP and said: 'Ealing A&E saved my life, my mum's life and my dad's life and I despair for the future without it, I really do.
'The biggest two illnesses in Ealing are mental health issues and diabetes and the community desperately needs the A&E service, while the closure of the Maternity will be equally disastrous.
'I've always prided myself on being British on our NHS. No other country in the world has such a fantastic health system.'
WRP member Bianca Nevins, a 22-year-old teaching assistant from Shepherds Bush, said: 'It is important to occupy. Something has to be done. Talking won't help, actions will.
'The idea that they are going to close the A&E and Maternity departments that are being used is disgusting. They're not just being used, they are oversubscribed.
'The redirection of patients to other already oversubscribed hospitals is just displacement.
'It will cause chaos and deaths and is not true to the principles upon which the NHS was first built.'
Southall tenant Sukhdip Matharu joined the WRP and said: 'It's imperative that Ealing stays open so we can continue to use this essential service, which is central to a lot of boroughs and is so needed.
'When they try to close the maternity we have to raise the alarm, we won't have much time to move into action.'