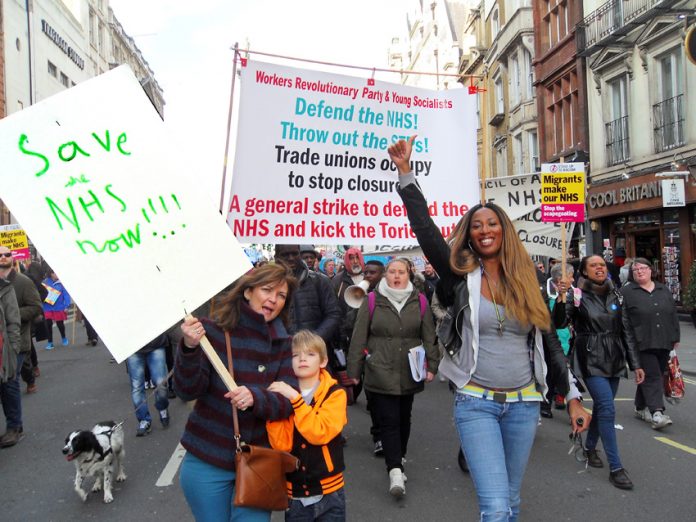 ON 6th June 2017 at the height of general election fever, senior NHS managers at NHS England (NHSE) and NHS Improvement (NHSI) were secretly preparing draconian cost cutting plans and discussing them with local STP leaders.
The plans were outlined in 'The Next Steps for the Five Year Forward View' published on 31.3.17.
The Capped Expenditure Process (CEP) is the new code for massive funding cuts. Every NHS trust, Clinical Commissioning Group and STP (Sustainability and Transformation Partnership board) were allocated a 'financial control total' for 2017/18 by NHSI and NHSE in 2016.
STPs had to put in estimates for their 2017-18 spending plans before Christmas, and these have been examined by NHSE and NHSI, which sent out letters on 19th April accusing 14 areas of 'overspending'.
These are thought to include Bristol, South Gloucestershire, North Somerset, Cambridgeshire and Peterborough, Cheshire, Cornwall, Devon, Northumberland, North Central London, North West London, South East London, North Lincolnshire, Staffordshire, Humber, Coast and Vale STP, Sussex and East Surrey, Shropshire, and Telford and Wrekin STP.
Local NHS leaders were accused of living off 'bail-outs' and instructed to 'make difficult choices' and 'scale back spending on locally unaffordable services' to fit their reduced budget envelopes.
Bear in mind that the NHS is being subjected to the longest and deepest freeze in funding since the 1950s. Currently £22bn is being cut from the annual NHS budget in England from 2015 to 2020.
NHSI and NHSE propose the following ways to cut costs under CEP:
• Closing or downgrading services such as A&E and maternity.
• Closing wards or theatres, reducing staff while seeking to maintain enough emergency care capacity to deal with winter pressures.
• Lengthening waiting times for planned care, breaching the NHS 18-week target for referral to treatment time (RTT) in the NHS constitution.
• Selling estate or other 'property related transactions'.
• Stopping NHS funding for some treatments, including extending limits on IVF, adding to lists of so-called 'low value' treatments and seeking to avoid or delay funding for some treatments newly approved by NICE.
• stopping prescriptions for some items as proposed by Simon Stevens earlier this year, such as gluten free food and cough medicines.
• Limiting the outsourcing of work to private providers.
These plans were being secretly discussed between officials of NHSE and NHSI and local NHS bosses during the general election period. Local leaders were told to 'think the unthinkable.'
Indeed the proposals above mean denying essential healthcare for millions of people, putting their health at risk.
Two examples this week demonstrate this:
NHSE and NHSI instructed hospitals in Cheshire to consider cutting endoscopies by 25% and reducing the number of CT and MRI scans. Dr Jeanette Dickson, vice president for clinical oncology at the Royal College of Radiologists, said, 'While we are yet to see the full details … the identified risk from implementing these cuts is real and undoubtedly will result in the diagnosis of cancer being delayed for some patients.' (Guardian 22.6.17.)
In North Central London, STP officials met on 25th May to discuss how to deal with the outcome of Capped Expenditure assessment of NHSE and NHSI which calculated they were £185m overspent.
North Central London has a population of 1.44m people in Enfield, Haringey, Barnet, Camden, and Islington. Teaching hospitals Royal Free and UCLH also serve many patients from outside the area. The 2016 STP proposed to continue with the ongoing £1bn into the new cancer centre at UCLH and new institutes of mental health and ophthalmology on the St Pancras site and to sell off large quantities of land to provide money from 'disposals'.
Leaked to the Guardian, were their secret deliberations on cutting costs. These include:
• making patients wait longer for elective treatment
• reducing the operations available on the NHS – adding to their list of so called Procedures of Low Clinical Effectiveness (POLCE) Local people have already objected to their proposals to limit the provision of hearing aids.
• reductions in musculo skeletal services.
• cutting the Continuing Healthcare scheme for patients with chronic illness.
• more centralisation of services stripping specialty departments out of the DGHs (Whittington, Barnet and North Middlesex) and centralising them at UCLH and the Royal Free.
North Middlesex is named as the most likely to be downgraded as its A&E was threatened by the CQC and the GMC in 2016 as it struggled to provide good care for the increased patients attending its A&E department after the closure of Chase Farm Hospital in December 2013.
So it turns out that the people of Enfield, Haringey and Tottenham are being faced with the loss of a second acute DGH in their area and the devastation of their acute and specialised care. Some of the most deprived communities in North London are to pay the price. This cannot be allowed.
All over England, NHSE and NHSI are driving through of impossible financial control totals as 'mandatory requirements', forcing the closure of scores more A&E, maternity and paediatric departments and imposing further large reductions in the number of hospital beds. At least another 24 A&Es are threatened with closure.
We now have a situation where NHSE and NHSI devote their huge executive and regulatory powers into destroying NHS care, to 'reducing the demand' for both emergency and elective care, so as to squeeze out the cash to establish the 'new models of care', ready to be run by Accountable Care Organisations which can be put out to tender to the big corporations.
As 'Next Steps' states, Sustainability and Transformation Partnerships are to evolve into Accountable Care Systems: 'ACSs will be an "evolved" version of an STP that is working as a locally integrated health system.'
The 'Capped Expenditure Process' is nothing less than the forced march to destroy and eliminate our remaining NHS structures and deny necessary healthcare to millions of people, to pave the way for ACOs and American style healthcare.
The BMA must take its stand in opposition to the all cuts and closures of our NHS hospitals and GP surgeries and community services and oppose the Five Year Forward View and its 'Next Steps' as a matter of urgency.
We demand an end Sustainability and Transformation Partnership boards. This Tory minority government must go. All the unions should support John McDonnell's call for a million march to parliament on 1st July to end the Tory government. The NHS is on the brink and the working class and its organisations must defend it. This means building the Workers Revolutionary Party as the leadership for a workers' government and socialism.