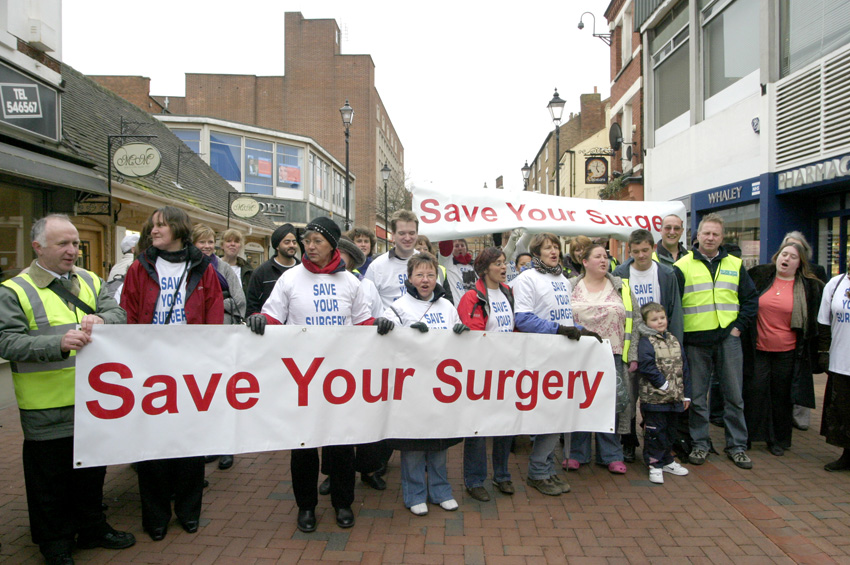 OVER A decade of Tory NHS cuts have put patients and staff at risk, as hospitals have been left in such a state of disrepair that many of the buildings are at risk of fires, floods and crumbling, NHS Trusts have warned.
Hospitals say they do not have the funding to replace outdated scanners, fix leaking roofs and boilers, or update their fire safety.
Four out of five (82%) chief executives and chief finance officers at NHS trusts in England fear the lack of capital funding poses a 'medium or high risk to patient safety'.
Almost all (97%) of the 161 leaders surveyed are worried by how much money their trust needs to undertake urgent repairs. Almost as many (94%) are concerned their inability to tackle problems is affecting patients' experiences of care.
Last week Sheffield Teaching Hospitals NHS trust has had to close four wards, a total of 120 beds, in the Sir Robert Hadfield wing of the Northern General Hospital, because the fire brigade deemed the facilities a fire risk and issued a prohibition order.
The Health Service Journal also said a 52-bed major trauma unit at Oxford University Hospitals trust has been closed since the Grenfell Tower fire in 2017, over concerns the building's cladding is inadequate.
Fire doors at Glasgow's new super-hospital are faulty in 'many wards'.
The doors at the Queen Elizabeth University Hospital are designed to swing shut automatically when the fire alarm sounds but there is said to be a 'general problem' with many not closing properly or in some cases not closing at all!
Last month, University Hospitals of Leicester Trust declared a critical incident after a small fire resulted in patients on several wards needing to be evacuated.
And in Cornwall, Patients have had to be evacuated from two wards at Camborne and Redruth Community Hospital, because the risk is so high.
The Trust warns that if a fire did break out it would not be contained within a ward and would rapidly spread throughout the hospital within an hour.
The most recent GP workforce figures offer a 'stark illustration' of the staffing crisis in the National Health Service (NHS), doctors' union the BMA is expressly warning.
'New figures from NHS Digital 1,' they say, 'have revealed that the number of full-time equivalent (FTE) fully qualified GPs in England fell by 576 (2%) in the year to June 2019 – while the number of FTE partners fell by over 1,000 (5.3%) to 18,511.'
Responding to this Dr Krishna Kasaraneni, BMA GP committee/executive committee workforce lead, said: 'These statistics are a stark illustration of the workforce crisis that continues to blight general practice.
'In the face of high workloads, punitive pension regulations and the overly burdensome admin. that comes with running a practice, it is no surprise that the number of GPs, and in particular partners, is continuing to fall.
'This is despite repeated pledges from the government to boost numbers by thousands.
'GP practices are working more closely together now, and with expanded healthcare teams so that patients receive the most appropriate and timely care possible – and we hope this will go some way to alleviate some of the workload pressure placed on doctors.
'And while the number of trainees choosing family medicine is rising, crucially general practice needs to become a more attractive career for those already working within it.
'The government must value the workforce, both by increasing resources and scrapping damaging pension rules that are forcing hard-working GPs to retire or reduce hours before they both want and need to.'
At the same time, at the St Helens and Knowsley NHS Trust in Lancashire, hundreds of 'outsourced' NHS staff (i.e., fully-trained staff now contracted to work for private companies operating within the NHS – News Line) have launched a joint strike action to demand 'fair pay'.
Both health and public services staff at the Trust are employed by private contractor Medirest, which is part of the Compass Group.
As a result, says Unison, around 300 workers at both St Helens and Knowsley Teaching Hospitals and at Blackpool Teaching Hospitals are affected, and have just begun two days of strike action over their pay rates.
Unison point out that around 300 workers based at these two trusts are paid less than colleagues who are directly employed by the NHS providers.
The cleaners, caterers, porters, receptionists and security staff are employed by Medirest.
Unison said most of the workers are paid the minimum wage of £8.21 an hour, yet work alongside colleagues employed directly by the NHS, where the lowest rate is £9.03 an hour. This equates to around £1,600 a year for a full-time worker.
It said Medirest staff are further disadvantaged by receiving no shift bonuses for working weekends and bank holidays, and receive only statutory sick pay.
This second round of action follows a one-day walk out in July. Unison said a planned strike at Liverpool Heart and Chest Hospital FT was called off after the trust, rather than the company, agreed to fund pay parity with NHS colleagues.
The union said the company made an offer to workers at St Helens and Whiston hospitals to prevent the strike, but this was 'overwhelmingly rejected'.
There was no offer at all for the striking cleaners at Blackpool Victoria Hospital, it said.
A Medirest spokeswoman said its pay rates are agreed with its NHS clients and are set out in the contracts. It said it has been working with staff, unions and the trusts since May to try and reach a settlement.
She claimed: 'We made an improved offer to our colleagues at Whiston last week which included a 16 per cent increase in the hourly rate for domestic and catering staff and a 14 per cent increase for security staff and is evidence of our commitment to finding a solution to this dispute.'
Lisa Oxbury, Unison's regional organiser in the North West, said: 'Compass still doesn't seem to understand why staff are on strike.
'These dedicated NHS workers simply want to be part of the health service team, with fair pay and treatment.
'Our cleaners, caterers, porters, reception and security staff make a huge contribution to the NHS and played a big part in helping St Helens and Knowsley Trust secure its recent 'outstanding' Care Quality Commission report.
'They deserve the NHS rate for the job, enhancements for unsociable hours and a health service sick pay scheme.'
Meanwhile SECAmb – the South East Coast Ambulance Service Foundation Trust – has reported 77 incidents, including two serious, involving ambulances equipped with sat.navs last year.
Their probe has revealed that:
The investigation discovers some crews were changing settings to 'lorry mode', which 'caused more difficulties'.
Staff were advised to use local knowledge rather than relying on technology.
Ambulance crews have been warned not to rely on satellite navigation systems after a spate of incidents where they were directed onto slower routes causing delays in reaching patients.
South East Coast Ambulance Service Foundation Trust reported 77 incidents involving sat.navs in 2018-2019. This included two serious incidents (SIs), although further investigation found the patients involved were not harmed as a result.
A report to SECAmb's board in July said an investigation found in some cases crews were changing the GPS settings to lorry mode. 'It was found that this caused more difficulties and made the GPS system more likely to send an ambulance via an incompatible route,' the report added.
'Unfortunately it was also identified that crews could not be stopped from selecting this setting.'
The trust has recently issued staff with guidance including 'using their local knowledge and signposts' rather than relying on the technology, turning off u-turn avoidance settings and checking their device is set for the fastest route.
The board papers noted that the number of reported incidents has dropped since the guidance was issued, although the situation is still being closely monitored.
Thirty-six of the 77 incidents reported were in Thanet, in Kent. Crews there began reporting problems in October 2018, prompting SECAmb to monitor problems with sat.navs specifically, including tracking the incidences using a special code on its incident reporting system Datix.
In a statement, SECAmb said: 'We take the safety of patients extremely seriously and encourage staff to report any potential incident relating to patient safety.
'While the governance process is ongoing, the two incidents raised as SIs have been investigated further and while GPS was a contributory factor, it has been judged that no harm occurred as a result of the issue.
'We recognise that issues with sat.nav systems can occur and we will always look into any concerns raised.
'There are huge benefits to using GPS to respond to 999 calls. Where possible, staff are also encouraged to use local knowledge and consider using their mobile data terminal which has maps of main roads for planning longer routes.'