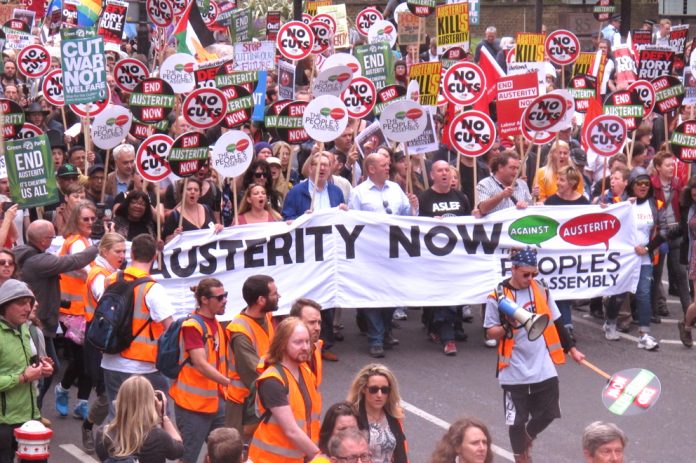 OVER 250,000 people took part in a huge anti-austerity demonstration in London on Saturday, organised by the People's Assembly.
They took part in a rally outside the Bank of England before marching to the Houses of Parliament.
Union leaders and celebrities including Russell Brand and Charlotte Church addressed the crowds.
Tens of thousands of people also attended rallies in Liverpool and in Glasgow, the latter organised by Scotland United Against Austerity.
The London rally was also addressed by Northern Ireland"s Deputy First Minister Martin McGuinness, former Coronation Street actress Julie Hesmondhalgh, and Labour leadership hopeful Jeremy Corbyn.
There were large contingents from Unite, the PCS and the NUT as well as delegations from Unison, the UCU, FBU, and GMB.
People carried placards such as 'Homes not Trident', 'Save our NHS', 'A living wage for mothers' and 'a frack-free world'. One home-made placard read: 'We're mad as hell and we're not taking it any more.'
The final speaker to address the crowds in Parliament Square was comedian and activist Russell Brand, who said he wanted a society that was better for 'all of us'.
'I thought fame and fortune would make me valuable. I found out that it is empty,' he said. 'I am going to spend the rest of my life belonging to community, embracing community and helping in whatever way I can.'
Singer Charlotte Church said: 'One aspect of this that really gets under my skin is that it's all wrapped up in a "proud to be British" package. I'm proud to be British because of our National Health Service, the welfare system and David Bowie.'
Len McCluskey, general secretary of the Unite union, said: 'If they think they won the war of austerity on 7 May they'd better think again.'
Sinn Fein's Martin McGuinness said he would fight 'right-wing Thatcherite policies', telling crowds his party would say an 'unambiguous, unqualified, uncompromising "no" to this new Tory government'.
Green Party MP Caroline Lucas accused Chancellor George Osborne of an 'ideological war on welfare'.
Sam Fairbairn, of the People's Assembly, said the London march would be the start of 'a campaign of protest, strikes, direct action and civil disobedience up and down the country'.
PCS general secretary Mark Serwotka called for co-ordinated strike action saying: 'If we all go on strike together, we can turn this government back.'
He went on to pledge to continue the fight against National Gallery privatisation and to reinstate PCS rep Candy Udwin.
News Line spoke to participants as they assembled near the Bank of England.
Mary Goodwin, a teacher and NASUWT member from Leeds, said, 'I've been away for four years.
'I've come back and feel quite depressed with how there's no sincerity from government.
'I've no faith in any of the main parties. None of them have a policy that will deal with the banks and the financial structure as it stands.
'I'm here to see what people are standing for. I would agree with a general strike to bring down any government who stands for what is going on at the moment.'
Daniel Kenfield from Ealing, working in airline sales, said: 'I'm against the closure of Ealing Hospital maternity and the plan to close its A&E.
'It's clearly part of the privatisation drive.
'It's disgusting that the Labour Party are letting it happen, especially as it's their seat.
'There's not much left of the left wing of the Labour Party anyway.
'I support your march and occupation. In a world where protest is largely ignored by the media, occupation is the only way to get your message across.
'The unions should take action and back the occupation. That's what they're there for.
'The only thing I can think about this Tory government is to get rid of them.
'I'd support a general strike to do that. I agree with replacing it with a workers' government and socialism.'
Exeter University student Louisa Pennell said: 'I don't think the cuts are the way forward. I'm opposed to the closure of Ealing Hospital. I live in south east London and we had a similar struggle in Lewisham. They were trying to cut the A&E there.
'I'm against this government, they shouldn't cut things indiscriminately.
'Tuition fees are bad and the maintenance grant is not adequate.'
Ex-civil servant Sarah Wood told News Line: 'I live in Weymouth but I was born in Perivale.
'I support the fight to keep Ealing Hospital open. What they are doing with closures is putting people's lives at risk. This is not acceptable.
'I'm from Weymouth and what they are doing in Dorchester is planning to close the Special Care Baby Unit and Kingfisher children's ward at Dorchester County Hospital.
'This also preceded them planning to shut the A&E.
'They want to move all the children's services and the A&E to Bournemouth.
'That is miles away and not acceptable.
'Also, there won't be enough beds to accommodate people from Dorset.
'Just the extra travelling time will cost lives one way or another.
'Also, the distance will put off visiting which is important for recovery.
'There should be a general strike – everything should stop.
'We need to bring this government down.
'What we need is a government for the people, not the bankers.'
Council worker Gemma Adams, a GMB member from Halifax, said: 'The minute I saw the election results I bought my ticket to come down today.
'I work in Housing. We see the effects of the bedroom tax and Housing Benefit cuts every day.
'It's devastating for families. People with disabilities, the council has done their homes up with handrails, stair lifts, showers. And then we have to move them out, rip it all out of the house and do it somewhere else.
'It's cruel for the disabled and costing the council thousands of pounds.
'Families have had to move out, children are moved to different schools.
'It's so upsetting to have to tell these families they have to move.
'The unions should take action. We're all sitting down and taking it too much.
'I'd support a general strike to bring the government down.
'We need strong union leaders that will organise that fight.'
Library campaigner and Islington Unison member Alan Wylie said: 'I'm here to send a message to the government about their austerity and how it's affecting public services.
'I'm concerned about the terrible effect it's having on the poor and vulnerable.
'Specifically, I'm here in defence of libraries because they are being cut across the country.
'6,000 staff have lost their jobs nationally, hundreds of libraries have been closed and handed over to volunteers.
'The unions should organise with local communities to make a united fightback against it.
'There should be a general strike. The TUC should call a 24-hour general strike at least to start off with.
'The privatisation of the NHS is an absolute disgrace. I will do my best to join the march on Wednesday and to occupy Ealing Maternity to stop it closing.'
Hilary Price, Barnet Unison shop steward, added: 'The situation we face in Barnet is a plan to outsource all our services.
'By the end of next year there will only be 300 staff left directly employed by Barnet.
'We've had four days of strike action with another one due on 8th July.
'There's a lot of support from the people of Barnet and the word is spreading that Barnet services could be owned by companies such as Capita.
'It makes you wonder how much power council leaders will have under private companies.
'I'm here to show people do have the power to do something.
'I would like to see a general strike to bring the government down to prevent the loss of any more services.
'I support next Wednesday's march and occupation of Ealing Hospital and will do my best to get there.'