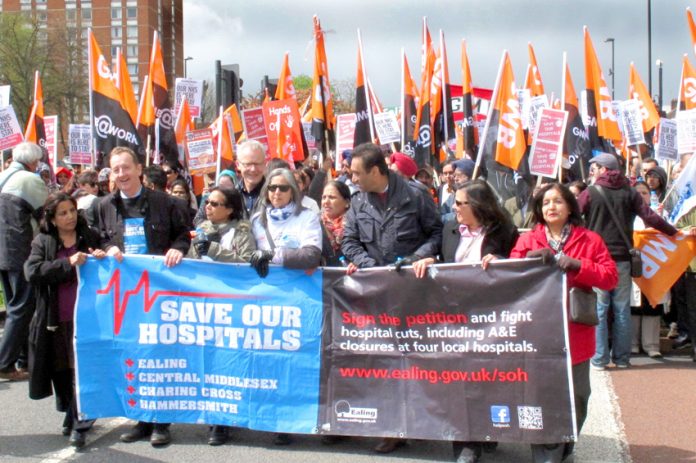 'DEFEND Ealing Hospital – Occupy Now!' rang out in a crescendo as the Ealing leg of the march against four hospital closures stopped outside the West London hospital on Saturday afternoon.
More than 10,000 hospital workers, trade unionists, local residents and youth were on two marches against the closures of Ealing, Charing Cross, Hammersmith and Central Middlesex hospitals, which set off from Southall Park and Acton Park and converged for a rally on Ealing Common.
The Ealing march was led by a group of lively, rhythmic dohl drummers, followed by the GMB union London Region banner, hundreds of GMB and Unite union flags, the Ealing National Union of Teachers banner, The West London Council of Action – 'Defend Ealing Hospital! – Occupy to Stop All Closures!' – banner, the Gate Gourmet Sacked Workers Banner and the North East London Council of Action – 'Save Chase Farm Hospital' – banner.
John McDonnell, MP for Hayes and Harlington, told the rally in Southall Park: 'They are planning to close Ealing Hospital and privatise Hillingdon Hospital.
'We will accept no cuts, no closures. We are here to protect our NHS, to stop the closures, to stop the privatisation. We are here to win.'
McDonnell then spoke to News Line. He said: 'I completely support the movement to occupy hospitals threatened with closure.
'In the 1980s they tried to close my local Hayes Cottage Hospital. We occupied for six months and we saved it. It is now an elderly care and renal dialysis unit.
'It proves that occupations work and it proves that direct action is the way forward.'
McDonnell then told News Line that he had heard about the occupation of Chase Farm Hospital and the failure of the criminal case against Young Socialists National Secretary Joshua Ogunleye, one of the occupiers, which was thrown out of court last week.
'When the House of Commons returns I will put down an Early Day Motion to congratulate the occupiers,' he said.
The march then left Southall Park, with marchers behind the West London Council of Action banner making the most noise – 'Defend Ealing Hospital – Occupy Now! Defend the NHS – Kick this Government Out! No Hospital Closures, No Privatisation, – Kick this Government Out! TUC Get off Your Knees – Call a General Strike!'
Many local residents and trade unionists told News Line why they were on the march.
'We need our hospital,' said Southall resident Surjit Kaur. 'We want to occupy our hospital to make sure it continues the service.'
Gate Gourmet sacked worker and Unite member Manjit Randhawa said: 'We have to save Ealing Hospital.
'I've got two children and we need it.
'The unions have to fight. That's what our struggle at Gate Gourmet has all been about.
'It's been to make the unions fight and that's what's needed now more than ever.'
Kamaljit Nahal, Unite member and local resident, said: 'If Ealing Hospital closes it will cost lives.
'It will put expectant mothers at risk, the young and the old.
'It's hard for people to travel long distances. We don't need that added expense, or risk.
'We don't accept this government's plans to privatise health care.
'Closure would also have a devastating impact on the remaining hospitals.
'People will lose their lives.
'I would totally agree with occupying the hospital to stop the closure.
'I want the unions to organise a general strike to kick this government out, they have to go.'
Harbinder Singh, Unite member working at Swissport, Heathrow Airport, said: 'The TUC must organise a general strike now, before it's too late.
'I would occupy Ealing Hospital to save it. If it closed we would have nowhere to go.
'This government is terrible. It must go.'
Southall resident Tessa Wilson said: 'I had my two children at Ealing Hospital. I was pregnant with the second one when I marched against the closure last summer.
'One thing I want to say is that if someone doesn't know the area, you can tell anyone in an emergency just go straight down the Uxbridge Road and you will find Ealing Hospital.
'I went to one of their so-called consultation meetings, where they gave all sorts of statistics to justify closure, but I wanted to ask them how many lives would be lost trying to get to a far distant hospital that would have been saved if they had gone to Ealing.
'Have they got the statistics for this, or do they just not care?'
Ealing Hospital nurse and RCN member, Gerri Collins said: 'I would support trade union action to save the hospital.
'This government is rubbish, it is fragmenting the NHS.
'All I know at the moment is they want to close our A&E.
'But a hospital without an A&E is not a hospital.
'You can't cater for everyone without an A&E.'
Grace Willis said: 'I'm marching with my three children, aged nine, seven and four, all born at Ealing.
'I support the NHS, everyone should.'
Local resident Rose Ryan said: 'I would support occupying the hospital.
'It's totally wrong to close it.
'We are starting to see opposition to this government, not from the Labour Party but from the people.'
Ealing Hospital Unison Branch Chairwoman Rachel Emerson said: 'It's a great turnout today, extremely well supported by the local people.
'They realise that once the service has gone there won't be any NHS.
'Our members are always ready for action to defend the NHS.
'All sections of the health service are saying that what is happening is a disaster.
'I would support a general strike. I've taken industrial action before and I would take it again.
'Drastic times call for drastic measures.'
Felicity Richmond, a nursery officer, said: 'I'm all for occupying, I'm up for it.
'It's the poor class of people that will suffer if the hospitals close.
'I work with children with disabilities and I fight for all vulnerable people.
'Closure of Ealing Hospital would be devastating, it must be stopped.'
Steve Sweeney, GMB Huntingdon, said: 'The unions are now talking about a general strike, reflecting the fact that the NHS and the whole Welfare State are under threat like never before.
'We've got Hinchingbrooke Hospital in Huntingdon, the first NHS hospital to be privatised, now run by Serco, and it's a disaster.
'The NHS, the Welfare State, all the things the working class fought for, are now immediately threatened and people are fighting to save them.'
At the end of the march, Southall resident Nargis Sheikh said: 'The march was great, a brilliant turnout.
'A lot of people agreed that to stop closing the hospitals there has to be a general strike.
'A general strike is how we can sort out our slave labour government.
'Without a general strike we will not be able to have proper earnings and get out of the recession.
'People also agreed with occupying. People need their hospital.
'If it goes we will never get it back. As soon as they try to close it we have to be ready to occupy.'