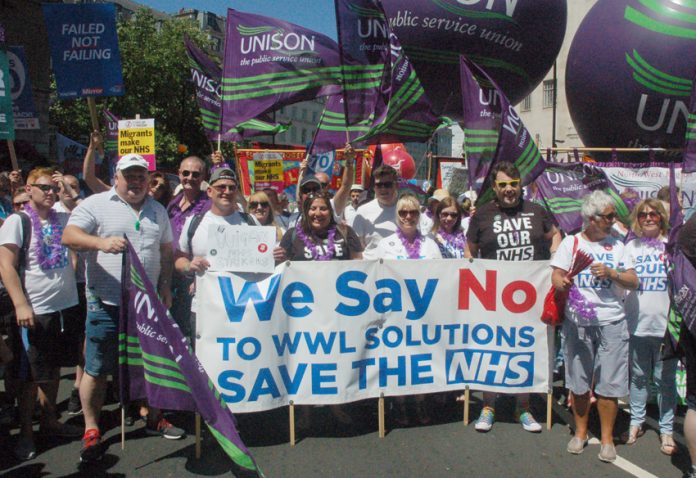 'WE CHANGE things in the NHS and make them better. But shortages of staff means patient care suffers. A&Es are closing, Hunt doesn't care, he daren't show his face here today.' Young Royal College of Nursing (RCN) member and nurse at the Moorfields Eye Hospital in central London, Temi Soile, was talking at the beginning of the 70,000-strong NHS 70th Anniversary March from BBC Broadcasting House to 10 Downing Street on Saturday afternoon.
Temi continued: 'The Tories need to go now. The trade unions should unite and sack Jeremy Hunt and the Tories.' The march was particularly striking because of the large number of NHS workers on it and also by the powerful delegations of campaigners against closures of acute services, particularly A&E, maternity and paediatrics, from all over the country, who are holding marches in the weeks ahead to save their wards.
The main speaker at the beginning of the march was British Medical Association Chairman Chaand Nagpaul, who said: 'I speak on behalf of 150,000 doctors working in the NHS. We're proud of the NHS, which for 70 years has cared for hundreds of millions of people. We value that patients trust us to treat them with no gain involved.
'The NHS has been systematically and scandalously starved for years. Eight in 10 doctors say funding is constraining their ability to care. There is an all-year-round winter crisis. Stop wasting billions on the damaging NHS market and billions on outsourcing. The BMA is calling for an end to competition in the NHS. The values that gave birth to the NHS are just as relevant today.'
Some of the campaign groups spoke to News Line as the march was assembling. Keith Strangwood, from the Keep the Horton General campaign, from Banbury in Oxfordshire, said: 'They have taken away obstetrics in October 2016, that's consultant-led maternity. They said it was temporary, then made it permanent in August 2017.
'Paediatrics and A&E were under threat in their original plans but they've taken a step back for now as a result of our campaign. There's a busload of about 50 of us here today, thanks to the GMB. What we need is what the unions are all about – unity in action.'
Charlotte Bird, also from Hands off Horton, said: 'My son, when he was a small baby, was twice hospitalised and I inherited some money which I donated towards the building of the children's ward at the beginning of the century – it was built through public subscription. 'Then they put down proposals to close consultant-led maternity and change paediatrics from 24-hour service to a Monday-to-Friday 9-5 service. We saved all our services in 2008, but now they've come back at us again.'
Dave Ash, from Save Our St Helier Hospital, in Surrey campaign, said: 'The South West London STP (Sustainability and Transformation Plan) says south west London should have just four or three acute hospitals. 'Currently there are five – St George's, Kingston, Croydon, Epsom and St Helier. The current proposal from the trust and the CCGs (Clinical Commissioning Groups) is to remove all acute facilities from Epsom and St Helier by 2020. That's A&E, paediatrics, maternity, coronary, cancer, emergency surgery, cutting beds from 1,000 to between 300 and 500. This will cost thousands of lives.
'We stopped them in 2014 and we'll stop them again, our lives depend on it. We need to kick out all the privateers now and return everything to public provision. We're marching from Manor Park in Sutton at noon next Saturday, 7th July, celebrating 70 years of the NHS and raising the profile of our campaign. All are welcome.'
Jenny Hurley, from the Chorley and South Ribble Hospital campaign, in Lancashire, said: 'They shut our A&E in April 2016. We're outside the hospital every Saturday morning 10-11. There were about 50 there this morning and there are 30 of us here. We got our A&E back 12-hours, eight till eight, in January 2017. They are now threatening a "super hospital" which will mean the closure of the Royal Preston and the Chorley and South Ribble hospitals.
'It would cut back multiple services, cut hundreds of beds and increase waiting times. Every other "super hospital" has been funded by a PFI (Private Finance Initiative) and we don't want it. Keep the parasites out of the NHS.' George Clark, a Unite member from Nuneaton, said: 'Our union has brought a busload from Nuneaton. The STP is cutting and shutting the hospitals. Nuneaton's George Elliot Hospital has suffered terrible cuts. I think the TUC should call a general strike to kick the Tories out. They've destroyed our town.'
As the march set off, Lesley Mahmood, from the Save Liverpool Women's Hospital campaign, told News Line: 'Three years on, this autumn the closure of our hospital comes to a head. On 22nd September we've organised a march from the hospital to Waterfoot as the Labour Party Conference starts at the ACC in Liverpool. 'We want finance to improve our hospital on site. It's only 23 years old. Bring back bursaries and recruit more midwives. We don't want it to move to the site of the Royal, which has been a total disaster since the collapse of Carillion.'
The march set off at 1pm, with a multitude of balloons, placards and banners, which included trade union banners from Nottingham Unite, Whittington Unison, University College Hospital Unison, East Lancs Unison, East Midlands Unison, GMB 'More NHS Cuts – it's a No From Us', GMB Banbury, Southend Unison, Bucks Unison, RCN, Homerton Hospital Unison and London Met Unison.
The Workers Revolutionary Party and Young Socialists banner said: 'Defend the NHS –Throw out the STPs, Trade Unions Occupy to stop Closures' and 'A General Strike to Defend the NHS.' The delegation behind it loudly demanded: 'TUC call a General Strike – to defend the NHS. No cuts no closures – kick the Tories out. Defend our A&Es! Occupy now. Defend the NHS! – It's a matter of Life and Death,' and 'Our NHS is not for sale- Kick out the Tories Now!'
The Ipswich and Suffolk DPAC (Disabled People Against Cuts) campaign was there in force and the West London Council of Action banner called: 'Defend the NHS – Keep Ealing Hospital Open – Occupy to Stop All Closures,' while there were also many home-made banners, including: 'Speech Therapists Will Not Stay Silent!' 'The NHS Belongs to the People, Not the Lords of Privatisation,' and 'Get Your Bloody Fat Cat Paws off our NHS'.
The first of the speakers at the end of the march in Whitehall was Jonathan Ashworth, Labour Shadow Health Secretary, who said: 'Let us thank those who come across the world to work in our NHS, and also thank the Windrush Generation who helped build the NHS. This autumn the Labour Party is putting forward a bill to end privatisation. If it was possible to build the NHS 70 years ago it is possible to restore it now.'
RCN President Cecilia Anim said: 'I'm proud to be part of a service that employs 202 nationalities. We are the NHS family. The NHS was built by nurses and staff with a shared vision – workers who are not with us today. It was built through their dedication.'
Richard Evans, Chief Executive Officer of the Society and College of Radiographers, said: 'There are 32,000 radiographers in the NHS, in teams which are overstretched and working with inadequate resources – but still the NHS is the Number One in the world. In celebrating 70 years we're celebrating the greatest healthcare enterprise we have ever seen.'
Frances O'Grady, General Secretary of the TUC, said: 'This year is not just the 70th year of the NHS, it is also the 150th year of the TUC. The NHS is Britain's best ever socialist achievement and the TUC is calling for a big boost in investment in the NHS. Stop outsourcing, stop privatisation, stop selling off our NHS.'
Labour Party Leader Jeremy Corbyn said: 'A massive thank you to all those over all those years who made our NHS, especially the Windrush Generation and the role they played. Aneurin Bevan was very clear that there should be a National Health Service with national standards.
'Thank you to the Defend Whittington Hospital campaign which prevented the closure of the A&E some years ago and have just defeated attempts to privatise other parts. 'To me, the NHS is socialism in action. There have been huge attacks over the years. The NHS is used by those who are trying to rip off the NHS, including Virgin who received a huge payout. We pay our taxes to fund the NHS, not these rip-off merchants.
'The 2012 Health and Social Care Act was designed to privatise the NHS and it's still doing its dirty work now. I also want to talk about the crisis in mental health, which is in many cases caused by social need. Yes, we need more support, there is terrible housing stress.
'I want a different government committed to the NHS, housing and education. We have life expectancy differences which are horrendous – in Scotland the difference between the best and worst off is 26 years. As Nye Bevan said, the NHS has survived because people have fought for it.
'We've got four policies we would like to announce today: 1. Stop privatisation of any service. 2. End the internal market. 3. Don't con staff over national pay agreements which exclude those who have been hived off to privateers. 4. Properly fund social care.
'We are here to celebrate 70 years of the NHS. I want to live in a different society, a socialist society where there is healthcare, education and housing to meet the needs of all.'