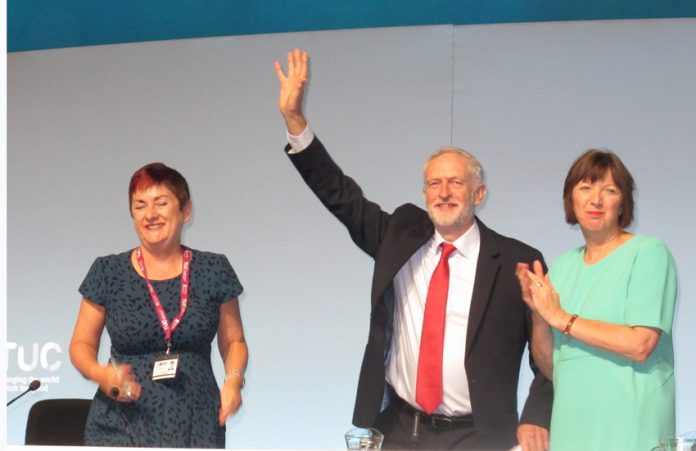 TUC DELEGATES in Brighton gave a standing ovation to Labour Party leader Jeremy Corbyn on Tuesday afternoon despite the fact that he failed to mention Socialism or call for the Tory government to be brought down.
In his address to Congress, Corbyn said that 'the trade union movement represents the best of Britain and is a vital engine of progress and democracy'. He added: 'But despite all your tireless efforts, modern Britain is marked by growing insecurity at work, which undermines and holds back both low paid workers and the better paid.'
He added that 'this escalating insecurity is not only bad for individual workers and their families… it is also bad for our economy and for our whole society'. He said that 'it's crucial for our movement to organise the lowest paid and most vulnerable workers'.
He added: 'It's essential we work together as a movement, trade unions and the Labour Party, as part of local communities to stamp out low pay and insecurity.'
Corbyn went on to attack the public sector pay cap, pledging: 'A Labour government will end the public sector pay cap and give all workers the pay rise they so desperately need. And, Congress, in the case of Birmingham binworkers, we, collectively as the labour and trade union movement, have a duty to find a resolution to this dispute as soon as possible.'
He went on to insist 'workers' rights are human rights', yet they 'are currently being sacrificed by this Conservative government on the altar of a failing and ever more ruthless form of capitalism.'
Moving on to Brexit, he said that 'we are opposing the Tories' dangerous EU Withdrawal Bill, not out of any attempt to frustrate the vote to leave but because of the extraordinary unaccountable powers it would hand to Tory government ministers to impose decisions, scrap protections and rip up workers' rights without parliament having any say.'
He went on to say that 'the real divide over Brexit' is 'a Tory Brexit to drive down standards or a Labour Brexit that puts jobs first'. He claimed: 'Labour respects the referendum result but we want a jobs first Brexit which guarantees full access to the European single market as part of a new trade agreement and relationship with the EU.'
He said: 'Labour wants to see fair rules and management of migration.' He repeated Labour's election manifesto pledges including banning zero hours contracts, raising the minimum wage to a real living wage and ending the public sector pay cap. He urged everyone, especially young people to join a trade union.
He concluded: 'We don't know how long it will take but this weak and chaotic government will be prised out of Downing Street. And we know the advances we made in the general election in June are a powerful springboard to win the radical Labour government we want to see so that we can change our country so it truly works for the many not the few.'
Delegates went on to pass unanimously motions opposing education cuts and health and social care cuts and privatisation. Moving Composite 10 Education funding crisis, Kevin Courtney, NEU, said: 'We told parents the truth about what was happening in schools, that we have more pupils but less teachers and TAs (teaching assistants).
'We were supported by parents around the country and all our unions.
'Labour's manifesto said they will put more money into schools. Two thirds of people in the general election changed their votes over school cuts.' Dismissing Tory promises, he said: 'We think there will be no new money. Schools with the most challenging children will have funding cut.
'Parents and teachers are mobilising for marching on Parliament on October 17. We want a new settlement for education in the November budget. Children shouldn't pay the price.'
Seconder Nick Brook, NAHT, said: 'At the moment schools don't have enough money. It's as simple as that. The movement of unions and parents saw government pledge more funding. But it's not enough. The Treasury has become more silent. Seven out of ten school leaders say that their budget will be unsustainable by 2019. Now is the time to use the entire resources of the TUC to lobby the Treasury.'
Kate Fallon, AEP, said children were suffering because of lack of funds to employ educational psychologists. Gordon Gibb, GMB, said: 'We've heard about budget cuts to school services. Our school support staff are on the front line. So many of our members live in fear of the next round of redundancies.
'Many support staff work beyond their contracted hours and it's cheaper to downgrade teaching assistants. No one should live under the consistent threat of losing their job or hours. We need the support of unions for all school workers.'
Delegates went on to pass motions condemning teacher workload and cuts to post-16 education, especially at FE colleges, the scrapping of EMA and the imposition of university tuition fees.
Tuesday's debates concluded with Composite 14 Health and social care: transformation, integration and cuts. Mover James Anthony, Unison, said: 'Council cuts have led to cuts in social care. With cuts to the NHS, managers have been told to think the unthinkable. Integration needs funding and support, too often it means cuts. NHS staff have been refused an end to the pay cap.'
He added: 'We have frustrated attempts at privatisation and more councils have signed up to Unison's ethical charter. Government words mean nothing, pay up now and end our poverty or we will have to take action – and we will defeat them.'
Seconder, Kate Collins, Society of Chiropodists and Podiatrists, said: 'There is a huge gulf in the provision of social care between those who can pay and those who cannot.
'Cuts in funding for social care puts pressure on the NHS.
'The government's Sustainability and Transformation Partnerships are supposed to give a vision of care closer to home yet STPs mean more jobs are cut. It's harder and harder for patients to get foot care services.'
Meanwhile, a new GMB report blasts the government for ignoring the 'forgotten' three million public sector workers. It says: 'Government con trick' sees billions stripped from budgets to deny real-pay rise to lower-paid 55 per cent of workers.
The majority of public sector workers – 55 per cent – including council workers, front-line school and police support staff, and civil servants are not covered by a Pay Review Body.
For years, Pay Review Bodies have been under orders from the government to keep pay recommendations at one per cent – while ministers like Michael Gove insist the bodies are the ones responsible for setting public sector pay.
But the new report reveals that in order to enforce the cap on the three million public sector workers not subject to pay review bodies – the government has stripped billions of pounds from the budgets of local governments, schools and police forces.
The publication, titled 'Public Sector Pay and the Forgotten Three Million,' follows the government's rejection of the Police Review Body's recommendation for a two per cent consolidated increase in police pay.
GMB estimates that approximately £5 billion has been taken from DCLG (Department of Communities and Local Government) budgets in connection with the one per cent cap between 2013/14 and 2019/20.
The report reveals:
• The government pinched £737 million from local government wage budgets in just two years to enforce the pay cap
• The annual public sector bill for agency and temporary workers has risen by £2.5 billion since 2012/13
• Local authority workers are paid 22 per cent below the public sector average
• Average teaching assistant pay has risen by 2.7 per cent between 2011 and 2016 – compared to 7.9 per cent CPI inflation
• 85 per cent of unitary local authorities say they are encountering recruiting and retention problems
• The voluntary turnover rate for PCSOs increased from eight per cent in 2010/11 to 15 per cent in 2016/17
• Public sector workers are twice as likely to work unpaid overtime as those in the private sector, and the pay cap is affecting 2.4 million children
• Despite claiming that they respect the recommendations of the Pay Review Bodies, Ministers have rejected the recommendations of two review bodies (for police officers and NHS workers) and abolished the negotiating body for school support staff
Rehana Azam, GMB National Secretary for Public Services, says: 'It's a myth that Pay Review Bodies set public sector pay. Most workers aren't covered by a Pay Review Body in the first place but they all have been subject to the divisive pay cap.
'This new report explodes the false claim that the pay cap does not apply outside of the Pay Review Body professions. Billions have been pinched from wage budgets and individual workers across the whole public sector.
'Social workers and PCSOs are on the front-line by any definition, but Ministers are now trying to wash their hands of them. We stand against all attempts to divide and rule over public sector workers. We need proper pay rises for teaching assistants as well as teachers, and police support staff as well as police officers.
'This government con trick should convince no one. Theresa May and Philip Hammond won't get a hearing on pay until they face up to their responsibility for pay throughout public services. The unfair and pernicious cap has caused lasting damage across the public sector. Recruitment and agency costs are spiralling out of control and it's questionable whether the policy is saving any money at all.
'That's why GMB and other unions are demanding a pay rise of at least five per cent to start to restore at least some of the quality of life that has been stolen from our dedicated members.
'GMB is proud to support all our members and to stand up for the forgotten three million who are being ignored by Tory politicians. We won't stop campaigning until they have all received a decent pay rise.'