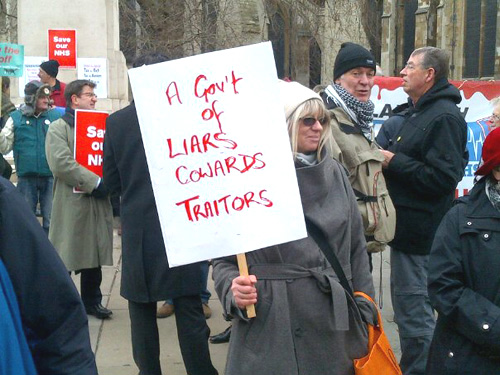 THE Department of Health has published an 80-page response to the Francis report into the failings at Mid Staffs Hospital.
This is called 'Patients First and Foremost, The Initial Government Response to the Report of Mid Staffordshire NHS Foundation Trust Public Inquiry'.
There were an estimated 1,200 excess deaths in that hospital between 2005 and 2008, due to cuts in nursing and medical staff caused by the trust board making £10m cuts to achieve foundation trust status.
On Tuesday 26th March, Jeremy Hunt, the Secretary of State for Health, presented the government's response in parliament.
Key points include the following.
• A new post of Chief Inspector of Hospitals (CIH) will be created, who will check on a list of fundamental standards and make ratings.
• Ratings of hospital performance would include 'outstanding', 'good', ' requiring improvement' or 'poor', based on the OFSTED inspection system for schools.
The CIH is to ensure that there is 'a single version of the truth about how hospitals are performing' taking into account finance and targets, but also quality of care.
• A rapid time-limited failure regime for quality as well as finance would be set up.
In Stage 1 the CIH and the commissioners warn the hospital board to improve in a fixed period.
In Stage 2, the Care Quality Commission (CQC) calls in Monitor and the NHS Trust Development Authority.
In Stage 3, the CIH initiates the failure regime, in which the Board would be suspended or the hospital put into administration.
• The government is considering making individual doctors and nurses criminally responsible for covering up errors.
• All nurses applying for funding to do a nursing degree must serve as a healthcare assistant for up to one year.
• Healthcare assistants (HCAs )must be educated in a Code of Conduct and some Minimum Training by their employers.
• HCAs who are found unsuitable by their employers will be barred from work by the Home Offices barring regime.
• Trained nurses will have to undergo revalidation with the Nursing and Midwifery Council, to ensure they are up to date and fit to practice, in the same way as doctors do with the GMC.
• Trust boards have a duty of candour to be honest about mistakes. There will be penalties for disinformation about performance.
• A national barring system will be introduced for managers who commit gross misconduct, based on the barring system for teachers.
• There will be a Chief Inspector of care homes and other care services.
The main health unions representing nurses were not impressed by the governments response, especially the emphasis on changing nurse training.
Unison, the largest union for health workers, said that the government's failure to recommend minimum staffing levels made it a missed opportunity to boost patient care.
It continued: 'The union has been campaigning for many years on the importance of having the right number of staff with the right mix of skills on hospital wards, and the Mid Staffs report highlighted the importance of this in delivering high quality, compassionate and dignified patient care.'
Christina McAnea, Unison head of Health, said: 'It is only right that the lessons of Mid Staffs are learned, for all the patients who died and for their relatives.
'Nurses and other healthcare staff are crying out for safe staffing levels for wards to have the right skill mix. …Instead of giving nurses their backing, the government is constantly running them down. It must be recognised that day in and day out the NHS and its staff deliver excellent care in hospitals across the country.'
Unison also condemned the proposal to make student nurses work as healthcare assistants first. 'There is no evidence that making student nurses work as HCAs will boost standards. Students already spend 50%of their training working on wards and in clinical settings.'
In addition, Unison did not support the contention that some minimum training of HCAs was enough. The union called for full registration of healthcare assistants.
The other big nurses' union, the Royal College of Nursing, also criticised the government's failure to use the Francis report to bring in mandatory nurse to patient staffing ratios.
Peter Carter, the RCN secretary and chief executive said: 'We welcome the commitment to look at staffing levels. However, the reality is that nurses continue to work with up to 11 patients each in older people's settings, and with even higher numbers in care homes.'
The RCN also disagreed with not requiring HCAs to be registered. Carter said the Francis Inquiry 'was clear on the need for a register for all healthcare support workers. We are disappointed that the government has missed the opportunity to enshrine this in law.'
The RCN asked questions about the suggestion that all student nurses should first spend a year working as a healthcare support worker. Carter said: 'Who will train, employ and monitor tens of thousands of these support workers?'
'How can the government deliver this radical change to nurse training on a cost neutral basis? How will we ensure that the supply of nurses does not become restricted?'
Only four days ago the RCN pointed out that since the general election around 5,000 registered nurses have left their jobs, yet the number of HCAs workers has increased by a 6,000 over the same period.
This means that the skill mix has been diluted and that patients could be at risk. Carter said that HCAs were being inappropriately used as replacement nurses as they were cheaper. He said: 'You have the double whammy of not having enough registered nurses and replacing them with people who do not have rudimentary training.'
Carter ended by saying: 'Despite some real reservations, we are committed to working with the government to ensure Robert Francis' vision for a patient-centred NHS becomes a reality'.
Unison warned that the government's massive NHS reforms coming into effect on April 1st 'are likely to cause far more chaos and damage as resources are shifted into dealing with this'. It called for the government to 'stop these changes and freeze the so-called £20bn efficiency savings'.
Unite said: 'Health secretary Jeremy Hunt has failed to diagnose the real issues confronting the NHS and has supplied no concrete solutions to ensure patient safety and how concerns can be raised in the future.'
Rachael Maskell, Unite head of health said: 'Many trusts are already suffering staff shortages because of the government's blind adherence to the so-called £20bn worth of savings – these need to be reversed as a prerequisite for a tougher regulatory framework.'
The statement continued: 'Unite had welcomed last month's report, particularly the importance of whistleblowing on poor practise; the regulation of HCAs; and hiding information about poor care being a criminal offence.'
In fact it was the Blair/Brown Labour governments and their policy of driving hospitals to reach Foundation Trust status by balancing their books by making big staff and other cuts that produced the Mid Staffs situation.
Currently the Tory government has refused to sack Sir David Nicholson who presided over the Mid Staffs debacle. He is now in charge of the NHS and making £20bn of cuts in the service.
Cameron and Hunt are now driving forward to privatise the NHS through the tendering out of NHS 'services' to the private sector and mass hospital closures.
Trade unions have a duty to provide leadership in the struggle to defend the NHS.
They must see that it is not privatised but develops as a service free to all at the point of need.
To do this they must activate the TUC to go from looking at the practicalities of a general strike, to calling one and bringing down the coalition to bring in a workers government.
Without a perspective of mass strike action to bring down the government all talk of resistance is just another version of going down fighting at the best, and at the worst going through the protest motions, while Labour prepares to replace the Tory Lib-Dem coalition with a Labour Lib-Dem coalition.
Incidentally, Nicholson's main defender besides Secretary Hunt is Labour shadow Health Secretary Andy Burnham!