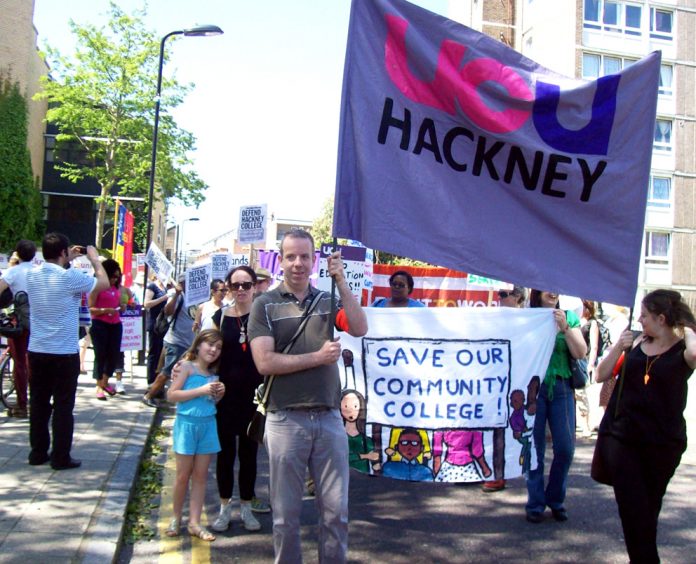 OVER five hundred lecturers, students, local residents and supporters marched through the streets of Hackney last Saturday to defend Hackney Community college from a package of savage cuts including lecturer sackings, courses scrapped and student numbers slashed.
The lecturer's union UCU are balloting for strike action over the threat of 55 teachers and support staff being made redundant.
The march assembled at Hackney Community College at midday and then marched up the Kingsland high road as passers-by waved from shops and passing motorists tooted their horns in support. Slogans rang out 'No cuts, no closures! Defend every job!', 'Defend Hackney College' and 'Don't cut teachers! Don't cut courses, Free Education!'
The courses that are threatened with closure are Art, Travel and Tourism, Access to HE courses, Literacy Level 2 and some A level courses.The college also wants to cut the adult student numbers by 12% and 16-18 year olds by 8%.
Nicola Godieb, a media teacher and UCU member at the Hackney college told News Line: 'We have already had days of strike action over pensions. There is a wider issue with cuts.
'Cutting Hackney college is cutting progression routes to higher education for youth in Hackney. There are no jobs for young people so you would think that education should be the thing to invest in.
'UCU is balloting for strike action to defend the 55 jobs and to defend the future for youth.'
Muna Ali, a Hackney College student studying English for Speakers of Other Languages (ESOL) said: 'I have joined the march because the government want to cut our teachers and ESOL is very important for us. We learn English because we want to look for a job. We need to know English when we visit the doctor so that we can understand what is wrong.
'We want to be able to help our children with their homework. This is why ESOL is so important.
'When we go to a parents' evening, we need to be able to understand what the teachers are saying about our children.
'We have to save the lecturers' jobs and save ESOL. They were trying to charge money for ESOL courses. We cannot pay for it; it must be free.'
Marie Armede who has just graduated from a course she took at Hackney Community College said: 'I have just finished my PTLLS course – Preparation for Teaching in Life Long Learning Sector; it was a twelve-week course. This is an essential college and it is a fantastic college.
'I have small children and there are good childcare facilities at this college. I do not think that it is fair that the government are attacking working class youth.
'It is already so difficult for young people to get into education, so cutting courses is discouraging. They should restore Education Maintenance Allowance (EMA). We need to kick this government out!'
Rob Rainbow, a photography lecturer in the UCU union at the University of East London, said: 'The people in power with all their privileges are posturing as a cultured, well-educated and well-connected class of people, when in truth they are the barbarians. They are trying to erode our rights. We have a right to life-long learning. These are rights that have been fought for by our grandparents since World War II.'
The Hackney Young Socialists had their own banner on the march and Emman Gasaija said: 'If the lecturers are getting kicked out, it means that the whole education system is under attack and that will affect a whole generation of young students. They plan to close down really important subjects like Art and Travel and Tourism.
'If they are going to close down courses then some young people will not be able to go on to university as a result. We should defend all courses and give students the choice of courses that they deserve.'
A lecturer and UCU rep at Hackney College, Sadrollah, said: 'Seventeen senior managers got twelve million pounds last year. In my opinion we must get rid of management. It is a dictatorship from the Tory Party, Liberal Democrats and Labour. I agree with occupation and to get rid of the Tory government.'
A tutor at Hackney College and UCU member, Andrew Morant said: 'We are demonstrating to stop the cuts of 55 full-time tutors and a range of courses. Hackney is a hub of creativity but they are closing down our art department. 9% cuts of the budget are by central government, but the senior managers and governors have no fight. If the cuts were 15% they would still implement them. We are trying to build support about what is happening to the college which is getting smaller with less courses and less students and staff.'
Amanda Jane Sands studying Creative Media Production, which includes computer animation said: 'I joined the march because I applied for Level 2 Art & Design and that is one of the courses that they are getting rid of. We do need these courses and if my lecturers come out on strike then I will join in.'
An ex-student Peterson said: 'When I was at Hackney Community College studying BTEC computing I joined the YS and I have never looked back. If they sack 55 lecturers and staff then the college will be threatened with closure and that will be devastating for the local community.'
Yamou Fayebagla said: 'I am not happy that we are losing our education. We are here to show the government that we will stand up and fight the cuts. Without education, life is meaningless.'
Her friend Aminata studying a level 3 BTEC student said: 'They should value teachers. Teachers bring everything they can to the students.
'Education should be available to everyone and we are the future leaders of the country. Education should not just be for the rich. They are creating a situation in the UK which you see in developing countries where you only go to school if you have money and, of course, no education means no job.'
The UCU put out a leaflet which said: 'Hackney Community College is under threat. The government plans massive cuts in funding just as youth unemployment reaches a record high. The college management's response is to threaten to sack staff and cut the courses that our community needs.
'We do not accept these cuts. We do not think Hackney deserves a second class education – where only basic "employability" skills are taught.
'Our community desperately needs real educational choices to combat the poverty of the area. The government could afford to keep all of our courses open and our staff in jobs. HCC needs about £3m to keep all of our courses. There is a lot of money in the UK. The PCS union says that taxes worth £120 billion are not collected every year, most of it from big companies.'