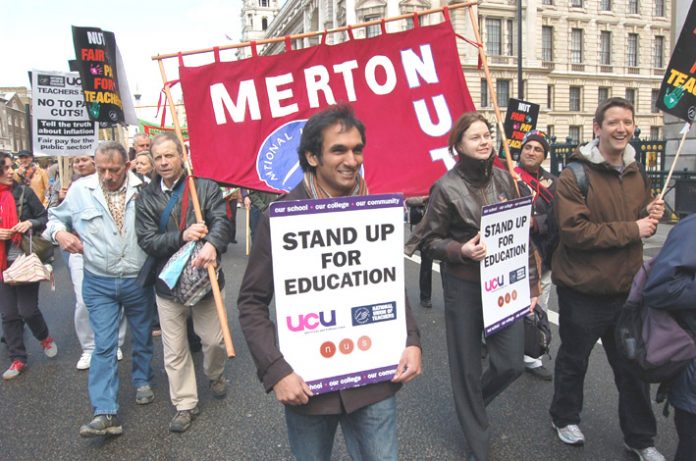 Over 400,000 teachers, college lecturers and public and civil servants held a magnificent one-day national strike on Thursday, with a militant turnout on marches and rallies across the country.
Hundreds of very angry public sector workers rallied at the Forum in Norwich on Thursday morning.
Members of NUT, PCS, and UCU all stated their disgust and resentment of the government's proposed imposition of lower than inflation pay settlements.
Tony Mulgrew, Norfolk County NUT Secretary, said: 'Our slogan is "Fair Pay for teachers".
'Over the last three years we've had lower than inflation settlements imposed on us.
'As the government isn't talking we have no option but to ratchet up our action.
'Hopefully the other teaching unions will also now see that this is what must be done.
'The effect of low pay on young teachers means that young teachers are leaving the profession within three to five years of starting.
'The figure of £34,000 p.a. for teachers is not an accurate reflection – this is the figure reached by teachers at the top end of the pay scale and that after they have also made three steps on the UPS.
'For many, in order to survive the extra workloads and stress, they have to go on medication or take a cut in their hours.
'This campaign is going to continue.'
Mark Sandell, Regional Secretary for Anglia UCU added: 'I think this action will be a big success and will highlight both the underbelly of education and the government's attempt to cut public sector wages for years to come.
'This is just the first strike in an ongoing campaign.'
PCS member Dave Seagrove, interviewed on the picket line at Baltic House, said: 'These pay cuts proposed over the next three years is going to have a massive effect on us.
'We are the low paid the government is talking about and they're going to give us a pay cut!
'Some people say we can't afford to go on strike, but really we can't afford not to. We are some of the lowest paid in the country.
'This government has no problem funding billions to go to war in Iraq and Afghanistan, or to give billions to Northern Rock, but for their own low paid staff they can't even find the money to keep up with inflation.
'Since Labour came to power more money has been generated but has all been spent on big business.'
Sylvia, a PCS member working at the Department of Work and Pensions on the picket line at Kiln House said: 'Our campaign has been ongoing for over a year on the question of pay.
'Even for those who have been offered 2% it is a huge cut but some of us such as myself on the so called top of scale get exactly 0%.'
Andy, a teacher and NUT member said 'Teachers give and give and give but there is a limit.
'Yesterday the Bank of England were prepared to give the banks £50 billion to get them out of the mess they got themselves into through greed but they can't afford to keep us, whose money it is, above the poverty line.
'I've been teaching for 10 years. When I started I was earning £23,000.
'There's no way I could afford a mortgage and run a car on that money now.'
In southwest London, a march from Lambeth College through Brixton, by UCU college lecturers and their supporter was swelled to around 300 when it was joined by members of the NUT and other unions and supporters, including school children,
The marchers shouted slogan including 'Gordon Brown here us say – Two per cent no way! We demand decent pay!'
Motorists tooted their support all along the route.
Lecturer at Lambeth College Brixton Hill campus, Ann Cowie told News Line on the march: 'In the UCU, we would like to have the same level of London Weighting allowance as the schoolteachers.
'Simple things like visiting the dentist have to become unaffordable.
'The impact of cuts means more pressure of work on us.
'A number of support staff have been made redundant over the last two years and this has made conditions worse.'
Another lecturer, Valerie Marston-James added: 'The administrative work is too much – sometimes I feel I've become an administrator.
'Privatisation means other organisations are bidding for our work.
'Training organisations, some of which don't have properly trained staff, can bid for government work and undercut us.'
On the picket at Hayes job centre in west London, PCS health and safety rep Jasbinder Sanga welcomed the PCS strike being alongside the NUT.
She said: 'It's more efficient and viable for all the unions to strike together, you have more impact.'
She went on: 'If you look at your income over the year, including the increments, it's going down, while food and fuel prices – beans, butter, milk and bread prices – are rocketing.
'The DWP chief exec had a 14k pay rise this year while we're suffering.
'But without us, they wouldn't achieve their so-called stats, their targets.'
PCS rep Rashpal Parman added: 'It's good action today and like Jas said, it's best that the unions are acting together.
'The whole public sector is being paid very poorly and they should all come out together.'
At the North Kensington Jobcentre PCS rep Chrissy Flitton told News Line: 'The support for this strike is stronger that ever at this office.
'Our pay increase has to be at least in line with inflation – tax credits don't make that much difference.
'More and more of our clients are coming in needing crisis loans.'
PCS rep David Honger added: 'The big issue for me is privatisation.
'We have lost a lot of staff and three of our offices are facing closure.
'Management are now having to recruit more staff because they can't cope – but they are only employed on a casual basis.'
At City and Islington College, north London, picket line, lecturer Cathy said: 'This is good – 400,000 people striking today and all the media are focused on the NUT.
'In order for it to stay effective and purposeful for this and the next generation, those teachers need to be appreciated and paid accordingly.
'They need to have equal pay and this hasn't materialised.'
ESOL lecturer Steve Small added: 'The government is operating a divide and rule policy.
'They should invest in adult education and not bombs.'
Student Muket Faccum told News Line: 'I'm supporting the teachers because I think they're right.
'And I think we should have better facilities for education. Our library is not suitable.
'I think we need to put our voice out to the public.
'I'm not happy with Gordon Brown, we need an independent party from capitalism.'
UCU college lecturers were joined by students on the picket line from 7am outside the front of Hackney Community College in East London.
Payne Mthimkhlu, a UCU rep at Hackney Community College, told News line: 'We are on strike because of pay and conditions and workload.
'There is strength in unity and civil servants, teachers and lecturers are all out on the same day.
'It is UCU policy to co-ordinate our action with the other unions.'
Student Ade Olukoya said: 'I am studying a City and Guilds in I.T. at Hackney Community College and I support my lecturers.
'They come and teach us things that we wouldn't have learnt ourselves.
'They work hard and it is disappointing that they can't afford the cost of living.
'They deserve a decent pay rise, all teachers and lecturers deserve that!'
A Lecturer in Painting and Decorating at the college, Bob Galvani was angry about the huge differences in pay between lecturers and teachers.
He said: 'It is deeply unfair that school teachers working in schools, teaching the same syllabus to the same pupils, get 15% more than college lecturers.
'We want everyone's pay to be increased teachers and lecturers!
'Some principles earn good money out of education, £100,000 a year and more!
'The cost of living is increasing and wages have to keep up with that or what they are offering us is in effect a wage cut.'
Young Socialists member Vico Welbeck brought two other members to the picket line. He said: 'I am a YS member and I go to Hackney College and I refuse to cross the picket line because the staff are on strike.
'I support my lecturers and they should get fair pay!'
At Thursday's 20,000-plus march through central London by striking teachers, college lecturers and civil servants, Christiane Shepherd and Clare Long, from Barnet NUT, both spoke to News Line.
Speaking at the start of the march, Clare said: 'I think it's going to be an excellent turnout today and I think it reflects the feeling of London teachers in particular about how pay has been eroded.'
Christiane said: 'We are a graduate profession, but our pay bears no relation to other graduate jobs.'
Clare said that '50 per cent of teachers leave in their first five years and look for a better paid job.
'People talk about how children's education is being disrupted today – but if you actually can't fill posts on a regular basis, then that is just disruption.
'Schools are having to find cover teachers and supply teachers all the time.'
Christiane said: 'Public sector workers' wages are determined by the government, so maybe all the public sector workers should join together.
'Nurses' and teachers' salaries bear no relation to the level of work they are doing.
'The complexity of the job is not reflected in the wage.'
Haringey NUT member Brenda Van Niekerk said: 'A lot of teachers cannot afford a home of their own. It's too hard, and that's why I'm here.
'I think we should have a general strike.
'We definitely need a change.'
Sarah Davison, a member of Camden NUT, said: 'I'm here for the same reason as everyone else, for a pay rise in line with the real value of inflation.
'The idea of public sector pay increases driving inflation has already been challenged by a lot of economists.
'I'm one of the better paid teachers, but colleagues who are newly qualified are being poorly paid and have big student debts.
'They aren't able to pay off those debts because they're paying them off at the higher rate of interest while inflation is rising.'
Rebecca Forest, Helen Yearnshire, Syreeta Clifford and Selena Rajoo, NUT members from Park Primary in Stratford, east London, came to the march with their own banner.
Helen said: 'Everything else has gone up except our pay, and we're working just as hard.'
Selena said: 'It's more about recognition. We work long hours but the ratio of pay to hours is unfair.
'We do the job because we enjoy doing it, but we want to be recognised.'
Rebecca said: 'They're going to start losing teachers because we're not getting the money or recognition as Selena said.'
Helen added: 'I think there should be more, I think there should be all the teaching unions. Surely it's all teachers together.'
Katy Baxter, from Uxbridge College UCU, said: 'We want to join in with the teachers. It's the first big strike for 20 years.
'We wanted not just to stay on the picket line at Uxbridge but make a bigger impact by joining in here.
'We are the forgotten sector in Further Education.
'We don't even earn as much as teachers.
'Our contact hours are high but we have little time for preparation and marking and our holidays are shorter.'
She added: 'I think the trade unions have to do more. There is a crisis and I think it's going to get worse.
'Everything is going up in price.
'There is also the issue of the new diplomas and extending the school leaving age.
'Where are they going to put them? Where are they going to get the teachers from? It hasn't been thought through.'
Hassan Ahmed, from South Camden Community School NUT, said: 'If you've got a family, the average food bill is going up by about £800.
'Council Tax is going up, everything is going up above inflation, and to offer teachers a pay rise of 2.45 per cent is ridiculous, absolutely ridiculous, especially for younger teachers coming into the profession.
'I think all the unions need to get together and say enough's enough.'
School pupils Nadia Avent, Jacob Avent and Charlotte Webster, from Carshalton, all came on the London march.
'They put up with us in class and don't get enough money,' said Charlotte and Nadia.
'They teach us everything and when we're much older and do really good jobs, we forget who taught us the basics.
'Those people like doctors and bank people could not have got there in the first place without their teachers.
'We mustn't take them for granted. Teachers should get paid a lot more.
'They work hard every day, teaching 30 children.
'They want others to learn what they've learnt.'
Jacob Avent said: 'My mum's working, marking all this work, and then she finds out that she isn't getting fair pay.'
Daniel Rowe, from Enfield NUT, said: 'It's a pay cut. It's not in line with inflation.
'Our song-line is: "My old man's a teacher, he wears a teacher's hat, they won't pay him inflation, so he can't afford a flat."
'We need to continue striking.
'In the end, we need a general strike.'
Dean Rogers, London-South East regional secretary of the PCS, said: 'I'm supporting 100,000 civil servants on strike and 250,000 teachers on strike.
'Coordinated action is what we're about today.
'Our strikes are coordinated with strikes by UCU and NUT.
'The stronger the message, the more effect we'll have.'
Jack Papasavva, negotiating officer for PCS in London and South East region, said: 'As my colleague's mentioned, it's about solidarity, it's about raising the profile of the whole campaign and putting paid to the lie that we cause inflation.
'We're the victims of inflation, not the cause of it.'
Richard McEwan, Tower Hamlets UCU press officer, said: 'I'm pleased we're striking over pay, but also for the heart and soul of education, and we need a strike as soon as possible with other public sector workers.'
• More pictures in photo gallery