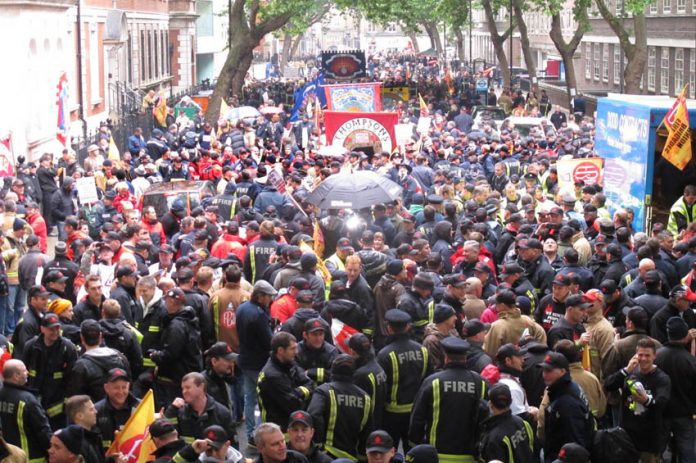 OVER 4,000 firefighters marched through central London yesterday against attacks on their pensions and cuts to the fire service.
The front banner read: 'We Rescue People Not Banks – Stop the Cuts' and firefighters wore t-shirts with the same slogan.
There were other FBU banners from as far away as Northern Ireland, Norfolk, Wales, Essex, Basildon, Devon, London and the South East.
There were delegations from Cleveland, Cumbria, Barnsley and the march was led by a pipe band from Humberside.
Speaking to News Line before the march, Fire Brigades Union members backed calls for united action by the whole public sector against the cuts and privatisation.
Cumbria FBU member Andy Steele said: 'I wish the Scots were still part of the process. We are a national fire service in the UK and we need to defend national agreements.
'I'd like to add, if the Scottish government can talk and negotiate, then surely Westminster can do the same.
'I would agree, there needs to be united action across the public service – everybody is under attack.'
Hertfordshire FBU Branch Secretary Tony Smith said: 'I'm here today to ask a few questions – minister Brendan Lewis dresses up these pensions changes and says no-one is going to be affected.
'I signed up to my pension in 1994 and was told this is the pension for firefighters. Nobody told me it would change in the future and nobody told me there was any alternative.
'I was in effect, mis-sold my pension. I am here today to ask who do I complain to?
'We're also fighting cuts. We're into our tenth year of cuts in Hertfordshire. We've lost over 100 firefighter posts.
'Two stations have been closed, another one is about to close, and we've had a pay freeze for four years.
'We had a one per cent pay increase, then a 1.6 per cent increase in our pension contribution.'
He added: 'I don't trust any of the governments any more. It's time for revolution. The TUC must call the general strike. Everybody I speak to has had enough.'
Dorset FBU member Gary Lloyd said: 'We need to educate the public that if we allow 60-year-old firefighters, policemen and paramedics to become the norm, they won't get the service they deserve.
'It's not reasonable to expect people at 60 to carry casualties and heavy equipment up and down ladders.
'Privatisation hasn't worked in most other industries. The emergency services are an insurance for the public. You dial 999 and get a good response. Privatisation will threaten that, services will be run on figures, budgets and targets, not on people's lives.
'I can't understand why we aren't all going out together. The NHS is suffering, police stations are closing.'
He concluded: 'It's about time that people from working backgrounds had a say in this country, how it's run and its values.'
Gary Dyer, Basildon FBU, said: 'It's disgusting that they can expect a fireman to work to the age of 60. We've been mis-sold our pensions, like millions have been mis-sold PPI.
'They want us to work longer, pay extra and get less. We are going to be paying 15% of our wages and then to get told one in seven will not keep their fitness levels, so there's no way we are going to be allowed to get our maximum pension.'
He added: 'There will be industrial action until we get a decent and fair resolution to this dispute.
'The bankers have brought all this on. The government aren't helping us.
'All the public sector are under attack. We should all unite and walk out together.
'The TUC should call a general strike.'