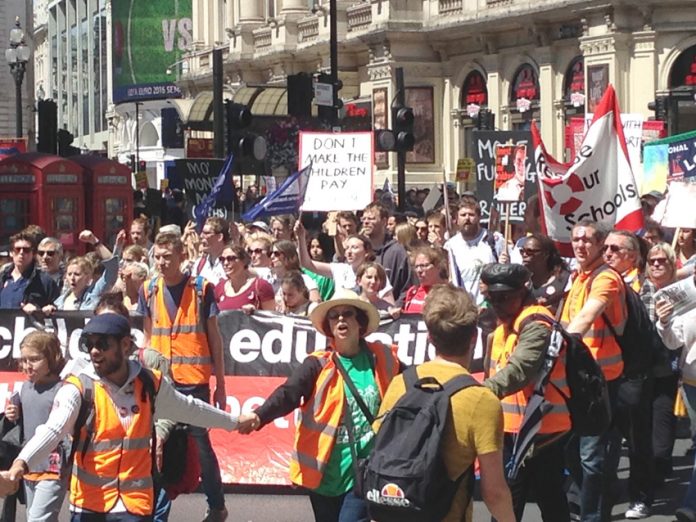 'THIS demo is just the start, this strike is just the start,' Kevin Courtney NUT acting General Secretary told a mass rally of teachers and parents in Parliament Square at the end of an 11,000-strong march through central London yesterday.
He concluded: 'We can't think this government is going to roll over, we are going to have to take more action against the cuts in our schools.'
He began his speech: 'I want to thank every teacher who has stood up for education today.
'I want to thank the junior doctors who have supported us and the school support staff who have taken a days action today with us.
'Most of all I want to say thank you to parents.
'We have received thousands of messages of support from parents, many of them have been on this march.
'I want to thank Parents Against SATs.'
He added: 'This strike is legally about pay and conditions but it is really about defending education. (Education Secretary) Nicky Morgan sent us a letter on Saturday saying: "There will be real-terms protection for schools budgets."
'That is deceitful. There are huge cuts to school budgets.
'They are freezing money per pupil and taking money back in National Insurance.
'The real-terms protection claim is a lie.
'We are having to argue against dance, drama and arts teachers being sacked.
'I say we fight back against these cuts in services.
'Labour estimates academisation transfers will cost £1.3bn in lawyers' fees.
'Let's have this money back.
'Some people said that we should not strike now after the EU referendum.
'I considered that but it is the right thing.
'Yesterday George Osborne said that there was going to be a cut in corporation tax, where is the money going to come from for schools and hospitals?'
There were rallies in major cities all around the country.
Around 1,000 striking teachers marched through the centre of Sheffield, including delegations from Rotherham, Barnsley, Doncaster and Chesterfield NUT branches along with Rotherham Unison.
At the rally afterwards, outside Sheffield City Hall, Chesterfield NUT speaker, Lisa Tunnell, told the demonstration: 'Thousands of our teachers are out and since we called the strike, five thousand teachers have joined the NUT in one week.
'We know full well what 8% budget cuts mean for our schools and we know that becoming academies is not going to improve our schools – in fact, we know that if you become an academy, you are likely to become underperforming.
'We know from the governmen's White Paper what the Tories' vision for education is.
'Our vision for education is everything the Tories' is not.
'Our vision comes from educationalists and experts.
'We also know that parents share our vision.'