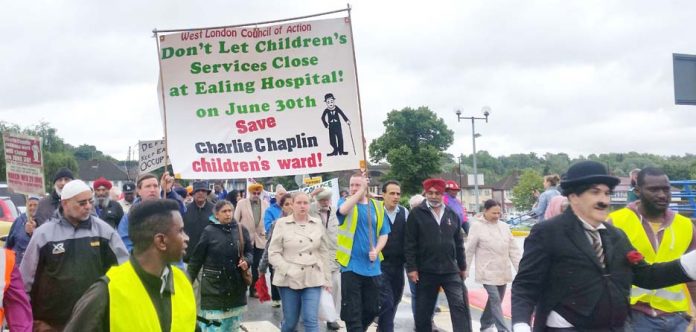 'TRADE unions must act – save our children's services!' rang out as the three hundred-strong march from Southall to Ealing Hospital proceeded yesterday afternoon.
The West London Council of Action called the march and is holding a mass picket of the hospital from 7am to 9am this morning against the closure of the Charlie Chaplin Children's Ward which is due to take place today.
Not only is the Charlie Chaplin ward to close but children under the age of 16 will be turned away from the hospital's A&E department from today. The march was led by Charlie Chaplin (David Girt, Equity member), local residents and Southall College students who are determined to save their hospital.
As it proceeded down the busy Southall Broadway, many people joined the march and shoppers and shopkeepers clapped and cheered it as it went past. A rally was held outside the front of the hospital, where it was joined by hospital workers, including a number of Medirest workers and GMB union members who came out to support it.
Jonty Leff, Assistant General Secretary of the Workers Revolutionary Party, said to the rally, 'It is impossible to let Ealing Hospital be closed.' He spoke about the struggle against the closure of Chase Farm Hospital in Enfield and said, 'They said "Don't worry, North Middlesex will pick up the slack." Now North Middlesex cannot cope. We will not allow them to close the hospital services of West London.'
Surinder Grewal, a local mother and campaigner for the West London Council of Action, said, 'We need this hospital for our children. All the departments of this hospital must remain open.'
Southall College student Athima Salma, said, 'When we heard they were going to close the children's ward, we made a banner for this march. I want to help save emergency care and save children's lives. We have to save the Charlie Chaplin ward.'
Bill Rogers, Chingford ASLEF chairman, said, 'The trade unions have to fight to stop these closures. The Tory government is split and divided and it must be brought down. The only way to keep services open and to stop all these cuts and closures is to have a general strike, and the TUC must be made to call it.
'We need a workers' government that will expand the NHS and reopen every hospital that has been closed.' The rally ended with a mass chanting of 'No cuts, no closures, save Ealing Hospital,' and a cheer for people who pledged to join today's mass picket.