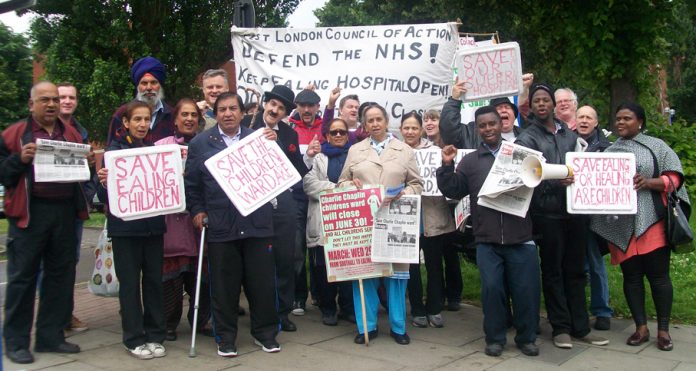 A LOUD and angry mass picket of Ealing Hospital yesterday morning condemned the closure of the Charlie Chaplin children's ward and the barring of under-16s from the A&E department.
Yesterday's picket, called by the West London Council of Action, followed a 300-strong march from nearby Southall to a rally at the hospital on Wednesday afternoon.
Dr Anil Sharma said of the children: 'It's very bad, where are they to go? They say they are centralising services, but in fact they are cutting them. Managers are devising these measures in their heads, but it's the people who are suffering the results.'
Shanan Raj, a nurse and Unison member, said: 'It's very shameful, while shutting is easy, opening is difficult. The unions should have fought it, but they won't even call meetings. The CQC (Care Quality Commission) people are coming because closing the Charlie Chaplin ward is likely to prove disastrous. We all want children's services to stay here.'
Dr Suma said: 'Closing paediatrics is very worrying and wrong.' She added: 'I've voted to reject this new deal over our contracts. I hope we win the vote.' Nurse Mary Bajegbo said: 'It's not good to close children's services, it will raise mortality rates. If you can't get treatment in time you might die. The trade unions should have done more.'
Karina Spencer, who works in Pharmacy, said: 'It's terrible, we need it. The other hospitals are already very busy, we are always busy, how are they going to cope with our patients as well as their own?'
Moira Clarke, a ward clerk, said: 'They shouldn't be closing, it's devastating.' Najef, an anaesthetist, said: 'They've closed it, but still the transition is not clear. The local society will be deprived. It's the right time to fight to defend the NHS.'
Pradip Patel, who joined the picket after dropping his wife off to work, said: ' "One of the finest wards in the hospital," were the words of my wife as I was dropping her off this morning. Also, "the most peaceful atmosphere for the children who are not well".
'The finest ward in the hospital is being shut. It's not acceptable, it must be re-opened now!'
Bus driver and Unite member Vikas Kumar, whose route terminates at Ealing Hospital, said: 'I think it's disgusting taking care away from little children in emergencies. I've got a baby and I know how worrying it is. I think all the unions should come out together. The TUC should call general strike action to beat this government and its cuts and privatisation of our NHS.'
Ralph, a nurse and member of the RCN, said: 'I'm devastated. Twenty years ago I brought my first patient up to the Charlie Chaplin ward and now it's closing. It's wrong!' Gurbux Johal, who was on Wednesday's march and joined yesterday's picket, said: 'I want to save the children's ward. The population is growing, where will people go? I think we can stop it, unity can beat everything. We are going to keep fighting for the young generation!'
The West London Council of Action is to continue picketing Ealing Hospital every Friday morning from 7am-9am to fight for the reopening of the Charlie Chaplin ward and A&E, as well as that of maternity which closed last year, demanding action from the trade unions to achieve this.