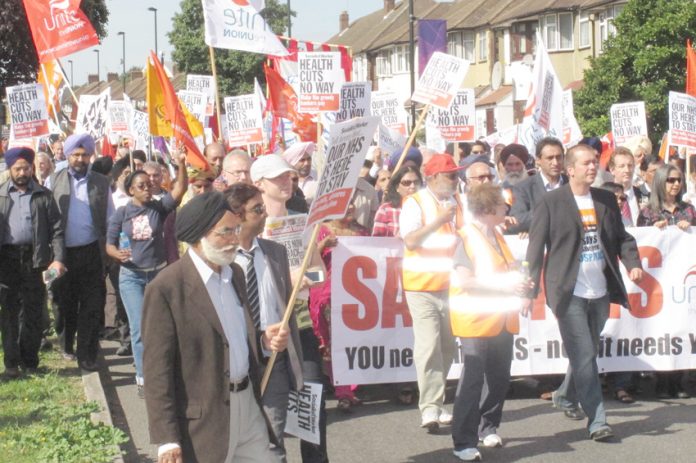 THE Francis inquiry into what happened at Mid-Staffordshire 'has allowed the government to blame frontline clinicians rather than those in charge.'
This was the verdict of former NHS chief executive Professor David Hands yesterday, in the latest issue of the BMJ (British Medical Journal).
Hands declared he finds it 'astonishing' that Francis 'focuses blame on the local trust and professional behaviour' and 'provides little more than embellishment of the facts established in his first report'.
This myopia 'has enabled politicians to indulge in characteristic evasion,' said Hands.
As an example of the 'culture of fear' identified in the two Mid-Staffordshire inquiries, Hands criticises the practice of Sir David Nicholson, Chief Executive of the English NHS, of commissioning inadequate 'reviews' by management consultants in response to legitimate concerns of whistleblowers.
These 'superficial exercises' inevitably find 'no evidence' to warrant full investigation, he says.
He describes his own experience of such a review after he reported concerns made by staff at Northamptonshire Healthcare NHS Trust, saying: 'The self selected review team declined to interview any of the 70 potential witnesses I identified and concluded that no investigation was necessary.'
Yet, when giving evidence to the Francis inquiry in 2011, he says: 'I was shown secret Department of Health papers that untruthfully recorded that my concerns had been fully and impartially investigated.
'They also contained scurrilous innuendo about the clinical staff I had sought to help,' he adds.
Hands also offered evidence of the 'wider contextual influences on behaviour in Stafford', but says Francis 'seemed uninterested in this broader evidence'.
'Predictably, the government has acted quickly to devolve blame to the front line, to reinforce already top-heavy regulatory bureaucracy and to defend Sir David Nicholson,' Hands writes.
The NHS chief executive 'need first to remember their responsibility to be visibly committed to the Nolan principles for the conduct of public life: selflessness, integrity, objectivity, accountability, openness, honesty, and leadership,' says Hands.
Mid-Staffs NHS Trust was placed in administration by Monitor yesterday, meaning that Stafford Hospital will now be run by two administrators and its A&E and other acute departments are immediately threatened with closure.
Christina McAnea, Unison Head of Health, said: 'Today's news is deeply worrying for patients, staff and local people.
'More than 15,000 local residents have already signed a petition calling for the hospital to keep its acute services.
'It is vital that these views are listened to and acted upon at all stages of the consultation process.'
• Professor Sir Roger Boyle has decided to step down as director of the National Institute of Clinical Outcomes Research after he raised concerns about the unit at Leeds General Infirmary.
Last week he said he would not want his daughter treated at the hospital.
It was Boyle who raised concerns about the mortality figures at the Leeds unit that led to the suspension of surgery on 28 March, just 24 hours after local campaigners had won a court case over the proposed closure of the unit.
After an 11-day review it was decided to allow surgery to restart, a decision which was then questioned by Sir Roger.
On Monday Health Secretary Jeremy Hunt said Sir Roger would 'no longer be playing a part' in the wider review into child heart surgery in England and Wales for which he was acting as an adviser.