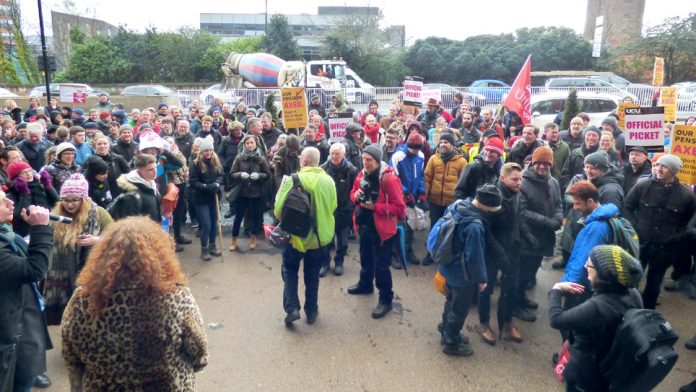 STUDENTS and other supporters at the University of Sheffield rallied outside Firth Court yesterday and welcomed Chris Townsend, representing the three-day-old student occupation of Sheffield University Arts Tower in full solidarity with the lecturers' strike action.
They were marking the last day of this round of 14 days of strike action over 60 universities across the country in defence of their pensions. Some universities like King's College and Queen Mary's university which started the strike a few days late will continue the strike until they complete their 14 days.
Another round of 14 days of strikes is planned during the exam period with the University and College Union (UCU) calling on all those lecturers who are also examiners at the 65 universities involved to quit their posts in protest.
'We want to say a huge thank you to you all,' Chris Townsend told the Sheffield rally yesterday. 'We are occupying because your working conditions are our learning conditions. We are demanding: privatisation must end at this university and everywhere. 'Education must be free democratic and believable. Another university is possible. Freeze the rents. No deductions for workers who have been on strike.'
Marian Lloyd, from the PCS civil service union executive, told the rally: 'Your dispute has raised the heads of millions of public sector workers and you have defeated the Trade Union Act by your magnificent struggle. What do the Tories expect? They are coming for our pay, our jobs and our working conditions and you have said NO! 'There is an alternative socialist policy – of job creation in universities, in health and other public services. But they will do everything to protect their friends in big business. We should follow and build on the example of what UCU have done.'
Student Alia Mulali added: 'I have been on a tour of your picket lines – and there is something incredible about a picket line: a level of strength and warmth. I am in the NUS – and we will not allow students to be used as a political lever against our academics. We bring full solidarity from all students.'
King's College in central London was another of the 60 plus universities out on strike.
'With three days of our current strike action to go, we are as resolute as we were when we began picketing three weeks ago,' lecturer Simon Sleight said on the picket line yesterday morning. He added: 'With the added impetus of support of our students and the continued unravelling of University UK's position, we are here for as long as it takes.'