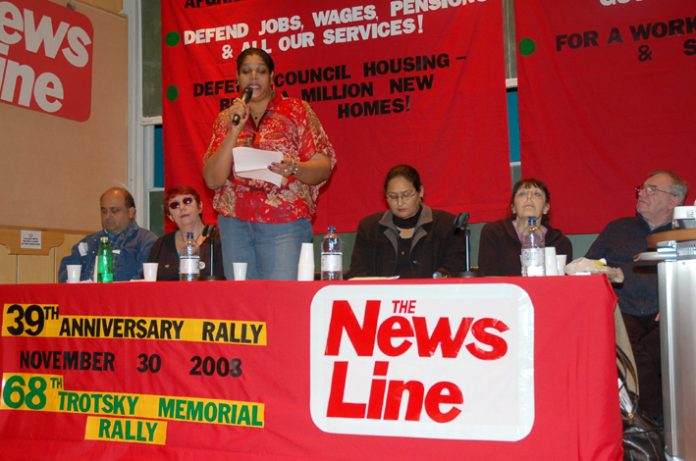 'As ordinary trade union members are fighting for their jobs they must have a leadership with a policy of "not one job sold, not one factory closed, nationalise major industries, banks and building societies, no home repossessions".'
So said All Trade Unions Alliance National Secretary Dave Wiltshire as he addressed the 39th News Line Anniversary and 68th Trotsky Memorial rally yesterday afternoon.
He told the 200-strong rally at Queen Mary College, east London that trade union leaders Woodley, Simpson and Prentis 'have done nothing to defend a single job, pension or wage claim.
'Now we hear Mandelson is drawing up a list of industries which may be helped by the government.
'By implication those industries which don't appear on his list are to be dumped.
'And have no doubt, Woodley, Simpson and Prentis will go along with everything Mandelson proposes.'
Wiltshire went on to talk about the car industry saying: 'Luton, from the end of the Second World War, was a boom town.
'But in 2000, GM closed the Vauxhall factory and thousands of jobs were lost.
'We investigated and uncovered a vipers' nest.
'Workers had spontaneously occupied Vauxhall headquarters and there had been days of action, a 20,000-strong march through Luton and a one-day strike, which was joined by workers throughout Europe.
'But on the same day as the strike, Woodley, who wasn't TGWU general secretary at that time but its motor industry chief negotiator, was meeting with the local MP and management at a hotel five miles away to ditch the strike.
'GM couldn't have closed that factory down without the complicity and support of the TGWU leadership. And it didn't stop there.'
Wiltshire went on to list attack after attack on the motor industry including MG Rover, which was kept open for the two weeks of the 2005 election before closing with the loss of 5,000 jobs.
'Today, every single car factory in the country is on short time working.
'The remaining GM factory at Luton is just open for two weeks in December and we don't know if it will be open next year.
'GM has gone from being the biggest motor manufacturer to being the most indebted.
'Three million jobs would go in America with the closure of GM, Ford and Chrysler.'
Wiltshire spoke of Leon Trotsky's last work 'Trade Unions in the Epoch of Capitalist Decay'.
He said: 'Trotsky made points blaze out about trade unions growing together with the state to stop strikes.'
Wiltshire pointed to 'postal workers' strikes called off after six weeks secret talks, a national teachers' strike called off, a civil service union strike called off.
'What's going on? There is a crisis in the union bureaucracy.
'To fight against this government means you have to be prepared to bring it down.
'Woodley, Simpson and Prentis are completely incapable of leading such a struggle.
They are acting as the servants of this capitalist system.
'This is the time to build a revolutionary leadership in the trade union movement.'
Wembley anti-academy campaigner and NUT branch secretary Hank Roberts told the rally: 'In fighting against academies, we are fighting against the rich who are trying to get their hands on what's ours.'
BMA Council member Anna Athow, speaking in a personal capacity, said: 'We are in a struggle to insist that the union carries out a proper public campaign to defend the NHS against privatisation.'
Nimalam Scvaranam, from the Tamil Forum, said: 'I'm proud to be part of the freedom struggle waged by the Tamil Tigers.'
Hengride Permal, chair of the Chagos Islands Community Association, said: 'The british government has turned us into a people without a homeland.
'We are having a national demonstration in Trafalgar Square on the 18 April.'
Other speakers included Billy Colvill (Peckham CWU), Bill Rogers (Chingford ASLEF and NE London Council of Action secretary), Zina Dodgson (Surrey and Sussex Unison), Veladimer Bitzoomayeh (Unite, Hayes bus garage), Vally Wilson (SE London Council of Action), Lakinder Saran (Gate Gourmet sacked worker), Chris Eames (News Line editorial board), and Paddy O'Regan (News Line editor) and Nash Campbell (YS National Secretary).