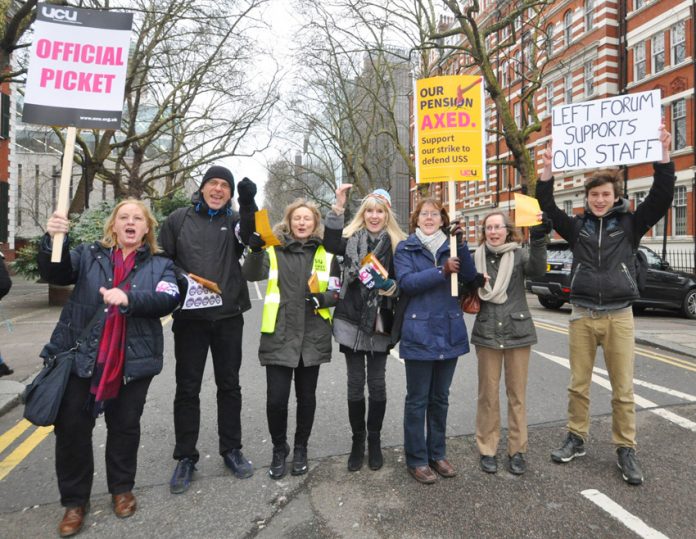 'WHAT do we want? Fair pensions! How do we get it? Strike! Strike! Strike!' students and lecturers at Sheffield University shouted yesterday while taking part in the nationwide strike. Lecturers at 64 universities across the length and breadth of the country began 14 days of strike action, coming out for their second day today. The strike is in response to a vicious attack launched by the university management on their pensions.
The lecturers' fundamental right to strike was also under threat. University management at two universities, City University and Reading, threatened to make lecturers liable for 'damages if students sue for breach of contract'.
Lecturers and students were out in force at Sheffield University. There were pickets of lecturers and students at every entrance of the campus, while large demonstrations of well-organised students with banners marched from picket to picket.
Sam Marsh, Lecturer in Mathematics and Communications Officer for Sheffield UCU, told News Line: 'We are asserting our right to strike. 'That some universities are threatening legal action against lecturers is intolerable. 'Any disruption to student's studies is entirely the responsibility of the universities. They are refusing to negotiate a fair deal for our pensions.
'But it is so heartening to see the students realising this is part of a much bigger battle and giving us such overwhelming support. 'It's become increasingly clear that the priorities of students and staff in higher education are very much aligned. We all want to protect education as a public good and prevent markets from corrupting our public institutions.'
Kieron Maxwell, spokesperson for Sheffield Students Union, said: 'Students at the University of Sheffield completely support the UCU in their strike. We see this as taking place within the wider context of the marketisation of education.'
Meanwhile, up to 500 students, lecturers and supporters attended an outdoor rally at Goldsmith's University in south London which was addressed by Sally Hunt, UCU General Secretary, and John McDonnell, Labour Shadow Chancellor. First to speak was Eva Crossan Jory, President of the Students Union at Goldsmith's. She said: 'Goldsmith's University has a reputation of being political and militant. We support the lecturers who choose to come out on strike.
'This disruption is nothing compared to the disruption the Tories are causing through their cuts.'
Dez Freeman, Vice President of UCU at Goldsmith's, spoke next. He said: 'This is a protest against "daylight robbery". The excuse we have been given for the pension cut is "We can't afford it!" We are grateful to students for supporting us.' He finished by saying, 'Join us next Wednesday in our march to Parliament.'
The next speaker was Sally Hunt, UCU General Secretary. She said: 'We should make no apology for striking to defend our pensions. We've tried for months to come back to the negotiating table. This is an employer-driven agenda. We will not accept the cuts to our pensions. Unison is consulting members to come out with us. We will be out until we get our pensions back!'
The final speaker was John McDonnell, Labour's Shadow Chancellor, who said: 'We congratulate UCU union nationwide who have stood strong on this issue. The employers want to impoverish you both in work and old age. This is about austerity to pay the banker's huge debt. Those who caused the crisis in 2007 are being rewarded. Enough of austerity and tax cuts for the rich.'
Striking School of Oriental and African Studies (SOAS) lecturers had a lively picket yesterday morning. SOAS UCU branch chair at the central London college, Tom Armstrong, told News Line: 'We had a very good rally on Thursday, along with students. We're taking this action, the biggest action we've taken, because it's a fight to defend pensions and we have to win it. If we don't win it the guaranteed pension will go.'
On the Birkbeck College picket line, library worker Steve said: 'I'm supporting the strike because people deserve a decent retirement and the changes to the pension will destroy that.' Picketing University College London, professor of English and UCU member Matthew Beaumont said: 'I'm on strike not only because of the vicious attack on our pensions which is going to mean on average academics are £10,000 a year less well off in their retirement but because there is a wider attack on higher education. This is in effect an attempt to privatise.'
Pickets were also out in force at Imperial College in west London. 'There has been a surge in union membership and we've never seen such involvement in strike action before' said UCU pickets Janette Shiel and Michelle Foot yesterday. Janette continued: 'The strike is involving professors, administrative and support staff. Some of us have worked here for 25 years and are depending on a good pension to retire.'