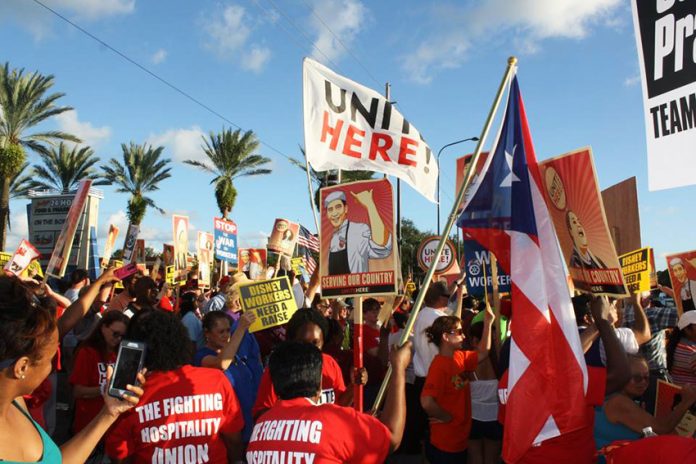 Disney unions in Orlando have filed a federal labour complaint against the theme park company for withholding $1,000 bonuses from unionised workers unless they approve the company's wage proposal.
'Disney is discriminating against 38,000 of some of its lowest-paid cast members,' said Angie McKinnon, a representative for one of the Disney unions. 'Using the $1,000 bonus to force cast members to accept low wages amounts to extortion.'
The Walt Disney Company announced in January that it would give 125,000 employees a one-time cash bonus of $1,000 for all full-time and part-time non-executive domestic employees. At the time, Disney attributed the initiative to the Trump tax reform, which massively reduced the corporate tax rate from 35 per cent to 21 per cent.
When the bonuses were announced, the six local Disney unions belonging to the Service Trades Council Union said the $1,000 bonus should be offered unconditionally to all unionised and non-unionised employees because it was unrelated to ongoing wage negotiations. In December, union workers overwhelmingly rejected a contract offer from Disney giving non-tipped employees a 6 to 10 per cent increase over two years.
Under the proposal, cast members making $10 per hour would only get a 50-cent raise in their hourly wages during the first year. Union leaders, who originally wanted an increase for workers to $15 per hour, compared Disney's proposed pay raises to 'poverty wages'. On Monday, the STCU filed a complaint with the US National Labour Relations Board against Disney for withholding payment of $1,000 bonus to 38,000 union workers unless they accepted Disney's contract offer.
If union workers don't accept the company's proposal by August 31, the bonus offer will expire.
The same bonus, though, is being offered unconditionally to over 80,000 cast members who are not unionised or are covered by unions not currently negotiating contracts, according to UNITE HERE Local 737.
'(Walt Disney Parks and Resorts) has retaliated and discriminated against approximately 38,000 employees for engaging in concerted activity, has violated its duty to bargain in good faith and engaged in conduct that is inherently destructive to rights guaranteed,' the complaint states. The STCU says out of the 38,000 cast members the organisation represents, 23,000 workers make less than $12 an hour, and out of those, 8,000 earn $10 an hour.
Disney claims the average hourly wage for one of its workers is about $13.34 including overtime and premium pay and notes that its starting wages are almost $2 more than Florida's minimum wage. 'Our offer to increase pay by 6 to 10 per cent over the next two years reflects our ongoing commitment to our cast members,' claimed Disney spokesperson Andrea Finger in a statement.
'Wages and bonuses are part of our negotiation process. We will continue to meet with the union to move toward a ratified agreement.' Jeremy Haicken, president of Local 737, says Disney has insisted on using a federal mediator since last summer and told the unions they would be using the cash bonus offer in negotiations through that person. 'They're holding us hostage,' Haicken said. 'They're saying, essentially, you can get a $1,000 bonus if you accept 50-cent per hour raises you voted to reject.'
Meanwhile, hundreds of union healthcare workers in Georgia plan to protest outside of two local hospitals this month as they demand better wages, benefits and pathways to improving patient care ahead of a merger between two healthcare giants that would be worth billions. The protests taking place outside of Mercy Hospital Southwest Tuesday and Bakersfield Memorial Hospital on February 28 are part of a statewide demonstration week, with employees at 27 hospitals taking part.
It comes just two months after Dignity Health – which operates Mercy Hospital Southwest and Bakersfield Memorial Hospital – announced it would be merging with Colorado-based Catholic Health Initiatives to create a $28 billion healthcare giant. It will be headquartered in Chicago, operate 700 care sites and 139 hospitals and employ more than 159,000 staff members and 25,000 physicians.
Employees fear that they could be left behind in the merger and want to finalise ongoing contract negotiations before federal regulators approve the merger, said Sean Wherley, a spokesman for the Service Employees International Union's United Healthcare Workers. The SEIU contract expires April 1, Wherley said.
'They want to secure a strong contract to protect wages and benefits and improve patient care,' Wherley said. 'That's a priority before the merger takes effect because Catholic Health Initiatives has a record of undermining workers and harming patient care.' Wherley pointed to CHI's elimination of nearly 3,000 full-time jobs in its hospitals across the country in fiscal year 2017.
CHI spokesman Michael Romano acknowledged on Monday that CHI is unsure how jobs would be impacted by the merger. 'We expect integration to take one to two years, but beyond that, it's too early to tell what impact, if any, the combination will have on jobs.'
He reinforced, however, that the merger would create a 'stronger operational and financial foundation to expand access to quality care'. Doctors and registered nurses, Wherley said, will not take part in the demonstrations, but housekeepers, surgery technicians and other employees would.
Nearly 15,000 Dignity Health employees nationwide are SEIU-UHW members. Locally, there are 744 union workers at Mercy Hospital Southwest, and 861 at Bakersfield Memorial Hospital, Wherley said. 'Patients, workers and the community need to be reassured that this new corporation is going to look out for them in the future,' Jermene Ebanks, a Mercy Hospital Southwest employee, said.
'It's all too common for a mega-corporation to squeeze employees and harm patients in the process rather than invest in both of them.' Dignity Health began negotiating last month with SEIU on a master agreement impacting 15,000 employees SEIU represents at 28 California hospitals.
'Throughout these negotiations we have shown respect for our employees and Dignity Health continues to bargain in good faith.
'We pledge to maintain open lines of communication, and do everything we can to reach an agreement that is fair to our employees, our patients and our organisation,' Dignity Health officials said in an emailed statement. The demonstrations are taking place two days this month locally. Workers protested between 11 a.m. and 4 p.m. Tuesday February 20 at Mercy Hospital Southwest, 400 Old River Road, and from 11am to 4pm February 28 at Bakersfield Memorial Hospital, 420 34th Street.
• Teamsters President Jim Hoffa had strong words for lawmakers last Friday after they failed to pass legislation that would have helped immigrants who were brought into the country illegally as children. Deferred Action for Childhood Arrivals (DACA) protects certain immigrants who were brought into the country illegally as children. Congress was unable to pass legislation that would have protected these immigrants, known as Dreamers, from the threat of deportation.
Former President Barack Obama implemented the initiative through executive action in 2012. President Donald Trump began phasing out the initiative in the later months of last year – leaving lawmakers until March 5 to pass something. Congress tried and failed to do just that Thursday.
'The issue of immigration is not always easy and undoubtedly will be closely parsed by those in Congress,' Hoffa said in a statement. 'However, immigrant kids in good standing should not be penalised because elected officials refuse to get their act together. They deserve an opportunity to continue to live their lives with their loved ones in their adopted home country.'
The Senate considered a few ideas that would have implemented a pathway to citizenship for almost two million Dreamers. The president actively opposed the main bipartisan proposal – while supporting another that would have also curtailed legal immigration. In the end, both bills failed to receive enough support.
'This nation is the only home these children have ever known,' Hoffa said. 'Yet too many lawmakers, most of whom repeatedly make a point of saying they stand up for families, are turning their backs on them in their time of need. That's not right and is plain un-American.'
Trump has promised to better enforce immigration law and pursue policies that protect domestic workers from unfair foreign competition. The administration has said it will prioritise criminal aliens, but critics have expressed concern over mass deportation – which would include illegal immigrants that are otherwise acting lawfully. 'For centuries, this country has served as a beacon of hope to millions across the globe who sought opportunity and refuge,' Hoffa said. 'We mustn't allow that light to be snuffed out by callous members of Congress seeking to politicise the fate of those who had no choice in coming to this country. These children are our children now.'
The Teamsters union isn't alone in its opposition to the programme potentially being eliminated. The AFL-CIO claimed that the initiative and the temporary protected status programme are essential in fighting for better wages and working conditions. Unite Here has also supported efforts to protect Dreamers – while being at the forefront of helping another immigrant group that has lived in the United States legally for years after being displaced from its home country.
The Pew Research Center estimated that up to 1.7 million people might be eligible for DACA when it was first started. Republicans and other critics denounced it as a severe overreach of executive powers. Obama also attempted to expand the programme to millions of more recipients later on but the move was rejected by the courts.