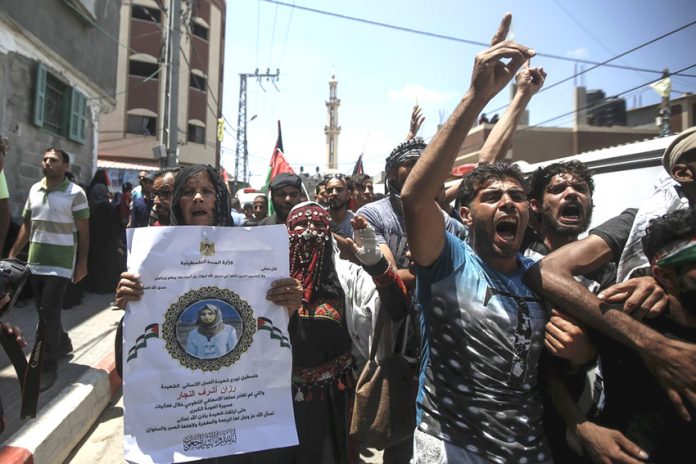 UNRWA Staff Union and UNRWA Head Union in Gaza warned the agency's administration against taking unprecedented extreme measures and withdrawing from sent notices suspending work contracts to about 400 employees, in the besieged Gaza Strip.
A statement released by the two unions revealed a meeting with the director of the UNRWA agency in Gaza, in which the director discussed the repercussions of the financial crisis affecting the Gaza Strip, which puts about 1000 employee contracts into the emergency budget, including mental health programmes and other related programmes.
The statement stated that the administration of UNRWA must withdraw all notices sent suspending the contracts of employees and to not cut off the only source of living from many Gaza residents. The statement added that the possibility of delaying the payment of salaries is not acceptable and that it is necessary for the agency itself to take on the responsibility of raising funds and providing service programmes for over a million refugees and about 13,000 employees in the Strip.
The statement also called upon international communities to stand up to its humanitarian responsibilities towards UNRWA in such a difficult financial crisis. UNRWA provides cash assistance to more than 400,000 Palestinian refugees in Syria – one of the largest such programmes in an active conflict setting anywhere in the world. UNRWA also provides education to over 47,000 Palestinian refugees in the war-torn country.
In Gaza, where the unemployment is among the highest in the world due to a decade-long Israeli siege on the coastal enclave, almost one million Palestinian refugees are dependent on UNRWA for emergency food assistance – ten times the amount of refugees that required such support in 2000.
UNRWA's very existence since establishment has been tied to the provision of services to the Palestinian refugees until a fair solution to their cause has been reached in accordance with General Assembly Resolution 194, which states the right of the Palestinian people to return to the towns and villages from which they were forced out as a result of the 1948 Arab-Israeli war and the establishment of the State of Israel.
• The British newspaper The Guardian has banned the publication of a cartoon criticising Israel's killing of Palestinian paramedic, Razan Ashraf al-Najjar, on the grounds of anti-Semitism.
The banned cartoon depicts British Prime Minister Theresa May alongside Israeli Prime Minister Binyamin Netanyahu, while medic, al-Najjar, burns alive in the fireplace behind them.
According to the Gaza Ministry of Health al-Najjar was one of at least two medics who had been killed by Israeli forces and another 170 medics were injured or suffered tear-gas inhalation since the 'Great March of Return' began in Gaza on March 30th. The cartoonist, Steve Bell, denied using projections about the mass murder of European Jews during World War II.
The debate about the banned cartoon was discussed at the House of Lords of the British Parliament by member Tony Graves, who believes that the decision of banning the cartoon is not necessary and that it is time for Israel to be accountable for its actions.
A British news website reported that Steve Bell denied that his cartoon evoked any type of anti-Semitic symbols; 'the cartoon is sensitive, not tasteless, not disrespectful, and certainly contains no anti-Semitic tropes.' Bell added that his cartoon has been unfairly censored.
• Palestinian administrative detainees held in Israeli prisons continue their protest boycott of administrative detention courts since February 2018, according to the Prisoners and Former Prisoners' Affairs Committee.
Palestinian prisoners sparked protests across all Israeli prisons to boycott administrative detention courts after Palestinian prisoners rights group Addameer reported that Israeli forces detained over 1,000 Palestinians, including 274 children, during the months of January and February 2018.
The number of administrative detainees amounted to about 430 detainees, 140 of whom are in the Israeli Ofer detention centre. Most of them have been previously held in administrative detention several times, while others are spending a total of up to 10 years in administrative detention.
Prisoner Bassam Abu Aker, member of prisoners' committee leading the protests and currently held at Ofer, told the committee's lawyer, Luay Akkeh, that 'there are no updates on scheduling a meeting between the committee representing the administrative detainees and representatives of the (Israeli) intelligence services, army and IPS (Israeli Prisons' Services) to discuss administrative detention'; he added that another date is expected to be set during the month of July. Abu Aker also provided the lawyer with statistics on administrative detention at the Ofer detention centre:
There are currently 140 administrative detainees at the Ofer detention centre, the administrative detention orders for 67% of whom were renewed while 25% face a second renewal, 22% face a third renewal and another 22% face a renewal for the fourth time or more. According to Addameer, there are 431 Palestinians held under administrative detention inside Israeli prisons out of a total of 6,036 prisoners.
Israel's policy of administrative detention – internment without charge or trial for three to six-month renewable intervals based on undisclosed evidence – has been widely condemned by the international community. Although Israeli authorities claim the withholding of evidence during administrative detention is essential for state security concerns, rights groups have claimed that the policy allows Israeli authorities to hold Palestinians for an indefinite period of time without showing any evidence that could justify their detentions.
Rights groups have charged Israel with using its policy of administrative detention, which is almost exclusively used against Palestinians, as a way of eroding Palestinian democracy and family life, while enabling Israeli authorities to detain Palestinian activists and public figures for extended periods of time without evidence of any wrongdoing.
• The Palestinian Arabic dailies focused on Sunday on the funeral procession of two Palestinians, including a minor, who were shot dead by Israeli troops during the non-violent Gaza border protests last Friday. Al-Ayyam and al-Hayat al-Jadida said Yasser Abu al-Naja, 13, and Mohammad Hamaydeh, 24, were laid to rest in the Gaza Strip cities of Khan Younis and Rafah respectively on Saturday.
Al-Quds, however, focused on remarks made by Michael Lynk, the UN Special Rapporteur on Palestinian territories, in which he warned about the deteriorating situation in the occupied territories resulting from Israel's intention to annex major settlements in the West Bank.
Al-Ayyam said the Israeli municipality of Jerusalem has endorsed plans for the construction of 1080 housing units in the illegal settlement of Pesgat Ze'ev in occupied Jerusalem. Al-Quds said extremist Israeli settlers raided the neighbourhood of Tel Rumeida in Hebron and assaulted Palestinian citizens.
Al-Ayyam quoted diplomatic sources as saying that President Mahmoud Abbas has rejected a US offer to meet US President Counsellor Jared Kushner to discuss the peace process. Al-Quds and al-Ayyam said two people were killed and eight others injured in Gaza when a fireworks store exploded on Saturday evening. Al-Hayat al-Jadida said a number of political factions called for a sit-in in the centre of Ramallah on Monday in protest against the 'deal of the century' and in support of the Palestinian leadership.