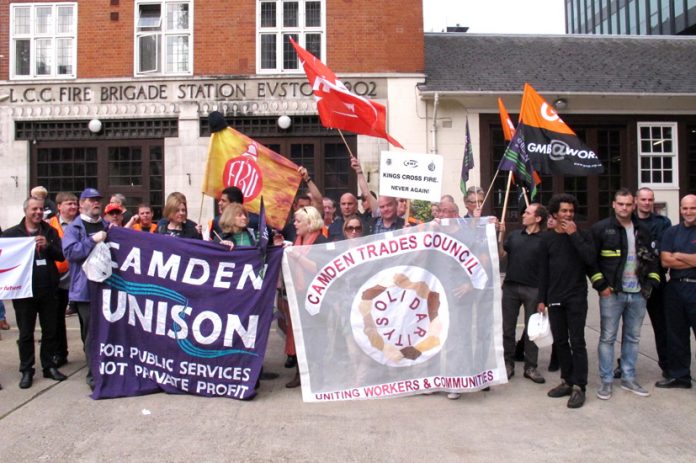 WEDNESDAY'S four-hour strike by firefighters in England and Wales was an enormous success, with pickets and demonstrations outside fire stations and in town and city centres receiving full support from the public
Firefighters and their FBU representatives issued numerous statements expressing their determination to defeat the coalition government's attack on their pensions.
Keith Handscomb, East Anglia FBU, said: 'Responding to terrorist attacks, flash-floods, rescuing people and their families from car, train and plane crashes – and of course fighting fires inside very hot, smoke-filled, burning buildings – is a dangerous, dirty and physically demanding job.
'It's not a job for the faint-hearted and, as the government's own expert evidence shows, it's not a job firefighters can perform at the high fitness levels required up to the age of 60.
'But despite their own expert report highlighting the dangers, the government has decided 60-year-old firefighters it will be.
'The same expert evidence also points out that up to two-thirds of firefighters will face the sack in their late 50s as a result, before they can even reach their new pension age. The whole situation is ludicrous!
'Everyone inside the fire service knows, and most politicians agree in private, that the new pension plans for firefighters are ludicrous and unworkable. We cannot be part of this lie. We cannot pretend it is fair or safe for firefighters or for the public.
'What will work are occupational pensions fit for the actual occupation modern-day firefighters do.
'No firefighter wants to go on strike, but the government at Westminster aren't listening.
'Whereas firefighters in Scotland will not be on strike today because they have a government that agrees the Westminster government have got it wrong, and are willing to negotiate improved terms.
'So why is the Fire Minister, Brandon Lewis, and the government so hell-bent on pushing these unworkable pension changes through? Perhaps they are too busy playing politics to do what everyone else knows is right.'
News Line spoke to Dale Mann, firefighter at Sprowston Fire station in Norwich.
He said: 'We're fighting for our pensions. This affects all firefighters whether they are full-time or retained (part-time).
'It especially affects the younger men. If they get injured on the job they should be able to retire with a fair pension.
'They are proposing that they pay a lot more for their pension and get less. The fitness tests are more stringent and if they don't pass them, they will lose their jobs.
'There are no other desk jobs they can be put into. They will be made redundant with no pension. That's the sticking point with this government.'
Rob Dixon, a younger firefighter at the same station said: 'They want us working to 60, to pay more and get less in return.
'In your late fifties it won't be possible to pass the fitness tests, making it easier to sack us, and we won't get a pension till we're 67, the national pension age.
'We will be left in limbo and have to find another job.
'Currently, firefighters work to age-55 or 30-years service, whichever comes first. How is a 59-year-old supposed to climb up a ladder and rescue a 16-stone man? It puts the public's life at risk and ours.
'It is a good pension that we get at the moment, but then we pay for that. They want to increase our contributions.
'Regarding the public services, we're all in the same boat.
'We're not the ones who lost the country the money. The bankers lost the money and they are still taking their bonuses. We're the ones who serve the public and we're the ones who take the hit.
'We must get better than what they are offering us. The unions in the public services should stick together with the public and fight them.
'I would be in favour of a general strike. Enough is enough. We should all walk out together.'
On the picket line outside Euston Fire Station, FBU member Ben Sprung said: 'At the end of the day, the government haven't come up with any new proposals and are refusing to negotiate.
'All firefighters want is a pension that is sustainable, fair and workable.
'The current proposals would see firefighters work till they're 60.
'Due to the physically demanding nature of the job, that's not feasible.
'If in your hour of need a 59-year-old and a 60-year-old came to your rescue, what would you think?
'The government's current plan is for mass sackings of those firefighters who won't work beyond 55 and to have their pensions frozen until state pension age.
'That could end up at 70. I could be sacked at 56 and not get anything until then.'
Camden Unison Branch Secretary, George Binette said: 'We are very pleased to be here to show solidarity with FBU members as they escalate their strike action against this attack on their pension scheme.
'This is taking place in the context of a systematic attack on the fire service as a whole.
'One of the worst examples of that attack is here in London with Boris Johnson's station closure programme that threatens ten fire stations and more than 550 frontline firefighters' jobs.
'We're here supporting fellow trade unionists and a vital public service.
'We hope to have a contingent on the 26th October march to save Chase Farm Hospital.'
FBU National Officer for Pensions Sean Starbuck, told News Line: ''We've been trying to negotiate a settlement for two years.
'The government have come up with an ultimatum and are trying to impose a pension scheme which is totally unworkable and totally unaffordable.
'It's got a normal pension age that firefighters can't work to. There's a strength of feeling from members. We want the government to come back and talk to us.
'We will be considering further action at our executive meeting tomorrow.
'Scotland are still involved in the national dispute. All we've done is given them an extension of notice of action while we consider the Scottish government's proposals.'
At Holloway Fire Station there was a strong picket of at least 20 firefighters.
Patrick Glennon said: 'It's outrageous behaviour by the government. I think there should be a public sector alliance and I think the government should be brought down and I would take part in a general strike.'
Jim Farrel said: 'On LBC Radio today 95% of people supported the firefighters, including busworkers.
'We should go out for eight days straight. Going out a day here and a day there is not enough. It's not as effective as eight days.
'This is a war against the government. We're not all in it together, even when we're told we are. MPs got a £12.000 pay rise!'
All firefighters walked out in Sheffield, with pickets mounted at most stations and a mass protest outside the main city centre fire station on Eyre Street.
Acting FBU Brigade Chair Matt Winslow told News Line: 'Today's action is a four-hour strike and as General Secretary Matt Wrack has said, a warning shot across the bows.
'There may be a mass rally in London on October 16th if there is no response to our demands.
'Our members are sorry we are having to take this action, but the general feeling of our members is an angry one.
'They were told when they joined that they could do 35 or 40 hours of service and then retire on a full pension after 55.
'Now everything has changed. The government says we are all in this together, but it's not so.
'We are now being told that MPs are going to be taking their full pension until current work on their pay review is finished.
'But ours is just being changed. In spite of the fact that the FBU has presented a huge amount of evidence that firefighters over 55 cannot reach the service's necessarily high standards of fitness.'
There was a big picket at Southwark Fire Station in London SE1. This is one of the stations threatened with closure along with nine more in London due to cuts driven through by Tory Mayor Boris Johnson.
Steve, a crew manager from Newham Fire Station, was there in solidarity with the Southwark firefighters.
He told News Line: 'I'm here to support everyone on strike. We are in this mess because of the greed of the bankers and the inconsistences of the government.
'We are all being made to pay for it. What they have done with the pensions is scandalous.
'If you were half way through any other contract and the other side just pulled the plug, you would want something done about it.
'Me and my colleague who work together signed up to work for 30 years, with the same conditions of service.
'Because of the different lengths of time we've been working (27 years and 17 years), my conditions of service have been protected and his haven't.
'It is a divisive tactic by the government. It's all part of a plan to privatise public services.
'We must keep it in public ownership, otherwise it will decrease and decrease until there's nothing left.
'My wife is a nurse and they are making cuts in the hospital she works at in Lincolnshire.
'They must think we're stupid. We can see every move they make.
'There is action called by all the unions later on this year. I hope it will have some effect.'
A spokesman for the FBU national leadership told News Line: 'About 32,000 members were on strike today, if on duty.
'There were vibrant and well-supported picket lines across the country.
'We are really pleased with the level of public support and are hoping now the government sees sense and comes back to the negotiating table.'
Asked if there was any sign of this, he laughed and replied: 'No'.
He continued: 'The Executive is meeting on Thursday and will be discussing the next stages of the campaign.'
Asked for a response to the concerns raised by the London Region over the fact that FBU members in Scotland were not called out on strike alongside their colleagues in England and Wales, he replied: 'There's a separate offer on the table from the Scottish government which the union will be considering and discussing with members.'