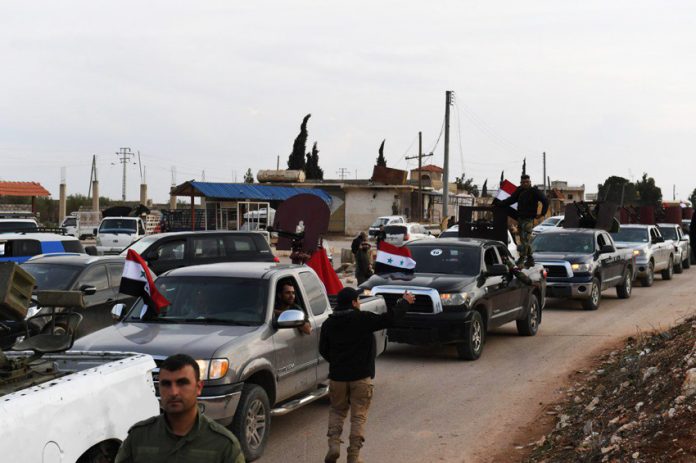 ON WEDNESDAY more civilians were killed or injured and material damage caused to the citizens' houses and public facilities in Afrin city and its villages in the countryside of Aleppo because of the aggression waged on the area by the forces of the Turkish regime and its mercenaries.
SANA's reporter said on Wednesday that the forces of the Turkish regime and its mercenaries bombarded and fired rockets at the residential neighbourhoods of Afrin city, injuring one family, which includes the father and his four children, in al-Ashrafiyeh neighbourhood.The injured people were admitted to Afrin hospital, according to the reporter.
The reporter added that the Turkish regime continued targeting with different types of weapons the houses, farms, and infrastructure in the villages and towns of Afrin area, causing huge damage to them.
On Tuesday afternoon, hundreds of popular forces from the National Defence Forces (NDF) supporting the government in Damascus began entering the Kurdish-held region of Afrin to defend the Syrian Kurds against Turkey's offensive. Turkish state news agency Anadolu said Turkey's army fired 'warning shots' at the Syrian popular forces.
The Turkish regime has been launching a barbaric aggression on Afrin area for 33 days, using different types of weapons and shells, including chlorine gas, leaving more than 630 civilians dead or injured, mostly women and children, in addition to destroying a number of bread production facilities, water pumping stations, schools, a train station, and historical landmarks displacing thousands of civilians in the process.
Meanwhile, three people were injured on Wednesday when armed groups fired 14 mortar shells on Damascus neighbourhoods in a new violation of the de-escalation zone agreement in Eastern Ghouta.
A source at Damascus Police Command told SANA that armed groups positioned in Eastern Ghouta fired a number of mortar shells on Bab al-Salam neighbourhood in Old Damascus, injuring three civilians and causing material damage to citizens' houses and their property. The source added that the armed groups also fired a shell on Barzeh neighbourhood, causing material damage.
Earlier, two people were injured when armed groups fired two mortar shells on Bab al-Salam neighbourhood in Old Damascus. The armed groups also fired two mortar shells on the neighbourhoods of Saba Bahrat and Abu Rummaneh in the Capital, causing material damage to public and private property.
11 civilians, women and children among them, were injured by armed groups' rocket attacks on residential neighbourhoods in the cities of Daraa and Izraa in a new violation of the de-escalation zone agreement in the southern region. A source at Daraa Police Command told SANA on Wednesday that armed groups positioned in Ibta'a town targeted with a number of rocket shells the city of Izraa, injuring three children and causing material damage to property.
SANA's reporter quoted a medical source at the Syrian Arab Red Crescent (SARC) Daraa branch as saying that the children were admitted to Izraa national hospital, and one of them is in critical condition. SANA's reporter said that armed groups positioned in a number of neighbourhoods in Daraa al-Balad fired rocket shells on al-Kashef, Shamal al-Khatt, al-Sahara, and al-Matar neighbourhoods, injuring eight civilians, including a number of women.
The injured were admitted to the national hospital and the clinics complex in the city. The reporter added that the terrorist attack caused material damage to houses, properties, and public facilities.
SANA's reporter said that in response to the attack, a Syrian Arab Army unit targeted the area from which the shells were fired, destroying a number of rocket launchers.
Meanwhile in Damascus, the Foreign and Expatriates Ministry sent a letter to the UN Secretary-General and the head of the Security Council on the attacks carried out by armed terrorist groups on Damascus and its countryside, killing and injuring dozens of innocent civilians, affirming that terrorist officials and others who provide cover for these terrorists are complicit in these crimes.
In the letter, the Ministry said that armed terrorist groups located in Eastern Ghouta targeted Damascus city and its countryside on Tuesday February 20th with scores of lethal shells, killing and injuring dozens of civilians as the shells targeted streets, residential neighbourhoods, schools, hospitals, public establishments, and even the headquarters of diplomatic missions.
The Ministry said that this grave escalation by the terrorists, who fired more than 45 shells at Damascus in a few hours claimed the lives of six civilians and injured 29 more as of the date of writing these letters, is a continuation of the crimes committed on a daily basis by these terrorists against the citizens in Damascus, as they have fired over 1,500 shells during the past seven weeks, killing and injuring hundreds, most of them women and children.
The Ministry noted that these attacks come at a time when some Western officials and others are carrying out campaigns that can only be described as direct support for these terrorists and that encourage them to kill and carry out terrorist attacks without fear of being accountable.
The Ministry affirmed that these officials are complicit in the terrorists' crimes against innocent civilians in Damascus and its countryside, as they are denying the Syrian state's right to defend its citizens, fight terrorism, and confront those who fund and arm terrorists, adding that this is part of the underhanded conspiracy concocted by those officials around seven years ago, during which all parts of Syria suffered from terrorist bombings and massacres perpetrated by terrorists upon instructions from their masters in the capitals of Western and Arab Gulf states.
Syria affirms that these terrorist attacks will not dissuade it from continuing to fight terrorism, working to restore security and stability, and rebuilding what has been destroyed by terrorists and their partners and backers, the Ministry stated. The Ministry also said that Syria demands an immediate and stern condemnation by the Security Council and the UN Secretary-General of this terrorist escalation, urging the Security Council to assume its responsibility by taking steps against the regimes and states that support and fund terrorism.
The Ministry concluded the letter by stressing that certain Western states' prevention of condemning these terrorist attacks by the Security Council would send a message to the terrorists and their supporters to continue their crimes against Syrians and to keep using citizens in Eastern Ghouta and other areas as human shields and hostages.
• More than a dozen civilians lost their lives when the US-led coalition, purportedly fighting the Daesh Takfiri terrorist group, carried out a series of aerial assaults in Syria's eastern province of Dayr al-Zawr. Local sources told Syria's official news agency SANA that 16 people, including 9 women, were killed in the US-led aerial attacks against residential buildings in al-Bahra village on Tuesday afternoon.
The sources noted that the death toll is expected to rise as some people had been critically wounded in the airstrikes. The London-based Airwars organisation, which tracks civilian deaths in US-led airstrikes, reported earlier this year that a total of at least 5,961 civilians had been killed as a result of the attacks in Iraq and Syria.
The so-called Syrian Observatory for Human Rights (SOHR) reported on November 23 last year that 2,759 civilians, including 644 minors and 470 women, had been killed in US-led aerial attacks against civilian areas in Syria over the past 38 months.
The monitoring group added that the US-led air raids had claimed the lives of 98 people, including four children and as many women, between October 23 and November 23 last year.
The SOHR went on to say that the civilian fatalities had been mostly recorded in the northern provinces of Hasakah, Raqqa, Aleppo and Idlib in addition to the eastern province of Dayr al-Zawr.
The US-led coalition has been conducting airstrikes against what are said to be Daesh targets inside Syria since September 2014 without any authorisation from the Damascus government or a UN mandate. The military alliance has repeatedly been accused of targeting and killing civilians. It has also been largely incapable of achieving its declared goal of destroying Daesh.