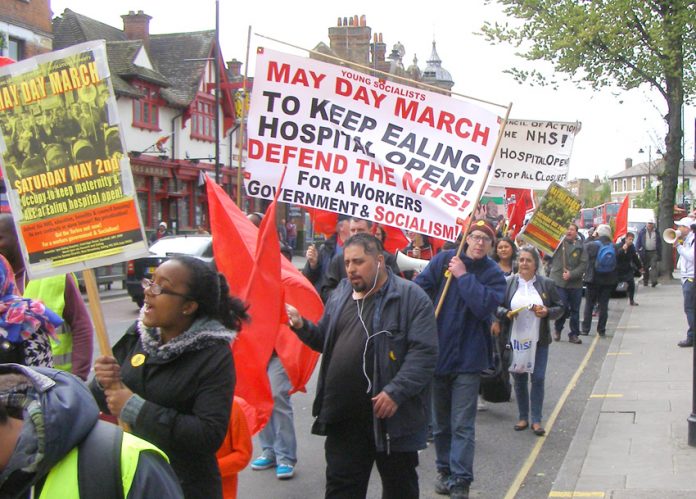 'OCCUPY Ealing Maternity Department to stop its closure on 1st July,' Ealing Hospital nurse, Claire, a Unison member, told News Line on Monday.
A demonstration in defence of Ealing Hospital has been called for today at Ealing Trailfinders Rugby Club, Vallis Way, Ealing, Greater London W13 0DD from 12.15pm, where the Clinical Commissioning Group (CCG) is meeting and is set to announce the planned closure of the maternity department.
Claire continued: 'They have already said it's closing on 1st July, they are not listening to anybody, there are so many ladies, the patients, who are really going to suffer, we have already had so many deliveries on the roadside because Northwick Park is so far, this is dangerous.
'People sitting in an office have already made their decisions and they haven't listened to people who have signed petition after petition.
'Closure is horrifying for all the people working at Ealing hospital and especially for the poor patients who need the hospital, who need looking after and are distraught at the thought of closure.
'The trade unions should be doing more, we are paying them to look after the welfare of the nurses, I don't think they should take it lying down, unless they've got something to do with it!'
Making clear that they fear being held to account for their actions, the Tory NHS privateers issued the following statement last week:
'Members of the public are invited to attend Ealing Clinical Commissioning Group's Governing Body Meeting in Public on Wednesday 20 May 2015 from 1 to 6pm.
'During the meeting the Governing Body will discuss the timing of the transition of maternity services from Ealing Hospital to other sites. . .
'We ask that questions in relation to the meeting from the public or press are sent to us 48 hours before the meeting.'
Hank Roberts, Brent Association of Teachers and Lecturers (ATL) Secretary, told News Line: 'The Tories' rhetoric about improving the NHS is nonsense.
'They've already been making it worse while they were the main partner in the coalition and now they are intent on making it worse still and privatising it to boot. This will mean wholesale closures of hospitals including maternity units.
'The greatest possible resistance is needed to this, and it is the responsibility of all workers to do what they can and fight as hard as possible against it. I support whatever level of action that the workforce and the community are prepared to take.'
Dean Gilligan, Ealing GMB Branch Secretary, told News Line: '49,000 maternity cases a year go into Ealing. Can Hillingdon Hospital cope, can Northwick Park cope? Northwick Park are underfunded by £11 million at the moment, how are they going to cope with another 20,000 cases? And Hillingdon certainly won't.
'On top of that we're looking at distances. Blue light vehicles won't be able to get to Hillingdon or Northwick Park in time, no matter what time of day it is.
'The closure of Ealing Maternity is part of the Tory strategy to close four A&E units in north west London, an area with a population the size of Leeds.
'They closed Hammersmith and Central Middx hospital A&Es simultaneously on 10th September last year and now they intend to close Ealing and Charing Cross A&Es and Ealing's maternity.
'All the unions and the public should take action to stop it. The newly elected government has made statements that the NHS is safe in their hands – but they are selling it off, it is being privatised.
'Regarding occupation, if we're talking about the occupation of the maternity unit against closure, I would support that.'
Greenford Bus Garage Unite Rep Hashi Jarma told News Line: 'Many of my members had their babies at Ealing Hospital. It needs action to stop it closing.
'The maternity is a lifeline. To have to travel all the way to Northwick Park, knowing how difficult it is to get an ambulance, you are actually risking the life of mother and baby.
'Every single person must stand up for our hospital. We have 300 members at Greenford and we would support an occupation of Ealing Hospital to save the maternity.
'The thing about Ealing hospital is that it is so accessible for thousands of local people. We have seven buses that go there – four routes go past the hospital and three actually go into the hospital.'
Ealing midwife Julia, Royal College of Midwives member, said: 'We have been told we are closing on 1st July and we are having a meeting with management on 24th May where we expect to be told their plans formally.
'This is so very wrong. Why are they closing it? People are still having babies. They need their local hospital.
'This is a much loved and needed hospital. I don't know why there is not a much bigger fight to save it.
'Of course there should be a fight. The government comes in and says it's going to make cuts and save money, but we need our hospital, with all its facilities. 'People are being told they are going to have to travel to Northwick Park Hospital in Harrow to have their babies, but it's so far and the traffic is so bad, many mothers will not reach there in time.'
Ealing Hospital Maternity Department is the only maternity unit in the borough with the third highest birthrate in London.
Ealing Clinical Commissioning Group intends to close the unit under its cynically entitled 'Shaping A Healthier Future' (SAHF) hospital closure programme for west London, under which the Accident and Emergency Departments at Hammersmith, Central Middlesex, Charing Cross and Ealing hospitals are closed, along with Ealing's Maternity.
The closure of the maternity unit will almost certainly be followed within three months by the removal of Ealing's paediatric services and emergency and inpatient gynaecology. The hospital's A&E department would then surely be downgraded at a later date.
Labour leader of Ealing Council, Julian Bell said: 'It is madness to leave Ealing without a maternity unit when we have one of the highest increases in birthrate in London.
'The Prime Minister denied that this closure would happen, highlighting the recent £2 million investment in Ealing's maternity unit. We will fight it every inch of the way.'
Recently, Ealing Hospital midwives sent an open letter to Tory Secretary of State for Health, Hunt.
They wrote: 'We the midwives of Ealing Hospital are a truly exceptional group of professionals.
Collectively we have accumulated 1767 years of service to the NHS, most of those being dedicated to the care and wellbeing of the families of the Borough of Ealing …
'The staff members of Ealing Maternity Unit are for the most part residents of the borough of Ealing and service users of Ealing Hospital themselves.
'They have their homes, friends, families and schools, nurseries and child minders for their children locally to Ealing Hospital where they have also built their careers.
'Many of our staff members have given birth to their own babies at Ealing Maternity Unit, with care delivered by colleagues who are close and lifelong friends. Leaving Ealing behind for us transcends the "just going to another job" – for many of us it is a whole way of life change …
'We are all aware of the impact of the recent A&E closures in the North West London sector which has led to a serious impairment of care provision to the most seriously ill people in our community.
'Our concerns are that similar impairment will inevitably occur in maternity care provision and the very vulnerable women and families we see daily will not be able to access the services that they so badly need.
'How many mothers' lives will be lost in evidencing this observation? It is too sad to even consider.
'In the midst of a population of whom only 40% have English as a first language, we have a population whose voice is seldom heard. The minority who do voice their opinions publicly are seldom listened to.
'This is evident from the flawed consultation at the inception of the SAHF plan in how the opinion of the population of Ealing was canvassed.
'We as a group of professionals are no longer prepared to sit quietly and be "done to".
'We demand that the impact of SAHF process on us as a group of professionals who give our very selves to our job is made public.
'We demand that our feelings are taken into consideration and that we are not just overlooked in favour of a flawed political agenda.
'This has happened to us and continues to do so as I write. I imagine that there are more midwives than you would imagine who will have yet another broken night's sleep tonight, but not for the joy of helping another little being into the world, but for the stress and anxiety caused to us by the SAHF programme.
'We as a group sincerely hope that there is true learning achieved from the grave mistakes which have been made in the implementation of the SAHF programme so that when this recurs in the future – because it will – those who are directly affected are given far more respect and consideration …
'Yours sincerely,
'A group of the Midwifery Staff of Ealing Hospital.'
These words from Ealing Hospital midwives must not be ignored.
• Occupy Ealing Hospital Maternity Unit and A&E to stop closure!
• Trade unions take strike action strike to defend Ealing Hospital!
• TUC call a general strike to defend the NHS!