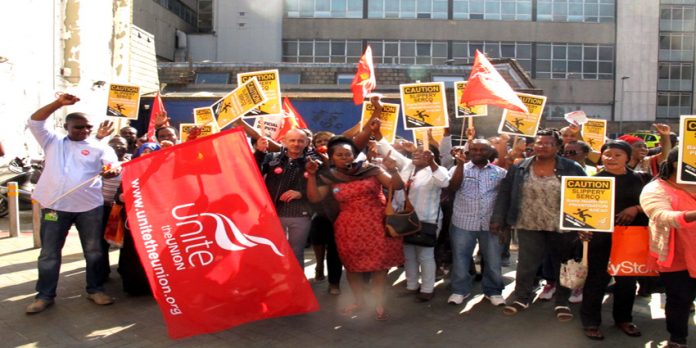 UNITE union members marched and rallied at the Royal London Hospital, Whitechapel, east London Tuesday lunchtime on the first day of a 48-hour strike to demand a 3% pay rise and to defend their pensions.
Unite said this will be followed by a seven-day stoppage starting on Tuesday 11 July and then a 14-day strike starting on 25 July. Further strike action will also be planned for August and September.
News Line spoke to strikers as they assembled for the march.
Unite member Grace Okyem said: 'We are here needing a pay rise.
'Since (private company) SERCO came, they put a lot of extra jobs on us for the same pay.
'The company recognise the union but they don't recognise us.
'They don't listen to us.
'This is the first time we've been on strike at the Royal London Hospital.
'The pay is too low. If SERCO don't listen to us we will take more action, the union has said this.
'We're the morning staff and we expect the afternoon and evening staff to join us.
'We are determined, we are ready for anything.
'The government is collapsing the NHS.
'We all need to stand up and get the Conservatives out.'
Striking Unite member Darren Brown said: 'I've worked in the NHS since 1986.
'I've noticed a real change over the years.
'They are privatising NHS staff to the limit.
'We've had no pay rise for at least three years. and if there is one, it's only 1%.
'That's disgraceful. The cost of living is going up, everything is going up.
'The NHS staff need to be recognised for the job they do for everybody.
'Everybody needs to strike and get rid of this government completely.
'We don't need privatisation, we need to be in-house.
'We were treated a lot better when we were in-house.
'We need to end privatisation and restore the NHS, put more money in it.
'Not just for use but for patient care as well.'
Unite shop steward Saline Boatung said: 'I want a pay rise, our job is too much.
'SERCO are refusing, that's why we are on strike today and tomorrow.
'If they still refuse us, we will go again.
'The NHS has to support us.
'I don't like the privatisation, we want the NHS public not privatised.
All the unions should take action to defend the NHS.'
Unite member Elizabeth Bonsu added: 'We want more pay because we care.
'We had a NHS pension. when SERCO came they want us to transfer to a private pension.
'We don't want that. We want to stay with the NHS pension.'
Unite branch secretary Len Hockey told News Line: 'I work for SERCO. I'm a porter at Whipps Cross Hospital and am on strike today and tomorrow.
'This is about a rejection of privatisation and of exploitative working conditions in our hospitals.
'We want a pay increase of 3% so we can maintain our standard of living.
'SERCO can easily afford that.
'There will be further action at all four hospitals from 11th July for one week.
'We want this 3% pay increase delivered.
'We will take further action if necessary.'
Mile End Hospital strikers joined the march and rally.
Unite member Malgorzata Agana-Craigg said: 'I'm a housekeeper.
'We want a pay rise, we want a better life.
'We are working very hard but we've been on the same level for three years with no rise.
'The last time we got one we only got 1p an hour, three years ago.
'SERCO is continuing to cut our overtime pay.
'We used to get 50% extra on Saturday, now it's 33%.
'On Sunday, we used to have 100% extra now it's 74%.
'We are very sad. Everything in London is so expensive – food, travel, everything.
'We work shifts from 7am to 3.30pm and 11am to 7pm.
'We want the right pay for the work we do.'
Unite member Sophia Mojek has worked at Mile End Hospital for 12 years.
She said: 'My rent has gone up by £120 a month.
'We can't afford to live on these wages.'
Unite member Dina added: 'I've worked 25 years at the hospital.
'Privatisation has made it worse.'
Hockey told the rally: 'Workers were living daily with the threat of dismissal.
'We pledged this will end. We kept that pledge, we've organised hundreds into the union.
'We've organised zero-hours workers. I've been proud to lead strike action to win for exploited workers.
'We fought for the London Living Wage.
'This is a magnificent demonstration.
'At 5am this morning, workers came off the night shift and took their place on the picket line.
'We've seen a 13% reduction in our pay. We're only asking 3%. The SERCO boss got a bonus of £1.2m.
'Theresa May's pay cap doesn't fit any more.
'We will be fighting all the pay cuts. I call on everyone to join the demonstration on July 15 through London to Bart's Hospital.
'Everyone deserves a pay rise, we will fight for success.'
Striker Vanessa said: 'This turnout is magnificent.
'We are here for a pay rise.
'We are here over bad conditions, they are adding jobs on us.
'Fighting together we are going to win.
'Inflation has gone up 2.5% and we are still getting the same money.
'It's not fair. It's not good for our health.
'We want to live as human beings.
'We want a social life.
'We want a pay rise, we are going to win.'
Unite London region official Pete Kavanagh told the Bart's strikers: 'Bus workers, dockers, health workers support your struggle.
'The pages of the newspapers are full of Tory confusion about the 1% pay cap.
'The Unite members at SERCO in east London have shown the way.
'We've recruited 600 new members, 28 new elected shop stewards. Now we've the confidence to take on your employer in a full all-out strike.
'I bring you the support of the British Airways workers who are also striking against low pay. Also support from the Bank of England workers who are taking strike action on 31 July.
'Len McCluskey your general secretary has decided to increase your strike pay to £50 a day.'
Unite assistant general secretary Gail Cartmail declared: 'I bring you the support of the whole of Unite the union.
'On behalf of our 1.5 million members – thank you.
'You keep our hospitals moving and you protect our patients from infection.
'Without your work, the NHS won't be able to do its job.
'This strike is about inequality. The person who runs SERCO is on a salary of £1.2m. SERCO made £84m profit.
'This inequality is across London, across the whole of the country, across the whole world.
'That's why we say workers united will never be defeated.
'Thank you for your stand against low pay.'
She concluded by leading the chant: 'What do we want – 3%! When do we want it – Now!'