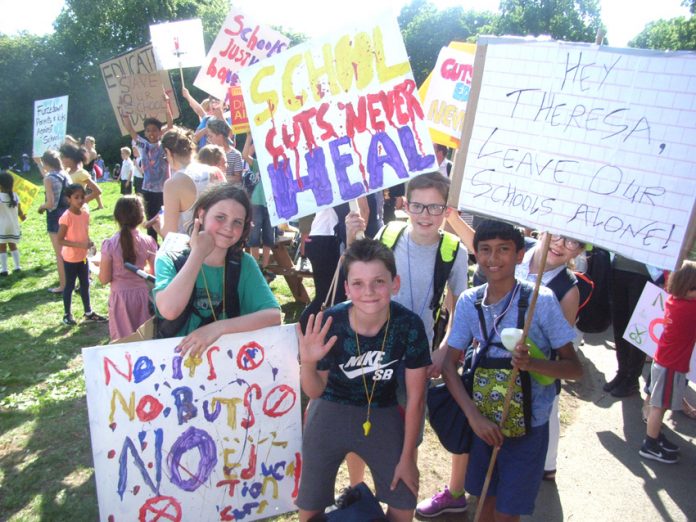 THE STATE education system in this country and the health service in this country are valued very highly by the vast majority of people in this country and they are prepared to put their hands in their pockets to pay for it,' actor and comedian Steve Coogan said yesterday.
He joined parents, children and teachers from Sussex and the Isle of Wight to protest against education funding cuts outside Downing Street in central London.
Coogan added: 'It is the government's problem, that is part of their responsibility to provide a decent state education system.
'They don't feel like they have to bother because many of their children do not use the state education system, but 93% of the people of this country do use it and it is a right and they need to honour that right.'
Tens of thousands of messages were delivered to Downing Street demanding: 'Save our Schools'.
Their budgets have been slashed and that this has had devastating effects on children's education.
Save Our Schools campaigner and parent Alison Ali said: 'Despite years of repeated warnings about the funding crisis from stressed heads and teachers, and despite Parliament's own select committee on spending saying the Department of Education is suffering 'collective delusion' on funding, the government continues to fudge the issue.
'Now parents are seeing the real effects of these cuts in their schools, as teachers and teaching assistants are made redundant and class sizes balloon.
'If you look at the National Association of Head Teachers website, you see head teachers scratching their heads over how they can manage to teach kids who are going in to their state schools hungry.
'Kids who are turning up without having had breakfast, kids turning up after having a week's holiday, where parents had to skip evening meals just to feed their kids.
'So what we are talking about is a system that is completely broken.
'There are many, many people in the country who cannot afford to feed their children, let alone pay extra in tax, on money they don't earn so that education can be funded.
'We are the sixth largest economy in the world, we are perfectly capable of funding our children's education.'