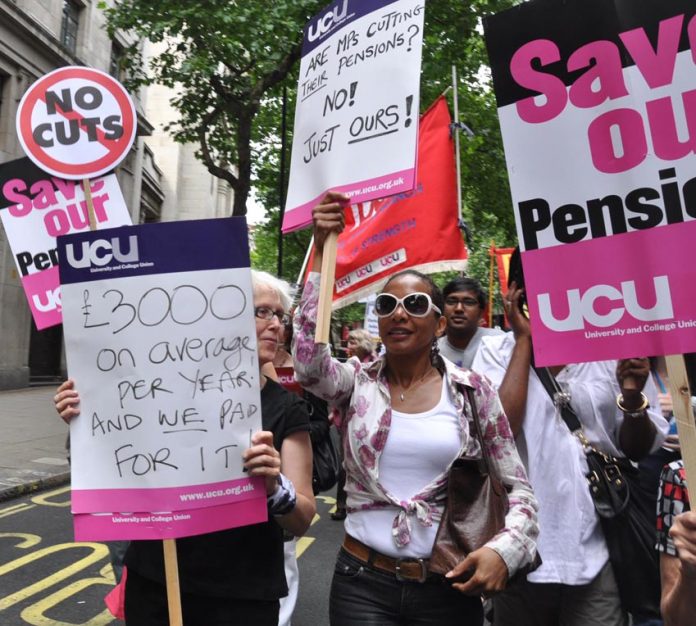 THE GMB has commented on the written ministerial statement in the House of Commons yesterdayday on public sector pension talks.
Brian Strutton, the GMB National Secretary for Public Services said 'GMB and other trade unions have engaged positively in the central talks about public sector pensions reform and some principles have been agreed.
'However it was always the GMB view that the key issues need to be debated in the individual schemes and we will now be doing that over the next few months.
'I hope we will find negotiated outcomes in each of the scheme talks but GMB continues to prepare for industrial action should negotiations fail. In the meantime if the government proceeds to consult on an initial contribution increase we will seek to ensure the sustainability of schemes is not threatened by this move.'
The Government will start formal consultations on increasing public service pension contributions in 2012-13 by the end of this month, Chief Secretary to the Treasury Danny Alexander said yesterday, as he set out plans for talks on reform to continue into the autumn.
The Government and the TUC have agreed that to further inform the discussions on Lord Hutton's recommendations, initial discussions on reform should be opened at a scheme by scheme level.
The central process will continue alongside this. These discussions are necessary to ensure a fuller understanding of the implications of reforms, before final conclusions are reached.
To meet the target of £1.2 billion savings set out in the Spending Review for 2012-13, schemes will shortly begin consultation on their proposals for member contribution increases from April 2012.
These consultations will only relate to delivering these savings in the first year (40 per cent of the average 3.2 percentage point increase). They will begin by the end of July and be completed by the end of October, in order to ensure implementation from April 2012.
Chief Secretary to the Treasury, Danny Alexander, said: 'The Government and the TUC have held a series of constructive meetings to discuss public service pension reform and have now agreed that to further inform the discussions on Lord Hutton's recommendations, there should be scheme level discussions alongside the central process already established.
'I can also confirm today that to deliver the first year's savings of £1.2 billion through employee contribution increases, scheme-by-scheme consultations for the unfunded public service pension schemes will commence by the end of this month.
The Government remains committed to securing the full Spending Review savings of £2.3 billion in 2013-14 and £2.8 billion in 2014-15.'
For Local Government, the Government said it recognises that the funded nature of the scheme puts it in a different position and will discuss whether there are alternative ways to deliver some or all of the savings in respect of contribution increases.
There will be a further meeting between the Government and the TUC to review progress at the end of September.
The PCS civil servants union stated yesterday that 'Maximum unity' is needed for further industrial action in autumn over pensions.
It added that Public sector unions need to show 'maximum unity in the face of a government that has lost the nation's trust' to ensure ministers do not simply impose unfair and unnecessary cuts to pensions.
The PCS also reported that Treasury minister Danny Alexander claims that the negotiations have made 'progress' and says talks will now proceed on a scheme by scheme basis designed to implement increases in employee contributions and the pension age, and the devaluing of pensions through changing inflation indexation.
But the union reaffirmed its opposition to these issues that the government continues to refuse to compromise on as it seeks to raise £2.8 billion from the pay-as-you-go public sector schemes – this money will go straight into Treasury coffers to help pay off the budget deficit.
The union says it will use every opportunity in talks to make its opposition clear.
In the run-up to the strike on 30 June by civil servants, teachers and lecturers, government statements about the affordability of public sector pensions – including prime minister David Cameron's claim that the system was 'in danger of going broke' – were exposed as deliberately misleading and ministers have been forced to backtrack.
PCS is now considering further industrial action in the autumn aimed at putting pressure on the government to agree to full and meaningful negotiations on all the main issues, and there are already indications there will be more unions on board.
There is an alternative to cutting the deficit that would prevent the need for the government to impose what is effectively an extra tax on working in the public sector, the union says.
Instead of targeting public servants, pensioners, students, disabled people and those entitled to welfare payments, the government should invest in jobs and public services to help our economy to grow and tackle seriously the £120 billion in taxes lost each year through tax evasion, avoidance and a lack of resources in HM Revenue and Customs.
PCS general secretary Mark Serwotka said: 'From the outset the government has stubbornly refused to compromise on any of the key issues facing public servants, meaning we have been talking but not able to negotiate.
'This is clearly totally unacceptable but it is symptomatic of the high-handed approach ministers have taken in general that has contributed to the government being already deeply unpopular little more than a year after the general election.
'We will not stand back and watch while everything that public servants have ever worked for is taken away from them, and we will continue to build wider support for maximum unity in the face of a government that has lost the nation's trust.'
Meanwhile, as the Department of Health produced its 'Any Qualified Provider' guidance, Unison, the UK's leading public sector trade union, is warning that the plans pose a huge danger for patients and staff.  
Unison Head of Health, Christina McAnea, said: 'Patients should not be fooled – there are huge dangers lurking in plans to allow 'Any Qualified Provider' into the NHS. It leaves the door wide open for privatisation of our health service.  
'Patients will be little more than consumers, as the NHS becomes a market-driven service, with profits first, and patients second. And they could be left without the services they need as forward planning in the NHS becomes impossible.
'Staff will suffer too – their wages, terms and even their jobs could be at risk. Far from giving out advice to take this policy forward, the Department of Health should be scrapping this policy and going back to the drawing board.'
UNISON's key concerns for staff and patients are:
• Any Qualified Provider' (AQP) will turn the NHS into a purely market-driven service, with patients as consumers.
• It will open up the NHS to private providers, eager to drive down wages and cut corners in the services it provides, to maximise profits.
• Under 'AQP', providers of NHS services will have no guarantees on levels of income or number of patients, making forward planning impossible. NHS providers need to be able to plan ahead, to ensure they have enough trained staff to treat patients.
• The government expects the NHS to make savings, but under this policy it is asking providers to operate with spare capacity so that they can meet the fluctuating patient numbers – with no guarantee that providers will get the work, and get paid for it, in the end.
• This will make it very difficult for small organisations to survive in a competitive environment as they will have no way of predicting the level of their business. They will become ripe for takeover by big providers who can hold the NHS to ransom.
• Staff will face long-term instability and uncertainty in their job roles with organisations struggling to survive.
• They may also suffer worse pay and terms and conditions if they are employed directly by private providers eager to cut costs and, if an employer goes bust, staff will lose their jobs.