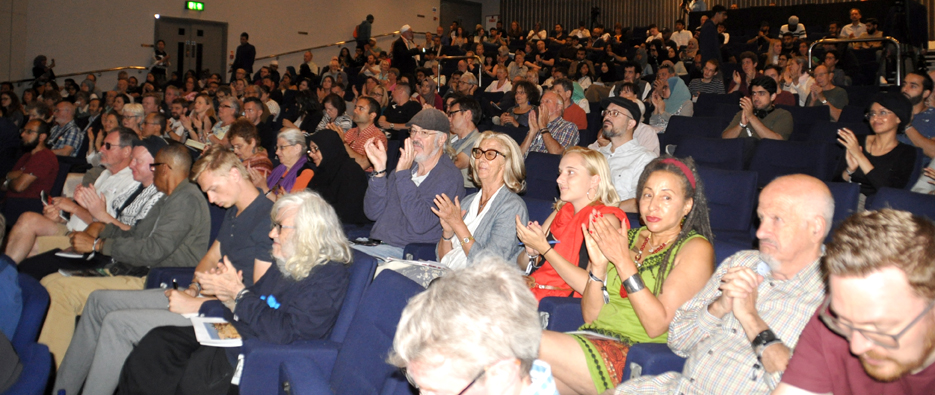 THOUSANDS turned out over the weekend and packed the main auditorium sections at the Olympia Stadium, London for the PALEXPO exhibition to boost the struggle for the establishment of an independent Palestinian state with Jerusalem as its capital.
There were interactive installations, a Kids Village, a Culture and Heritage Art Gallery, a shopping quarter, a Tech hub, and a Creative Corner.
Organised by the Friends of Al Aqsa, the event was supported by Palestinian organisations in the UK and the trade unions NEU, PCS, TSSA, Unite, GMB and the CWU.
There were 40 conferences where 70 speakers discussed all aspects of the history of Palestine to US president Trump's 'Deal or Disaster of the Century'.
There were exhibitions of Palestinian art, tapestry, along with more hi-tech interactive installations where children could spray messages onto the Apartheid Wall and visit Jerusalem's al-Aqsa Mosque.
More hands on action was popular with knocking down the Apartheid Wall, with BDS bowling, where blocks of the Apartheid Wall were knocked down like skittles and water disparity  between Israel and Palestine was measured by children filling up buckets on a symbolic water pump.
The issues of everyday life, education, child prisoners, checkpoints, settlements and sport were all explained in graphic fashion.
The young Palestinian Dabke dancers Fatafeat were a joy to watch and the 'Creatives' Corner' hosted talented performances of singers, musicians and poets including an exhilarating performance by Darbuka drum player Simona Abdallah.
All items Palestinian could be purchased from olive trees to jewellery, Halal sweets to embroidered dresses from over 40 stalls. A great day for everyone.
One of the many conference sessions was on 'Gaza: The Great Return March.'
Speaking in this section was Professor Ilan Pappe from Exeter University, author of many books including the 'Biggest Prison on Earth – A history of the Occupied Territories.'
Another speaker was Majd Masharawi, an engineer and founder of the Palestine Literary Festival.
She spoke about the background to the Great Return March.
'The right of Return was enshrined in Resolution 194, in 1948 at the time of Partition. There was to be Return, Restitution and Compensation. This has been affirmed in International Law 135 times. since.
'In resolution 2535 the issue of Palestinian refugees arises. Resolutions 452 and 3236 also include the Right of Return as indisputable.
'This right is enshrined in Article 13 of the Universal Declaration of Human Rights.
'Israel was only allowed in to the United Nations on the basis that it agreed to resolution 194. Israel has disregarded this condition for entry into the UN. 13 million Palestinians live outside Palestine. 7,700 are internally displaced.
'5.3 million Palestinians are registered with UNWRA.
'In Gaza, 70% of the people are refugees from areas subsumed by Israel into Israel. People are living very close to areas they were displaced from. In 1948, Israeli soldiers drove them out and incorporated their land into Israel. Palestinians were pushed out.
'Many Gazan people are living very close to areas they were displaced from. From the north of Gaza, people could point to their land now deemed to be in Israel. Israelis can sit on the hill tops and watch the Israeli shelling of Gaza.
'In 2014, the brutal Israeli attack caused 22,000 people to be internally displaced in Gaza. The Great Return March decided that in addition to demanding the end of the siege and occupation, they would concentrate on the right to return. including to the villages they can actually see.
'There were amazing scenes and there was such brutality against the marchers. Many killed were just children.
'There has been serious study of the history of the refugees, where they have gone and what happened to their property with maps of all the affected villages. So the right to return is not an unrealistic demand, it is an inalienable right to return and goes on forever.'
Professor Ilan Pappe said: 'The world doesn't know what goes on in Gaza. Most of the media don't mention it. But every word that could be construed as institutional racism in the Labour Party is minutely examined in the press.
'This week 49 young Palestinians were killed by Israeli snipers. Last week it was 52 killed including medics and a journalist. There is silence because time is bought by ignorance.
'You can only understand the great march in Gaza if you look at the full historical context. Israeli propaganda is that the siege is due to Hamas and recent events.
'In fact the Gaza Strip itself is an invention of the Israelis. Gaza was originally an important cosmopolitan town. Israel pushed and expelled Palestinians into the Gaza Strip – a rectangle, disconnected from the rest of Palestine.
'An order No.40 of a document written on 25th October 1948, states that it was decided to contain refugees in a slim strip, because those expelled began to return to their villages. A huge movement of civilian Arabs settled back in some of their own villages and began to solidify life again.
'These were expelled again and prevented from returning by demolishing their houses. They were burned down, and the refugees were loaded into cars and taken towards Gaza.
'This showed that one wave of ethnic cleansing wasn't enough. People don't give up easily, where homes and fields have stood for hundreds of years. There was only one way to stop it – the Gaza Strip. The people in the Gaza Strip became a particular target.
'First they encircled the Gaza Strip in barbed wire, then in 2006, they besieged it. From that moment it was very difficult for the inhabitants to get to study in the West Bank or Israel.
'In 2006 Beirut experienced the same doctrine. Civil space would be treated as part of a military objective, with entitlement to flatten it militarily.
'Every week now there is a demonstration for the right to return. This demand takes top place among the demands to lift the siege, and to overcome the crises of 1948, 1967, 1994 and 2006 over the last 70 years.
'The focus is on Gaza as it is a case study for Israeli brutality. How brave these young men are even to stand on the wrong side of the fence for 5 minutes against a state trying to write you out of history.
'How are we to make sure that London knows and recaptures the conversation in this country? The plight of the people in Gaza must be at the centre of public attention.
'This struggle is impossible without international support and solidarity.'
Majd Masharawi, is an engineer, and the CEO of Green Cake, having invented a way of recycling waste to produce building bricks.
Addressing the packed auditorium and to warm applause she said: 'I came all the way from Gaza. I left on June 9th. Two weeks later I was banned from leaving Gaza for one year. I've been lucky to leave Gaza a couple of times. I am a refugee.
'Grandpa is from the land of '48. I have no passport, just a UN card.
'Unemployment in Gaza is really over 70%. There is a huge pool of talented people and the potential to build businesses. At the age of 14, my parents gave me everything to build businesses. Our neighbour had no electricity, no water and no internet.
'In 2008 and 2012, my house was destroyed by shelling. Thousands lost their houses and live in tents by the border. We've used blocks made from ash and rubble. I kept away from politics, it's a huge part of our life.
'We need to build an eco system for social start-ups in Gaza. My company started in 2015, and we have rebuilt many houses.
'I tried to leave Gaza. You need permits, from Jordan and Israel, and a Gaza document, a PA document, a written invitation, flight tickets, and a visa for the country you are going to.
'And they may stop us going back. For 8 years I tried. Eventually in 2017 I left and went to Japan to refine a product.
'We didn't choose where we were born. To start a business, you need business skills. I moved to the US for two months. I couldn't contact my family.
'Gaza has 320 days of daylight per year. Israel destroyed an electricity generator in 2008, so electricity may be available for three hours or 8 hours.
'We created a Sunbox company to create access from solar. We raised funds. We need it as a social enterprise for access to electricity, to charge a lap top and for a phone to work. We had to get separate permission for every component. It took nine months.
'So many people get a third of their salaries from Hamas or the PA. The main aim is food.
'Solar comes second. We do "sharing and caring" with our solar electricity. A thousand people got electricity in six months, and gave jobs to 25 people installing solar systems for households and for purifying water plants. We got some EU grants.
'Two million people in Gaza can't travel. We try to build a new future and hope for people.'
She added: 'I cannot forget as I cross the border I have to take off my clothes. The basics people need are 24 hours of electricity, the right to clean water, to travel in and out – then politics.
Later, she said: 'We want to build people who solve the problem. We are trying to build an educated community, who chooses for yourself and takes responsibility.'
Lastly on the conferenc section on Gaza in the question and answers session, Professor Pappe, said: 'The right to return is connected with the demand for a one-state solution. If you talk of a two-state solution, you never get the right to return.
'From the beginning there has to be a struggle for the right to return to our land from the river to the sea. We need a Palestinian leadership to make this view official.
'Even in Israel, we find people who agree to allow people to come back to where they were. Political elites don't represent their people.'
Later, he said: 'Half of Palestinians are younger than 20 years old. The Palestinian community within Israel needs to play a much greater role. People in refugee camps are struggling just to survive.
'There has to be a discourse on the one-state solution and the right to return. The peace process is dead.'
In another 'discussion circle' called hundreds listened to the first speaker, Chief Zwelivelile Mandela MP, the grandson of Nelson Mandela, now a third term MP, and a member of 'Friends of Al Aqsa'.
'My grandfather said the that the "Greatest moral issue of our time is the struggle for Palestine".
'As a child I remember the big marches in London against Apartheid.
'This event is not just a political rally, but operates on multiple-fronts: Cultural, educational, sport, diplomatic – the battle for hearts and perceptions. Also the greater diversity of tools of struggle to attract a wider audience for popular arts, history, cultural, and discussions in the UK.
'One of our first experiences as an organisation, was when the UK Lawyers for Israel, tried to suppress support for the BDS movement. BDS is a painful sword in the side of Apartheid Israel. They will try to obstruct this.
'There's nothing they can do to block the tsunami of history and in the end justice will prevail.
'In the 80s and 90s we took political action against apartheid in South Africa and its imperialist allies.
'Now, we are free of apartheid south Africa. Today South Africa is free.
'Palestine will be free tomorrow.'
'The Palestine PALEXPO reminds us of the reality of a nation that has withstood 71 years of the Nakba.
'Culture and language have survived 7 decades of ethnic cleansing and genocide, against the Israeli outlook of a "land without people, for a people without a land". You hold the dream alive of a free Palestine and a free Jerusalem
'What is so important to us as South Africans is that in 1995, my grandfather said that "Our struggle will not be complete till Palestine is free".
'We had images of young people with stones in their hands to inspire us. Those images were in every village, in every prison, and on Robin Island. The leadership of Palestine provided a home and support for us; the strongest advocate of our freedom.
'Imperialism and neo liberalism offered a "Deal of the Century". It is the Hoax of the Century.
'Malcolm X, over 50 years ago,warned of Zionism on 16.9.94, four months before he was assassinated. He pointed out the strategic interest of Israel to world imperialism, where Israel could geographically divide the Arab world. and drive Africans against Asians.
'Zionists camouflaged their colonialism, getting victims to accept friendly offers of economic aid. Malcolm X referred to newly industrialised African nations, Israel was exploiting.
'In the Trump offer we recognise the behaviour and smell a rat. It is designed to fortify Israel, and recognise illegal settlements and deprive 13 million Palestinian exiles from returning.'
He urged: 'Caution against the guile of imperialism, the hoax of the Century. Some say "wait and see". Trump has never been a friend of the Palestinian people. He cut development aid for Palestinian industries, and cut medical care for children. He defied international law, in moving the American embassy to Jerusalem.
'Historically the US is not a fair broker of peace in the world. Reagan's administration presided over the brutal South African regime.
'With the creation of Israel in 1948, they were told the return of the occupied territories was needed for peace.
'The US must be told, the freedom of Palestinian people is not for sale. The Palestinians are victims of a process they never approved. Some had good faith in the peace process, but there were constant land grabs and the refusal of the right to return.
'The Palestinians have earned the right to self determination under international law.
'Nobody could deny this.
'South Africa's history since 1652 – was of colonisation.
'In 1913, the Native Land Act overnight forced South Africans onto 7% of the land, then to 13% by 1936. Robbed of homes, farms, cattle and possessions, these were put in ox wagons and taken to Homeland Reserves called Bantustans in urban centres.
'I come from that former Transkei Bantustan – a confined space.
'13% of the population, white South Africans, own 97% of the land. We fought for one South Africa and our liberation. Bantustans will never work for Palestine.
'We continue to call for a one-state solution.'
Wadah Khanfar President of the Al Sharq Forum, previous Director General of Al Jazeera Media Network told News Line.
'I am angry at the Hope of the Century Workshop in Manama Bahrain.
'Yesterday, all Palestinians united against it. This brings the question of Palestine back to centre stage.
'Today, a report alleges that J Kushner said: "The fools lost a great opportunity." We are not stupid. We have survived giants of deception, generation after generation, at detecting nonsense and delusions.
'We have seen the Sharm el Sheikh summit, Morocco …
'We are not seeking your "prosperity" and "economic development". They don't understand we want justice, equality, honour and dignity.
'Kushner said in relation to refugees coming home, that it's a very complicated issue for the third generation.
'I live outside Palestine in a country and have a passport. Does that mean I have ceased to be Palestinian? There is the cultural and historical DNA which is a fact. We are Palestinians and our children are. We understand homeland rights and justice. Kushner is trying to fool the world.
'We are humans, equal to all others in the world.
'Palestinians removed from their land they deal with as Aliens, with no equal rights, and to rights to equality, justice and democracy.
'I have lived in South Africa for 8 years. I have heard them say that blacks are not civilised, not equal. This did not survive
'The principles and the people of Palestine will continue to exist.
'Go directly to the cause. We are not there to get rid of the Jews. We have been over one thousand years a mosaic of cultures and religions – a most diverse and tolerant presence.
'Arab leaders are rushing to normalise relations with Israel – at Bahrain and with Jared Kushner.
'We don't have legitimate leaders – but puppets, who have the support of western powers. Its "security" not democracy.
'The sons and daughters of civilisations may be weak and exhausted now – we can never accept to survive under these type of leaders.'
Ismail Patel, chairman of the Palestinian EXPO 2019 and Friends of Al Aqsa said: 'There are groups right across the country supporting us, from all creeds and all political strands. A significant backbone role is played by the trade unions, the CWU, NEU, PSC, GMB, PCS, and Unite.
'We are also supported by Jewish Voice for Labour. Jews for Justice, and Working for Justice for Palestinians.
'Our supporters have worked day and night to welcome our guests, from the USA, Africa, and Wadah and Levy from Israel. Its about history and culture and heritage a celebration and about genocide and suffering in Palestine.
'PALEXPO gives a face to the Palestinians. It's to bring back the essence; the dispossession, the silencing of the Palestinian narrative and to give Palestine a voice.
'What is it to live under Israeli occupation? That polices what we can say and do. We will not be dictated to. The oppressor can not dictate the discourse of the oppressed. – throughout the globe.
'BDS is a legal battle. The Zionists see it as a strategic threat. They have spent millions saying it is anti-Semitism.
'BDS is getting ordinary people to have our say. It's power to the people. It's non-violent.
'Palestinians are entitled to the same rights as everyone else and comply with international law.
'BDS demands Israel abides with international law and helps end 70 years of occupation. "The Jewish Voice for a Just Peace" got its bank account closed because it supported BDS.
'Ariel Gold, was not allowed into Israel because she supported BDS.
'240 Jewish academics say that BDS is not anti-Semitic.
'We hope the day comes when Jews and Palestinians, those of all faiths and no faith can live together in Palestine.'
A stall in the exhibition demonstrated the huge crisis in the Gaza health care. Dr Abeen Bashar, a Palestinian told News Line: 'In the UK we have everything in the A&Es.
'In Gaza, we have a bed a couple of syringes and a monitor. Say you have a heart attack in the UK you are diagnosed and if necessary sent to a cardiology department.
'In Gaza, there is no public health education, so a patient is presented when the symptoms are severe. There is a big shortage of ambulances and they take hours to arrive.
'Inside the ambulance there is a bed, a monitor if it works and oxygen. The Gaza A&E doesn't have adequate equipment for diagnosis. If the patient requires further treatment is difficult to get through the Gaza-Rafah border to be treated in Egypt, but the hospital is too far any way.
'The best hospitals are in Israel but they refuse permits to patients. The siege of Gaza means treatment is blocked, no public health education, no transport, no proper A&Es, no patient after care and often electricity blackouts.'
Nurse Fatma Sharif, showed the News Line a poorly equipped baby incubator from a Gaza hospital. 'We are presented with premature babies. Because of lack of prenatal care we cannot know its age. It's too expensive to have ultrasound facilities in Gaza.
'We rely on health volunteers from around the world and charities. Funding is very limited.
'The premature or sick baby may have to be transferred to Israel or Jordan. However, parents are usually denied permits so they don't even know their child has died. And if it has it is very hard to get the body returned because of formalities.
'Al Shifa hospital is the main hospital for the 2 million inhabitants of Gaza. Gaza has one of the highest birth rates in the world. Al Shifa's paediatric unit is very small with only 70 beds.
'We have one MRI machine, elective surgery wait is one year, and for emergency operations you can wait days.
'The National Education Union had a popular stall. Warren Chambers NEU said the NEU visits Palestine twice a year. I last visited in February.
'We work with the Palestine Teachers Union and Palestinian Education Minister. I saw soldiers firing tear gas on children. Everywhere our delegation went we were surrounded by armed soldiers. The school children and teachers often have to go through 2 to 3 road blocks just to get to school. I was amazed at what the teachers achieved with so few resources. The Palestinians were so friendly to us.'
PALEXPO continued on Sunday with even more great activities.