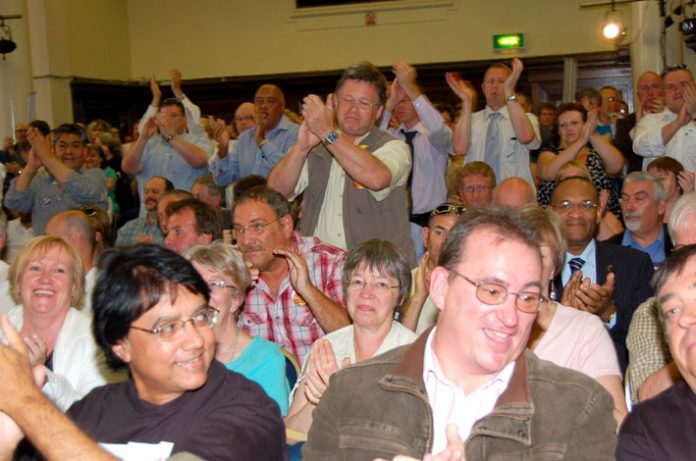 COLLEGE lecturers across London staged their second strike against the government's pay-cutting strategy on Monday, June 9th, after taking part in national strike action alongside teachers and civil servants on April 24.
The lecturers, represented by the UCU trade union, were joined this time by Museum of London staff, represented by Prospect, as they looked forwards to coordinated action by the whole public sector.
Many went to a TUC Public Services Rally at Westminster Central Halls, attended by members of more than 20 different unions.
To thunderous applause, Prison Officers Association leader Brian Caton told the rally that his members were prepared to defy a strike ban and take part in a coordinated one-day strike with the other unions, and invited them to name a date.
Speaking to News Line outside the rally, Croydon College UCU press officer Mark Elkadhi said: 'We've come here today because we want a pay offer that is not a cut in pay: 2.5% o 3% is still basically a cut in our pay.'
He added: 'There are 26 other public service unions here today and I think people are fed up with under-inflation pay offers.
'Management in our college are getting above inflation – the principal is getting an over 9% pay increase.'
Greg Baughan, a member of the UCU from Westminster Kingsway College, said: 'Our contracts are disgraceful.
'The government has been ignoring Further Education for too long.
'We provide a vital part of the education system.'
Paul Perigoe, another UCU member at Westminster Kingsway, said: 'We are being given a below-inflation pay award of 2.5% and the government's negotiators are threatening to reduce it even more if we don't accept it, which is disgraceful and smacks of the Tories.'
David Armstrong, Barnet College UCU secretary, said: 'There was a strong picket at Barnet this morning, with at least 30 out picketing at three main sites. At one site we had more than 20 people.'
He added: 'Absolutely, there should be a general strike. Bring on 1926!
'The more that the public sector is solid in this, the more effective our campaign's going to be.
'We were here on the 24th, and the NUT and civil service unions – all out together with us on the same demonstration.'
Members of the Chartered Society of Physiotherapy (CSP) from Cumbria in the north of England also attended the Westminster rally.
Fiona Temple told News Line: 'We don't agree with the pay offer we've been given of 2.75%, 2.4% and 1.9% in the third year.
'I'm young, I live with my parents and there's no way I could afford a mortgage.
'Petrol prices are increasing and in Cumbria we live in a rural area.
'I could travel up to 100 miles per day and I have to fund that myself.'
Eileen Jackson, another Cumbria physiotherapist, also slammed the three-year pay deal, saying: 'Inflation could be god knows what by then, adding: 'From home to your base, you don't get paid any petrol allowance.'
She told News Line that: 'Our union voted 98% against the three-year deal and the way the price of fuel's going, the increase in inflation could be massive.
'I think we have to fight to stop the privatisation of the health service.
'And even when they're not directly privatising services, they are fragmenting them, breaking them up into small units which staff feel is being done so they can more easily be privatised.'
Dozens of striking staff from the Museum of London, arrived at Westminster Central Halls on Monday with their union Prospect.
A leaflet issued by the union said: 'Striking today is not a step we have taken lightly, but over nine out of ten of us voted for today's action.
'As museum professionals and specialists, we are committed to making our Museum the world-class institution that the capital deserves.
'But we have been forced into taking industrial action by the government's crazy pay policy.'
Tina Swingler, an archaeologist, said: 'We're out for 24 hours because we've been offered a woeful 2% after waiting 13 months for our pay rise to come through and we've only got 1.5% of that backdated.
'Even though the Museum of London are able and want to give us 6-7%, the DCMS (ministry of culture) have said no.'
She said that Gordon Brown 'has disillusioned working-class people, adding: 'I wouldn't vote Tory in a million years, but I don't want to vote for this government because they're useless.
'After Christmas I had to take three days off because I didn't have the money to go to work!
'Next week, the staff at the Science Museum are out and more museum staff will be striking the following week.'
Helen Ganiaris, a Museum of London conservator, said: 'We're being asked to encourage young people to come into our profession and it's very hard to convince them to come into this as a career because there is such little progression in pay.
'There are limited places where you can work in this profession and it is very frustrating because we get these bright young students and we have to be honest with them about their prospects in this career.'
Earlier in the morning, striking Hackney College lecturers were out on the picket line and William Brownings, the publicity rep for the UCU, speaking in a personal capacity, said: 'People are now realising that there is a general attack taking place on the public sector.
'The new economic uncertainty is making people wake up and think a bit more about economic and political issues.
'It is a basic instinct that if you are cornered and you have nowhere to go, you have to fight back and there are a lot of people who are facing that right now, who are faced with not having a job or not having a roof over their head.'
On the picket line at Lambeth College in south London, Graham Topley, chair of Lambeth UCU, spoke to News Line.
He said: 'Our issue is we need a decent living wage.
'In this sector we've reached every single target and increased student numbers massively and yet central government want us to do it on peanuts.
'It was a major step forward on April 24 when we had joint action with the NUT.
'We need joint public sector action.
'We're suffering from an economic crisis which we didn't create, but we're victims of it.
Lecturers also picketed the Baron's Court site of Ealing, Hammersmith and West London College yesterday morning.
UCU rep Alan Stanton said: 'Our claim is for 6% and also for parity with school teachers.
'We also teach students, including some of those students who have been taken out of secondary school.
'It is the second year in succession we've had a below-inflation pay offer, only 3% from October. It's definitely unacceptable.
'Like everyone else, we're struggling to make ends meet.
'The only thing that's increased is the workload.
'We do about 11 hours unpaid overtime every week.
'We're seeing an increase in privatisation in education.'