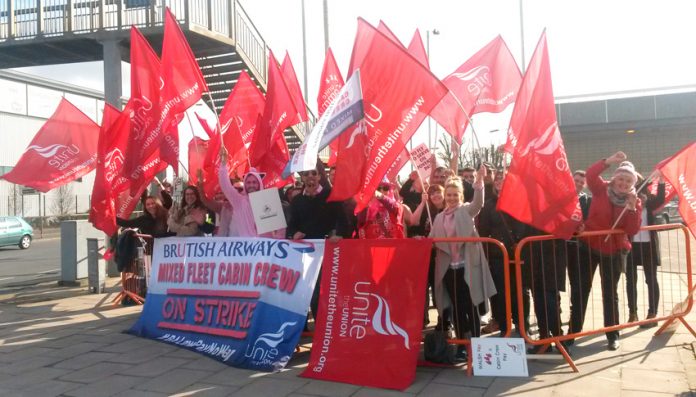 ALMOST 95% of RCM members in Northern Ireland who responded to a consultation about industrial action, including strike action, over pay conditions have voted in favour. The RCM board received the results of the consultation on Saturday.
Pay for midwives and MSWs in Northern Ireland has fallen behind the rest of the UK with a midwife in Northern Ireland at the top of her pay bracket earning at least £2,000 less than her peers at the same level in England.
RCM executive director for external relations Jon Skewes said that midwives and MSWs in Northern Ireland have sent a clear message that the on-going pay disparity between themselves and their peers elsewhere in the UK cannot be allowed to continue indefinitely.
'Industrial action will always be a last resort, and we will continue to work with the other health and social care trade unions in Northern Ireland to achieve a negotiated proposal to put to members,' he said.
Jon added that it was encouraging that senior civil servants in Northern Ireland have indicated that they are now in a position to address pay for staff, and he urged them to work in partnership with the RCM and other trade unions.
He concluded: 'However, our members have indicated by an overwhelming majority that they would be willing to take further action, including strike action, to demonstrate their anger over UK pay inequalities. Our board shall now consider what the next steps to support this should be.'
• The workforce is to mobilise behind the unions' campaign demanding Belfast gets its fair share of Royal Navy supply contracts. Unions called on the DUP to challenge Theresa May's government over failure to guarantee the one billion fleet solid support contracts go to UK shipyards, including Belfast.
One month after the launch of the Confederation of Shipbuilding and Engineering Unions' Shipbuilding Charter in Belfast City Council, Unite the union and GMB, have announced the roll-out of a campaign of lobbying to demand MPs raise the issue at Westminster.
GMB Regional Officer for his union's membership at Belfast shipyard, Michael Mulholland pointed to the historic role played by Belfast shipyard and highlighted its notable absence from the Belfast city deal which was supposed to be about the city's future.
'Belfast has been building ships since 1791; indeed at one stage we were the biggest shipyard in the world with Harland & Wolff employing thirty-six thousand workers. Sadly due to a chronic lack of political ambition, Belfast shipyard has been run-down to the point where there are genuine fears that the Samson and Goliath cranes which define the Belfast skyline might be left as little more than a tourism attraction.
'As an example, the much-touted Belfast City deal which received £350 million from the Treasury didn't even mention the city's shipbuilding industry or shipyard once. Yet Belfast can boast one of the world's best natural deep water harbours and has a workforce with the skills and experience necessary to compete and win at any level.
'We need the UK government to review its decision to categorise the multi-billion Royal Navy fleet solid support and Type 31e Frigate contracts as non-military expenditure. This seems driven by a desire to cut costs as it allows them to send this work overseas. Royal Navy contracts must stay within the UK with Belfast shipyard getting its fair share,' Mulholland said.
Unite Regional Coordinating Officer for shipyard workers, Susan Fitzgerald said that the workers and their families would be challenging local political representatives on their response. 'Shipyards in the UK, including Belfast, have survived despite government policy not with its support. Although the Ministry of Defence tell us that a competitive tender process will guarantee best value, the reality is that this competition is far from being on a level playing-field.
'Competing shipyards overseas have the full backing of their respective governments and have benefited from considerable state investment while UK shipyards have been starved of such investment since the rise of Thatcherite free market thinking. 'As a result our proud shipbuilding and industrial legacy has been undermined to the point that it faces genuine concerns about the future.
'No other government would consider bending the rules this way to let the work go overseas allowing their own shipyards to close. 'Far from representing best value, it is a false economy and threatens to undermine the jobs and skills underpinning the UK shipbuilding sector.
'Northern Ireland's MPs must stand up for the shipyard workers and local community against this policy. We need to challenge the wider lack of ambition for shipbuilding and our shipyard's future.
• PCS members working for Historic Royal Palaces (HRP) are being balloted this week over possible action to defend their pensions against massive proposed cuts. HRP, the independent charity that manages six of the UK's unoccupied royal palaces, is planning to close its defined benefits pension scheme to future accruals and move the 120 staff who are members of the scheme into a defined contribution scheme.
PCS said: 'This will result in our members receiving, in some cases massively less pension than they had been promised. 'Our members are heads of departments, Yeoman Warders, and involved in admissions, security, retail, IT and conservation at the Tower of London, Kensington Palace and Hampton Court Palace.
'Negotiations with the employer have resulted twice in a slightly better offer being made to transition over to a defined contribution pension scheme, and we won an extension to the closure, which is now March 2019. But the improvements are not enough for PCS members.
'Our members have overwhelmingly rejected the changes put forward by HRP to the defined benefits pension scheme in two consultative ballots. They want to reach an agreement over their pension provisions through negotiations, but their anger and resolve to fight the closure and take further action is strong.
'On 29th October, PCS wrote to the CEO John Barnes and HR director Graham Josephs to invite them to further negotiations and to call on them to suspend the scheme's closure so we could further explore all options and reach an agreement that is acceptable to all parties.
'As management turned down our invitation to further negotiations then the internal procedures have been exhausted and we are in a trade dispute with Historic Royal Palaces. 'As a consequence we are now balloting members over proposed strike action to defend their pensions. The ballot runs from Friday (30 November) until the following Friday (7 December) and if members vote for industrial action walkouts could take place before Christmas at all three sites.
'Members' meetings are taking place this week to discuss the campaign. We remain committed to negotiations to seek to resolve this dispute. PCS concluded: 'If you work for HRP join the fight for a decent pension by becoming a PCS member today.'
• BALPA, Unite and GMB – have teamed up to submit an unprecedented joint pay claim in to British Airways.
The three unions are working together to seek improvements to pay from January 2019, as well as enhanced profit-sharing arrangements and the introduction of an employee share ownership scheme. Negotiations with BA are due to commence in December.
In a joint statement, John Moore (BALPA Head of Industrial Relations), Oliver Richardson (Unite National Officer), and Mick Rix (GMB National Officer) said:
'British Airways is continuing to deliver extraordinary financial results.
'In a remarkable transformation, the airline has moved from a £230m operating loss in 2009 to a £1.8bn profit in 2017, with an even better result forecast for 2018.
'BA staff made an essential contribution to this success by delivering change and increasing productivity.
'However, British Airways has allowed a culture to develop in which employees are disconnected from the airline's success, a cause for concern for a world-class, customer service based airline. 'The joint union pay claim is designed to re-establish this connection between financial success and staff reward.'