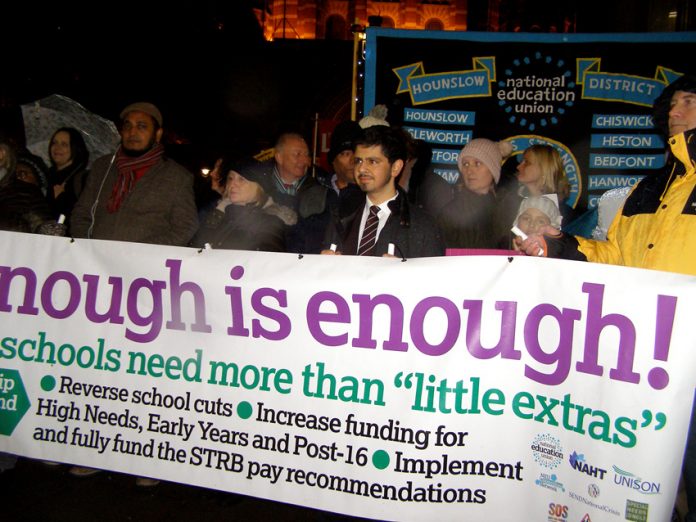 'WE are at a crisis in secondary teacher recruitment,' said Kevin Courtney, Joint General Secretary of the National Education Union, commenting on the release of the trainee number census for 2018-19.
Courtney was writing on the same day that the NEU's fellow-general secretary, Mary Bousted, had written urging the need for teachers not only to protest but to vote in a strike ballot aimed at defending not just their jobs and working conditions, but education as a whole. He stressed: 'For the sixth year in a row, the Department for Education has failed to recruit enough secondary teachers overall, based on its own targets.
'They will say they are training more teachers than ever, but the problem is compounded year on year, as each year's targets do not seek to address pre-existing shortages or previous missed targets. 'Physics has only recruited 47% of the number of trainees the DfE says it needs, down 19 percentage points on its performance against target last year.
'Maths recruitment is also worse this year, as are Chemistry and Modern Foreign Languages. With 428,000 more pupils forecast for state-funded secondary schools by 2025, an increase of 15% on 2018 figures, the NEU has serious concerns that the Government does not have teacher supply under control.
'It is pleasing to see Primary targets met, along with Biology, English and History. However, recruitment to training courses is only one piece of a puzzle. Retention is also a huge problem with one third of teachers leaving within the first 5 years of qualifying.
'This is clearly bad for the education of children and young people. 'Another clear message is that the UK is failing to attract overseas teachers; the award of QTS for EEA nationals is down 25% on last year, and non-EEA nationals 14%. 'If we are to recruit and retain the teachers we need, government must look and act very quickly on the issues of pay, workload and ensuring all schools are properly funded.'
At the same time the AEU's fellow-general secretary, Mary Bousted, writing in the TES education workers' union magazine, warned: 'The school-funding crisis has already seen too many casualties. Now is the time to take action.
'Overwhelmingly, teachers are ''can do'' people. Usually optimistic, even against apparently overwhelming odds, teachers make do, cut their cloth to suit their (curriculum) coat, keep calm and carry on.
'But teachers tell me that they can no longer cope with the budget cuts being imposed on their schools. Many felt the pain of the deputy headteacher of Marlwood School, featured in last week's BBC2 episode of School, who, barely able to keep her emotions in control and with tears in her eyes, declared: ''We love our school. It's just the unfairness. Cut after cut after cut.''
'Viewers subsequently learned that this dedicated teacher had, after 22 years, left the profession. What a waste. 'In a survey conducted earlier this year by the National Education Union, teachers told us a sad and similar tale. Almost all said that they were pessimistic about their school's budget prospects.
'More than half said that class sizes had risen and teaching-assistant posts had been cut. 'This double whammy has meant a massive increase in workload for teachers. One, who works in a primary school, said to me recently: ''I have a teaching assistant in the mornings, but am left on my own with 32 children – four of whom are on the autistic spectrum and one with mobility issues – every afternoon. I am simply unable to cope.
'"I can't give the SEND [special educational needs and disabilities] children the support they need to access learning and I let down the others because I simply don't have the time to give them the attention they deserve.''
'This teacher is leaving the profession at Christmas. 'Average working weeks of 55 hours are increasing because of school funding cuts. Teachers have reported that resources are being cut. Many are buying books and equipment out of their own money. One teacher wrote: ''It is hard to encourage children to love reading when all our books are falling apart!''
'In another survey, teachers reported that schools were not supporting the development of their students' IT skills because of a lack of funding. Nearly 18 per cent of teachers felt that digital skills were not being developed in school because of a lack of funding.
'One wrote: ''We have just got rid of our virtual learning environment (couldn't afford it) and have very limited access to computers/technology in school (again, not a funding priority).'' 'Something has to give.
'School budget cuts affect teachers and pupils in another, important, way: they have to work in buildings that become increasingly dilapidated and dirty. One wrote: ''Cleaning has been cut so the school is filthy. Basic health and safety issues are not being addressed, such as inadequate lighting in workshops.''
'Last year, the House of Commons Public Accounts Committee revealed that it would cost £6.7 billion to return all school buildings to satisfactory or better condition, and that the cost of dealing with major deficits in school buildings would double within the next five years, as many buildings were near the end of their useful life.
'And, as they struggle on in deteriorating conditions, with workloads rising directly because there are more pupils and fewer teachers and support staff, teachers also find that their wages are being suppressed. More than a quarter of the secondary school teachers who responded to the NEU survey said that there had been issues in their school about annual pay rises not being implemented, or pay progression being withheld.
'In the end, something has to give, and the biggest casualty of the school-funding crisis is teachers, who are walking away from the profession. One-third of newly qualified teachers now leave within the first five years of their career – a brain and talent drain that, more than anything else, is threatening standards of education in our schools.
'And that is why the NEU, along with the Association of School and College Leaders (ASCL) and the NAHT headteachers' union, is saying enough is enough. We cannot stand by and do nothing. 'Our children and young people only get one chance at school. They need, and deserve, to be educated in clean, safe school buildings. They have a right to be taught by well-trained, well-qualified teachers who are paid appropriately for the essential work that they do.
'They need adequate resources to support their learning. And none of these essentials should be paid for by parents, too many of whom are struggling to feed and clothe their children. 'And so the NEU, along with ASCL and the NAHT, is surveying all their teacher and school-leader members, asking them whether they believe that funding cuts are having a negative effect in their school. We are asking teachers and school leaders whether they believe the government should fully fund and implement the recommendations of its own teachers' pay review body.
'NEU members are being asked whether they would be prepared to take strike action to secure better funding for schools and the full implementation of the teachers' pay award – which should have been 3.5 per cent for all teachers and school leaders.'