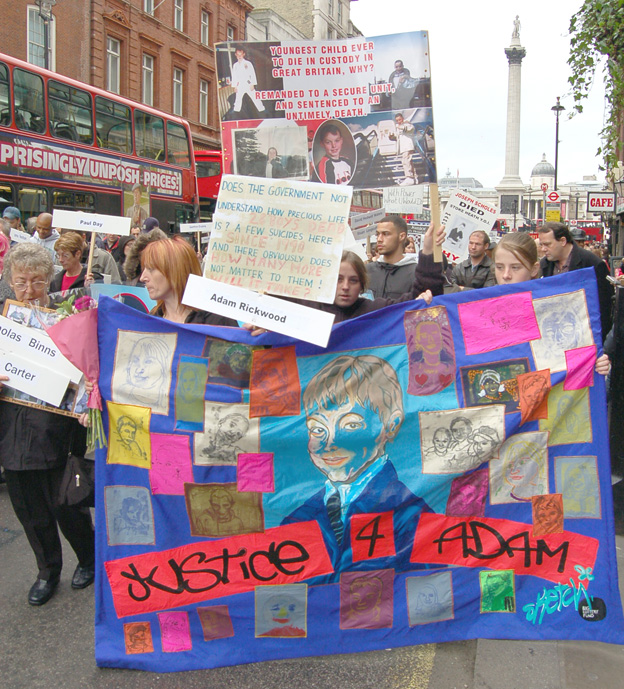 THE Howard League for Penal Reform has responded to the Prison and Probation Ombudsman's learning lessons bulletin on young adult prisoners who died by suicide, published on Wednesday.
The report reveals that, between April 2007 and March 2014, 89 young people aged 18 to 24 took their own lives in prison.
Two-thirds of these young people had identified mental health problems and one in five had been subjected to bullying in the month before they died.
Frances Crook, Chief Executive of the Howard League for Penal Reform, said: 'Every death in prison is a tragedy and almost all are preventable.
'This bleak compilation of tragedies sets out in shocking detail how young adults, and especially those with mental health problems, are left to suffer in institutions where violence is rife and bullying is commonplace.
'Prisoners are dying for want of a radio to listen to or a book to read. Cries for help are going unheard. Families' concerns are being ignored.
'It is a shocking indictment of the state's approach to people in trouble. Things will get worse before they get better, and the blame for this lies squarely with the government.
'Increased overcrowding driven by cowardly sentencing and ill-conceived jail closures, together with a 30 per cent cut in officer numbers, has turned prisons into warehouses where yet more people will die needlessly.'
The Prisons and Probation Ombudsman's report includes 11 anonymous case studies, outlining the circumstances in which prisoners died.
Below are some extracts from these case studies:
• 'On the third night of segregation, he asked an officer for a book, and another prisoner if he could borrow their radio, but was unable to get either. The next morning he was found hanging in his cell. He was 20 years old.'
'The next night, still in segregation, Mr D used his cell bell to call for staff on a number of occasions. He had previously received warnings for misusing the bell. However, it appears that a number of cell bells that night, including that of Mr D, were not answered for extended periods or cancelled without the officer on duty checking the prisoner. The last time he pressed the bell for assistance was just before midnight. He was not checked until almost three hours later by which time he was dead. He was 22 years old.'
• 'The investigation found that he was effectively forgotten during the four days he spent at the prison: very little staff interaction with him was recorded, and no manager checked on his welfare. Mr G hanged himself and was found dead by an officer unlocking prisoners in the morning.'
• 'His partner told a social worker she wanted to end the relationship. When he found out, Mr E was distraught. Staff were aware of the situation; he was checked and supported by a number of them but no one thought that re-opening the ACCT was necessary. In the early hours of the morning, his observation panel was seen to be blocked. Despite this an officer did not check him for another hour. By this time he had hung himself and it was too late to attempt resuscitation. He was 23 years old.'
'Mr I was too acutely unwell for a prison setting. This was especially pressing as he had now been in segregation for an extended period, which could not have helped his mental state, yet he posed too high a risk to others to be located elsewhere. The Governor of the prison intervened to ask the hospital to reconsider but was unsuccessful. In the early hours of the morning, while carrying out an ACCT observation, an officer found Mr I hanging in his cell. His exact date of birth could not be confirmed but he was either 23 or 26 years old.'
• Meanwhile, the welfare-to-work privateer A4e has prematurely pulled out of a £17m contract to deliver education and training to prisoners in 12 London prisons on the grounds that it was unable to run the contract at a profit.
The decision was criticised by prison charities as likely to cause significant disruption for inmates.
Announcing that it would be terminating its contract, the privateer said delivering the Offender Learning and Skills Service (OLASS) had become 'extremely challenging' in the past two years because of 'a number of constraints' which had 'a heavy impact on learner attendance, completion and achievements'.
'We have concluded, in order to not continue to deliver the contract at a loss, to terminate our provision of (the contract) in London' it said.
The company, which was due to continue providing training until July 2016, employs 400 teaching and support staff within London prisons.
A4e runs another teaching contract in prisons in the east of England which it has decided not to terminate. A4e did not specify the constraints it cited in its statement but prison charities said access to education in a number of prisons had been impeded by staff shortages which had hampered prisoners' ability to get to lessons. The company is paid according to the amount of training it provides.
Juliet Lyon, director of the Prison Reform Trust, said: 'It's difficult to know precisely why A4e finds itself running this contract at a loss but it is clear that prisoners are spending more and more time locked down in overcrowded cells in understaffed prisons.
'Wasting time rather than doing time is a far cry from the rehabilitation revolution. Withdrawal of prison education calls into question both this government's capacity to award contracts for delivery of essential services and its commitment to rehabilitation. Our prisons are being reduced to warehouses – nothing more.'
Rod Clark, chief executive of the Prisoners Education Trust, said: 'The delivery of education for prisoners across the country is being seriously affected by overcrowding and staff shortages which are leaving people locked up for longer, so they can't get to class and providers struggle to meet their targets.
'These pressures are having a negative impact on safety and rehabilitation. It may be that this latest decision by A4e to stop working in London's prisons is a result of these problems.'
The start of A4e's prison education contract was delayed by several months amid fraud allegations in its welfare-to-work contracts.
A4e has prematurely terminated a prison education contract before, when it ended a similar contract providing education to eight prisons in Kent early in 2008, citing huge losses.
The new boss of Serco, another privateer involved in making profits out of the running of prisons, is upbeat about the company's future.
Serco's share price almost halved in a year after it was hit by a six-month ban on taking on new UK government contracts in July 2013 after it was shown to be overcharging on a tagging contract.
But Serco's new Chief Executive, Rupert Soames, grandson of ex-Tory leader Winston Churchill, said on Tuesday: 'We have a lot of work to do, but I am confident that, in time, we can restore the company's fortunes.'
Serco said adjusted operating profit fell to £50.7 million in the six months to June 30, but it was on course for a profit of not less than £170 million. Serco runs services in 30 countries but makes almost half its revenue in Britain.
Last year, alongside fellow privateer, G4S, it was found to have charged the British government for monitoring criminals who were dead, in prison or never tagged, sparking the exit of its previous CEO, a fine and a ban on new government contracts. But that ban ended in January.
Elsewhere, lower profits on some of Serco's biggest contracts, including a deal to run Australia's infamously harsh immigration services, have resulted in the group's operating margin falling to 2.1 per cent from 5.7 per cent a year ago.
Other 'loss-making' deals have had an input in Serco's figures, including one providing asylum seeker accommodation in the UK, which the privateer said contributed to its making a £14 million loss in the half year.
'I am quite surprised by the number of contracts that are either very marginal or losing money and I'm also surprised by how much it is costing us on some of the bigger contracts . . . to meet our promises to customers,' Soames said.
The tragic level of prison suicides enumerated above can only be exacerbated by the relentless pursuit of profit by the privateers which are increasingly being brought in to run the UK's rapidly expanding prison estate.
Now's the time for the TUC to be made to call an all-out indefinite general strike, to kick out the privateers from all public services, end the incarceration of tens of thousands of unjustly imprisoned workers and youth, kick out this Tory Coalition government and go forward to socialism.