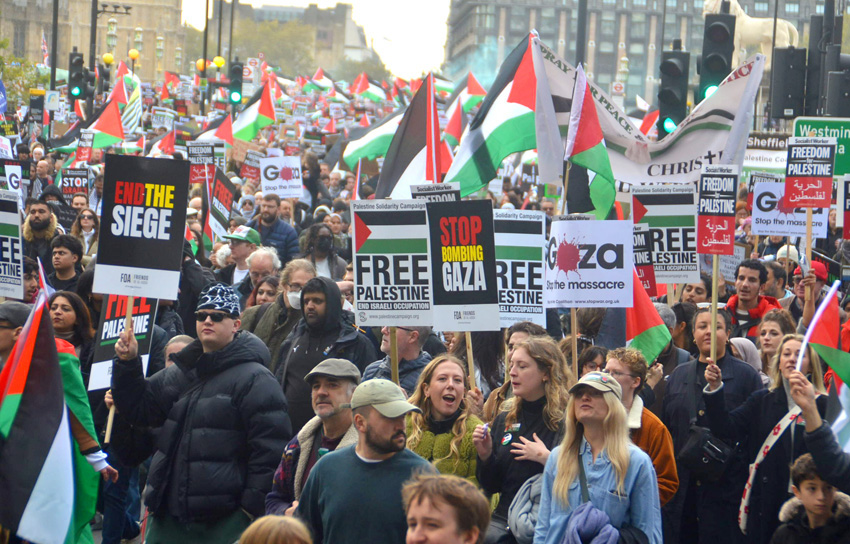 While the so-called Israeli Defence Force intensified its genocidal bombing campaign against Gaza and its ground forces invaded in their tanks, more than half a million workers, students and youth marched through London on Saturday.
There were many trade union delegations on the march with scores of banners from the UCU, Unite, Unison, RMT, ASLEF, NEU, PCS, GMB, Equity and others flying high amidst the tens of thousands of Palestinian flags.
There was a banner with a picture of US president Biden calling him 'Genocidal Joe', placards calling for a 'Ceasefire Now! and the Young Socialists and Workers Revolutionary Party banner demanding 'Charge Israel with War Crimes!'
Marchers chanted: 'What do we want? Ceasefire! When do we want it? Now! Stop bombing Gaza! From the River to the Sea – Palestine will be Free!'
The demonstration assembled on Victoria Embankment, marched over Westminster Bridge, then across Waterloo Bridge, up the Strand to Trafalgar Square and then down Whitehall to Parliament Square.
Marchers spoke to News Line.
Kasib Yasin, a teacher and NEU member from High Wycombe, said: 'I'm here to support people in Gaza. The trade unions in Britain should strike for justice for Palestine, justice for the children who have been slaughtered. We should march on the TUC to demand they call a general strike.
'What we do here resonates over there, they're watching us and we can and must give them strength. Today is a powerful demonstration of international working class support for Palestinian struggle.'
Carrying a placard declaring: 'Zionism is Racism', Amina Mohamed from Catford, East London, told News Line: 'Israel is a racist state, not just what they are doing to the Palestinians but also to the Ethiopians that live in Israel. There is discrimination. They deny them jobs. The only jobs they give them are in the army to go and fight for them.
'What they do to Ethiopian women is very shocking, they tell Ethiopian women at the airport to have a drug cutting their fertility and they encourage Ethiopian women to be sterilised. A general strike in this country is what's needed.'
Sue Taylor, a PCS member from Reading, Berkshire, said: 'There is quite a contingent from Reading here today from the Trades Council. The call went out for the trade union block and there's lots of trade unionists here today, what else can we do?
'I think Starmer is wrong. You cannot allow blanket bombing of women and children. I'm no longer a Labour Party member, I left a year ago. Starmer's position on Palestine is wrong. They are bombing refugee camps.
'I would support a general strike, we need to shift the balance of power. Those in charge don't listen to us anymore, they don't even care about the cost of living crisis. People are losing their homes.'
Ken Olende, a UCU member from Brighton University, said: 'I was on the previous two marches and there are many more trade unionists here today. That's a good thing. I remember the massive anti-war marches in 2003 and there wasn't enough of a trade union presence on them.
'If you actually had strikes with workers saying we won't support Britain's involvement in this it would make a difference. Let's have strikes to defend Palestine.'
Ed Harlow, NEU branch secretary for Haringey, told News Line: 'It's important there is a big trade union presence here today. The NEU has a long history of Palestine solidarity.
'We're an educational union. Half the population of Gaza are children and they are trapped in a war zone – innocent children.
'It's awful and it's a disgrace that our politicians cannot call unequivocally for a ceasefire. If Starmer can't do that he should go.'
When the march arrived for the rally in Parliament Square, the first speaker was Palestinian Ambassador to the UK Husam Zomlot, who said: 'The news is overwhelming. The crimes are unconscionable. Israel has succeeded in killing 3,000 children. Let that sink in, Israel has succeeded in killing 3,000 children.
'Israel has succeeded in cutting all communication in Gaza and do you know why? Because they want to commit their crimes in the dark. But they have failed, they have failed!
'Yesterday 120 countries voted for a ceasefire and 14 countries in the world voted against. We shall remember them. Imagine voting against protecting civilian life.
'The world has failed in stopping genocide. Where are the leaders standing up against the deliberate starving of 2.3 million people in Gaza?
'My friends, this is a historic moment, a watershed moment, a moment when we choose between darkness or light. Your voices are crucial in this battle. Do not let anyone intimidate you – raise the Palestinian flag, wave it, wave it!
'Look around you. All over the world the Palestinian flag is being raised. You will be heard. Remember, you defeated apartheid in South Africa and you will defeat apartheid in Israel.
'This is no longer about Palestine only, this is a battle for the world's future. If we, the Palestinian people, lose our rights, who will be next? We need a ceasefire now.'
Libby Nolan, president of Unison, said: 'The collective punishment of the people of Gaza is a war crime. It must stop now. As a nurse I find it hard to understand the suffering of my fellow health workers in Gaza – no electricity, no anaesthetic. The UN voted for a ceasefire, but Britain abstained. Shame on Britain. We demand the ceasefire now.'
Ismael Patel, from Friends of Al Aqsa, said: 'This is a very dark day, not only for the people of Gaza, but also here for the people of the UK. Let me say to those in power, we will never forget your support for genocide. Friends, there is not a minute to waste to bring an end to this genocide.
'The BBC must stop the dehumanising of the Palestinian people. We must boycott everything that comes from Israel. Don't let the Palestinians die in silence.'
Apsana Begum, Labour MP for Poplar and Limehouse, said: '7,000 Palestinians have now died, half of them children. How many more lives must be lost? The ongoing dehumanisation of the Palestinian population will be marked for years to come, along with the siege of Gaza.
'We are with the people all around the world who are for the recognition of the state of Palestine. None of us are free until Palestine is free.'
Richard Burgon, Labour MP for Leeds East, said: 'There were six thousand bombs dropped on Gaza in the first week alone. A ceasefire must be a priority for every political leader, including our own. Is a ceasefire so hard to say?
'It is shameful our government refuses to support one. Ceasefire now! When Parliament returns in 10 days time, I'll be moving a motion for a ceasefire. 95 MPs from eight parties have already backed it. Ceasefire now!'
Diane Abbott Labour MP for Hackney North and Stoke Newington, said: 'As we meet the Israelis are bombing Gaza harder than they have ever done. The UN last night voted for a ceasefire, but this government supports the siege and the blanket bombing.
'Israel is bombing hospitals; doctors are operating on the floor; babies are being disconnected from their incubators. Is this self-defence? The Israelis are saying that anybody in the north of Gaza will be deemed a supporter of terrorism. Is this self-defence?'
Mick Lynch, general secretary of the RMT rail workers union, said: 'The RMT is horrified at the bombing of Gaza. We condemn the targeting of civilians, we condemn collective punishment. Blocking water, fuel, healthcare and the targeting of civilians is a war crime.
'Let's remember the people of Gaza are also hostages. We demand the immediate opening of the border. End their illegal occupation of Palestine land.
'The RMT opposes the Israeli apartheid regime. We call upon the leader of the Labour Party Starmer to call for an immediate ceasefire. Call an immediate ceasefire! What are you waiting for? End the siege of Gaza! For a state of Palestine!'
Zarah Sultana, Labour MP for Coventry South, said: 'I'm here on behalf of my constituents, who are outraged. Is it not enough for kids to be writing their names on their palms of their hands so that when they are killed they can be identified? Shame on every single political leader who won't support a ceasefire. We are demanding a ceasefire now and an end to the siege.'
From the United Families and Friends Campaign of those whose loved ones have died at the hands of the state, Germaine Phillips and Talia MacDonald spoke. Germaine said: 'I'm the mother of Adrian MacDonald who was killed by the state, so I know what it is like to lose a child killed by the state. I've got my 10-year-old granddaughter here.
'She knows what it's like to have her dad killed by the state, and she wants to say something about that.'
Talia MacDonald said: 'We are the next generation that is going to speak loudly and always fight for our rights.'
Jeremy Corbyn, former leader of the Labour Party and MP for Islington, said: 'Last night Gaza was plunged into darkness, with no communications. People are living in rubble amid destroyed buildings – the last moments of life for 8,000 people in Gaza over the past three weeks.
'What we are witnessing is the destruction of life and culture, people being bombed with 21st century weapons.
'The world's nations voted last night by an overwhelming majority for a ceasefire now, but to their eternal shame Britain abstained.
'We're witnessing the ethnic cleansing of the people of Gaza. 90% of the people of Gaza are refugees or descendants of refugees.
'One place I loved visiting in Gaza was The Beach Primary School in the North – beautifully kept and beautifully run. I fear that school is now just a pile of rubble.
'All over the world people are coming out in their millions calling for a ceasefire. We'll be here as long as it takes to bring peace and justice for the people of Palestine.'
Bell Ribeiro-Addy, MP for Streatham, said: 'We must condemn Israeli war crimes. As far as the UK abstaining at the UN is concerned, an abstention is still a decision. By abstaining our country is responsible for the crimes that are taking place in Gaza today. End the blockade of Gaza! Recognise a Palestinian state! Ceasefire now!'
John Finucane, Sinn Fein Belfast West MP, said: 'We are witnessing a deliberately enforced tragedy by the Israeli government. Stop the bombing, stop the blockade, a full, immediate ceasefire now. Israel will continue to attack until they are stopped but they are wrong and they must be stopped.'
Matt Wrack, Fire Brigades Union general secretary, said: 'We have trained and provided equipment for firefighters in Palestine. An FBU flag flies over the fire station in Nablus.
'The FBU fully supports Palestine. We have watched in horror at what has been taken place over the past three weeks in Gaza.
'Those who do not call for a ceasefire have blood on their hands. I say this to Lammy and Starmer – it's not hard, you just say it, "ceasefire now".
'Governments for generations have betrayed the Palestinian people. It was inspiring to see a protest in Grand Central Station in New York from Jewish workers saying "not in my name".
'We must build a movement in Britain and the USA and across the world – solidarity for Palestine! Action now, defend Gaza! Defend the Palestinians! Ceasefire now!'
Mustafa Al-Dabbagh, from the Muslim Association of Britain, said: 'The world watches on as Israel murders with impunity. A genocide is unfolding before our eyes. This crisis did not start three weeks ago, it started 75 years ago with the Nakba.
'To the leaders of the Labour Party, all those who refuse to call for a ceasefire, you are complicit in this genocide. By standing by Israel you are standing by apartheid, you are standing by war crimes. The world cannot continue to turn a blind eye. End the illegal occupation of Palestine. The time for change is now!'
Dr Hosnieh Djafari-Marbini, an independent Oxford Councillor, who resigned from the Labour Party last week, said: 'I'm a proud NHS worker. Six of us resigned from the Labour Party last week, six of us councillors. The Labour Party is led by a human rights lawyer who supports the bombing of civilians. The apartheid regime did not start on October the 7th, the apartheid regime started in 1948. Defend the people of Gaza.
'Last night, Israel cut the communications and the internet from Gaza. This is intentional sadism, the deep psychological torture of isolation. Can you imagine, the relatives of people in Gaza cannot contact their loved ones?
'We are here standing for Gaza. Over 100 healthcare workers have been killed in Gaza in the last three weeks, they have been murdered. So Sunak, Starmer, can you hear us? We stand with the people of Gaza.'
Faris Tamini, from the Palestinian Forum in Britain, said: '3,000 children have been killed now in Gaza in three weeks. How high does it need to rise, ten thousand children, a hundred thousand children?
'It's genocide. Now they've cut off the electricity and the internet but we've got a message for them here today, the age of Western colonialism is over, the Palestinian cause is alive and well, we will not forget and we will not forgive.
'Let me be blunt, everyone who spreads lies to dehumanise the Palestinians is complicit, everyone who refuses to call for a ceasefire is complicit!
'Raise your flags! They cannot and they will not stop this march to freedom! We will march and struggle until the system of apartheid is dismantled completely.'
Emily Stevenson of Na'amod, an organisation of British Jews against the Occupation, said: 'Last night over two million people were cut off and plunged into darkness. We in Na'amod are horrified to see Israel's leaders carrying out genocide. It's not the word that scares us but the act itself.
'We align ourselves with the fight for justice for all those "living between the river and the sea". At Na'amod we choose life and justice. We stand with Palestine not despite the fact that we are Jews but because we are Jews. We say ceasefire now!'
The final speaker was Ben Jamal, Director of the Palestine Solidarity Campaign, who said: 'Israel's barbarism reached a new level by cutting power last night. But we know, over 8,000 people have been killed, 3,000 children, with 1,000 children unaccounted for under the rubble.
'The children of Gaza are writing their names on their arms and on their hands so that they can be identified after they have been killed. Just think of that!
'The only reason you won't call for a ceasefire is that you agree with the Israeli Defence Minister that Palestinians are not human beings. Rishi Sunak and Keir Starmer are failing. It is shame on them. Our leaders do not represent the views of the British people.
'I believe it and I know it when they say this – Palestinians deserve to be treated the way all people should be treated. The system of apartheid began in 1948. The horror we are seeing is in the last three weeks is the logical extension of that.
'Next week we want you back in your towns and cities holding events for Palestine and campaigning for the biggest turnout yet and for a million to march in London in two weeks time on 11th November.'
Finally, Ben Jamal introduced famous Palestinian singer Reem Kelani, who delivered a magnificent and moving rendition of Mawtini (My Homeland), the unofficial Palestinian National Anthem, with thousands in Parliament Square joining her singing the chorus.
• See photo gallery