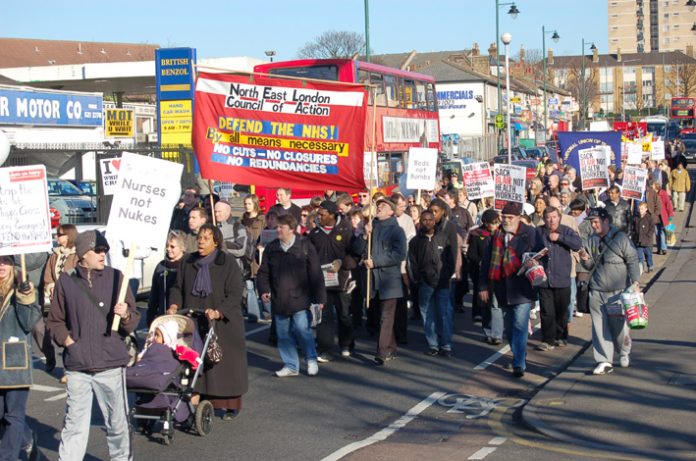 Over 2,000 workers and youth last Saturday marched through Leyton and Walthamstow, north east London, against the closure of Whipps Cross Hospital.
The march was organised by the the Save Whipps Cross Hospital campaign and set off from the hospital entrance, led by its banner.
Other banners on the march were: SOS NHS, Waltham Forest UNISON health and local government branches; Redbridge, Sarah Bon Neill school and Waltham Forest NUT branches; Waltham Forest Trades Council and Leyton and Wanstead Labour Party.
Many marchers backed the calls of a lively contingent from the North East London Council of Action to occupy hospitals and wards against closure. They kept up chants of 'Defend our hospitals – occupy now!', 'Defend the NHS – kick Blair out!' and 'No privatisation – defend public services!'
However, Socialist Party and SWP revisionists, in the leadership of the Save Whipps Cross Campaign, involved in a popular front alliance with former Tory leader and Chingford MP Ian Duncan Smith and the Liberal Democrats, refused to allow a consultant surgeon from the North East London Council of Action to speak at either the pre-march or post-march rallies.
They did not want anything said to upset their right wing allies.
News Line spoke to marchers before they set off and on the march.
Local resident Mrs Cynthia Hodges said: 'The hospital saved my life twice – once when I was eleven years old and had meningitis.
'The second time has been three years ago when I was diagnosed with cancer.
'We need this hospital.
'All our children at one time or another have been here, whether it's for broken limbs or having their tonsils out.
'We're determined to keep Whipps Cross open – where else is there for us to go?
'The government are closing A&Es across the country.
'We don't think a lot of this government – we'll be glad when Blair is out of it.
'I agree with an occupation to stop the closure.
'The whole community needs to organise.
'The trade unions should take action and join in.
'My niece is a midwife here; the unions should defend her job.'
Chingford resident, Linda Belcher said: 'I've used Whipps Cross myself.
'My family and friends and their families have used it over the years.
'I've no idea how we would have coped without these facilities in the borough.
'There's been a general eroding of the NHS over the years by several governments.
'This latest government, of which we had great hopes, is the biggest disappointment.
'All the trade unions should get behind the struggle to save this hospital and others around the country, because it is their health service.
'The unions generally should take strike action in defence of the NHS.'
Theatre worker Hayley Johns added: 'This hospital is part of my community.
'My entire family have been born and died here.
'It's important Whipps Cross is kept open.
'I would sit-in to keep the hospital, provided the patients' care isn't affected.
'Everybody who cares should be taking part in the fight to save the hospital and the other hospitals that are threatened.'
Kate Smith, a cinema projectionist, said: 'We should do everything to save the hospital – from protests to sit-ins to petitions.'
RCN nurse Margaretta Rooney told News Line: 'I've worked at Whipps Cross for 34 years.
'It would be dreadful if Whipps Cross closes.
'We want excellent local care to continue.
'The government is to blame. There are too many changes and no-one is accountable.
'I support a Council of Action to do everything to save the hospitals.
'The trade unions in the hospital are fighting the closure, we need more local groups involved and to take action.'
Teacher and Waltham Forest resident Angela Kane told News Line on the march: 'I'm marching today to keep Whipps Cross a fully funded hospital. I don't want it downgraded.
'Local people shouldn't have to travel miles away for an alternative.
'Inappropriate people are making the decision to downgrade Whipps Cross.
'I would be quite surprised if the campaign was unsuccessful.'
Young marcher Lloyd Gillette of Wood Green Young Socialists added: 'I'm here to stop them closing the hospital.
'Tony Blair is closing down our local hospital.
'We have to kick him out and form a workers' government.
'We should occupy the hospital to stop it closing – all workers and young people should.
'The trade unions should join in and help as well.'
London Fire Brigades Union Eastern Group 2 chairman Dan West said: 'Labour is giving us a bad choice.
'The only choice they are giving us is to close Whipps Cross or close King George's (hospital at Goodmayes) – that's no choice at all.
'The unions have to fight these cuts.
'We're against privatisation. They are doing it to the fire brigade and all public services.
'I'd back occupations to stop closures. It worked in Colombia; they should try it here.
'The TUC should call a national strike to take on this government.
'I'm for a workers' government, all the parties that care should join together to fight.'
Abdu Hassan told News Line: 'I rely on Whipps Cross Hospital.
'We want to keep it open.
'There should be a sit-in to stop them taking it away from us.
'Everybody should get together to keep it open.
'The trade unions should take strike action and back an occupation.
'This government is no good. We should have a workers government.'
Waltham Forest Social Services driver Terry Smith said: 'The situation is desperate.
'There are lots of issues. These hospitals and public services don't have enough resources.
'I deal with old people. My wife is now 60 and she gets just £84 a week pension.
'Yet the rates are £20 a week and there are all the other bills.
'There should be an occupation to stop Whipps Cross closing.
'How are the elderly going to go miles to Romford for treatment?
'The unions should challenge the level of resources.
'This government has to go.'
Nick Metcalfe, a member of UNISON from Bounds Green ambulance station, said: 'Our station serves Whipps Cross, Chase Farm and North Middlesex hospitals.
'The impact on the ambulance service if the A&E service closes is that if we have to take a patient to hospital, it will be further away.
'And that on top of the extra pressure it puts on remaining A&Es, it puts the NHS in meltdown.
'That and the fact that some patients won't be able to make it to another hospital, they'll be dead if they shut the A&E.
'All the NHS needs is more money.
'The ambulance service last year had to give away a lot of money to fund other trusts. So we are skint.
'It's effectively turning into a private health service.
'I don't see how Blair has the front to stay in office any more. He should just go. It's disgraceful.'
Whipps Cross medical secretary Francis Heaslip told a rally before the march set off: 'The number of medical secretaries has been reduced. We need investment.'
She added: 'We have wonderful physicians and surgeons and Whipps Cross is a university hospital but under the plan for remodelling the NHS, there is no allowance for training.
'Without the district general hospitals, new doctors and surgeons cannot be trained.
'We are all potential patients, we never know when we will need the NHS.
'As patients, you have to make sure you tell your GP, the trust, your MP and Patricia Hewitt, that Whipps Cross is your choice.'
Health visitor and Amicus rep. Norma Dudley warned there aren't the resources for 'care in the community'.
She said: 'Last year our PCT planned to cut £1.4m, planned to cut our services by 20 per cent.
'These proposals were stopped but there is still a freeze on posts.
'Out of hospital services are inadequate, they are being squeezed.'
The pre-march rally was also addressed by local Leyton Labour MP Harry Cohen.
An end of march rally was addressed by Whipps Cross consultant Alan Hakim.
He said: 'We won't let Whipps Cross be anything less than it deserves to be – a local, fully funded district general hospital.
'Closing the A&E is not clinically safe or financially viable.
'They are leaking our specialist services into the community but there are insufficient resources.
'What they are trying to do is not safe financially nor is it safe clinically.'
Speakers at the end of march rally also included Whipps Cross UNISON chair Charlotte Monro, Labour MP Steve Gerrard and former Tory leader Ian Duncan Smith.