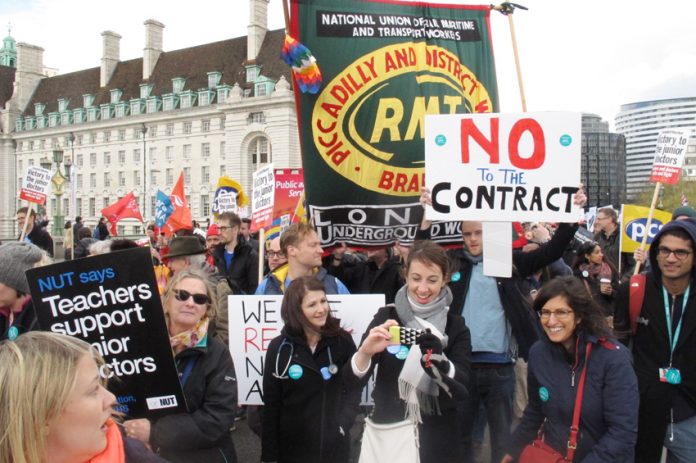 'SAVE our NHS! Jeremy Hunt doesn't care! Doctors and teachers unite and fight!' shouted junior doctors, teachers and their supporters on a 10,000-strong march from St Thomas' Hospital, Westminster to a rally opposite Downing Street on Tuesday night.
The demonstration was organised by the BMA and the London Region National Union of Teachers and was led off by BMA Junior Doctors Committee Chair Johann Malawana and NUT deputy general secretary Kevin Courtney.
As well as BMA and NUT banners and placards there were banners from the PCS, RMT, and Unison. A number of homemade placards said 'Hunt Must Go' and a lively Young Socialists delegation received support as they shouted 'Defend the NHS, TUC get off your knees, call a general strike!'
PCS general secretary Mark Serwotka warned: 'The government are out to smash the BMA.' He won cheers when he told the rally: 'The PCS together with the FBU have written to the TUC general secretary and called on the TUC to organise a national day of action to support the junior doctors. Teachers support the junior doctors, think what will happen if everyone comes out with the doctors. Victory to the BMA, down with Hunt.'
Opening the rally was Labour leader Jeremy Corbyn who said: 'The NHS is under threat from the Health and Social Care Act, from privatisation, from a government that is more interested in attacking the core of the NHS, the junior doctors, rather than supporting the NHS that keeps everyone alive.'
Attacking health secretary Hunt's contract imposition, Corbyn declared: 'Today we are here to defend the NHS, and support the junior doctors'. Shadow Chancellor John McDonnell pledged: 'We are with you 100 per cent. You show us the way. We are going to win this battle through courage and determination. To teachers, if and when they come for you we will be with you as well.'
The Green Party's Caroline Lucas won big cheers when she said: 'Jeremy Hunt must go! Thank you for standing up for public services.'
BMA JDC member Yannis Gourtsoyannis said: 'We have a message not just for Hunt but for Cameron and Osborne. They are the architects of this action. It is their policies of austerity. That is unifying us. We are closer to our trade union allies than we have ever been. If need by we will take this as far as it need to be taken.'
Also addressing the rally, Dr Gavaghan declared: 'We will not be fearful and we will not let them crush us. We will continue to stand up for what we know is right and our NHS.'
NUT deputy general secretary Kevin Courtney said: 'Junior doctors and nurses we stand with you. Solidarity is not just words, we will do everything we can to stand with you.'
Addressing Hunt, he continued: 'If you want a 7-day service you have to fund it, you have to negotiate. I thank you doctors for defending the NHS. The same way they are treating you, they are treating teachers and education.'
He added: 'This academies programme is privatisation. It's money taken from children's education and attacks on teachers national terms and conditions. When you fight for your terms and conditions you are fighting for the NHS. When we fight for our pay and conditions we are defending education. We are balloting for strike action.'
Jenny Leon from the nurses 'Bursary or Bust' campaign, said: 'We are all behind you, the teachers are behind you, the RMT Southern Rail workers who took strike action today are behind you. You must not stop striking. We must strike together, together we will win.'
BMA JDC chair Johann Malawana said: 'I was born in a country where I saw how vital a health service is. We have to make sure that the people who provide care are not undermined or attacked. Consultants spent time in A&Es today because they support their junior doctors. You cannot push us to where we cannot have care and job safety – that is wrong and unfair.
'They talk about weekend deaths, Cameron wants to spread the deaths more evenly through the week. We care about an NHS that is truly valuable. If you attack us, if you undermine us we will fight back. 98 per cent voted for industrial action, 80 per cent of doctors took to the streets, the rest were on holiday or off sick.
'The government does not value their front line staff. Enough is enough, we need to keep fighting. We will continue. The government does not seem to understand, the problem is not with us, it lies with them.'
News Line spoke to junior doctors and teachers on the march. Anoop Shah, a junior doctor at UCH, said: 'I'm here to fight for the NHS. This junior doctors battle is one of the battles to save the NHS. The new contract will demoralise junior doctors and drive them out.
'Many hospitals are already short-staffed and this will make the situation worse. We need other unions to take action. It needs a united front in support of a well-funded public NHS and to withdraw privatisation.'
Paediatric cardiologist Hannah Revell said: 'The contract that is being imposed on us is both unfair and unsafe. It puts patients at risk. It's important to have solidarity across all public sector workers. It is us at the moment they are coming after but it will be everyone else next. We would like other unions to strike in support of us. I've come out in support of other public sector workers, I'd like to see that support for us.'
Ash Vas a junior doctor at St Thomas' Hospital, added: 'It's unfortunate it's come to an all-out strike. We've tried everything else but the government refuses to listen, so we have no choice. The main goal of this fight is to ensure the future of the NHS and maintain patient safety. I'd be prepared with others to either do an indefinite walkout or mass resignation. We would appreciate the support of other unions.'
Ayush K, a fellow St Thomas' junior doctor, said: 'We have to strike because this is the only way we feel anyone might listen to us. This is not about pay, it's more about working safely in a healthy and stimulating environment. We feel the incoming contract with its imposed changes will compromise safety of the care we are able to give. And no doctor wishes to be in that situation, that's why we are so keen to get our voices heard. With the unions, it would be good to have a cooperative approach.'
West Middlesex Hospital junior doctor Sonia Abib said: 'We're here to show our frustration and disappointment at the government's refusal to take our concerns seriously. We are angry at Jeremy Hunt misleading the public and overstretching a very demoralised workforce. We would welcome other unions taking action in our support.'
St George's Hospital, Tooting, BMA member Abdullah Bashik said: 'I'm joining all my junior doctor colleagues in solidarity to oppose the imposition and fight for the survival of the NHS and fight privatisation. We support the involvement of other unions within the public sector. The TUC should negotiate with all the unions to see what the next step will be to oppose this unfair contract and save the NHS.'
PCS national organiser Peter Lockhart told News Line: 'We're here with a contingent of the PCS to show solidarity with the junior doctors. Their dispute is our dispute, we represent public sector workers as well. We see support for the NHS as the jewel in the crown of publicly-provided services. If we can't defend the NHS, we can't really defend the rest of the public services.
'Other unions should take action. It comes to a point when enough is enough. It's better if we have all 6.8 million trade union members taking action."
North Middlesex Hospital junior doctor Shruti Nathwani said: 'I feel everyone needs to unite. The contracts are going to destroy the spirit of the NHS, it is not just junior doctors but all the staff. Everybody should strike to defend the NHS.'
Westminster NUT member Derrick Hibbert said: 'Teachers are here for two reasons. First our concern for the NHS. When we need a doctor we don't want someone who is tired and demoralised. Second is trade union solidarity. It's important to realise that if the Tories get away with imposing the contract on junior doctors, they will be coming for other public sector workers next.
'Unions should take strike action in support of the junior doctors and to defend the NHS against Tory attacks. I'd support a general strike.'
Camden NUT member Grant Penny said: 'I'm marching in solidarity with the doctors. I don't agree with the new contract, I don't agree with the cuts and the selling off of the NHS. Equally, I don't agree with the selling off of education and the privatisation of public services. All the public sector unions need to take strike action in solidarity.'
Other speakers at the rally were designer Vivian Westwood, actress Vanessa Redgrave, patient Kiah Hann, Labour MP Liz Mc Innes and journalist Owen Jones