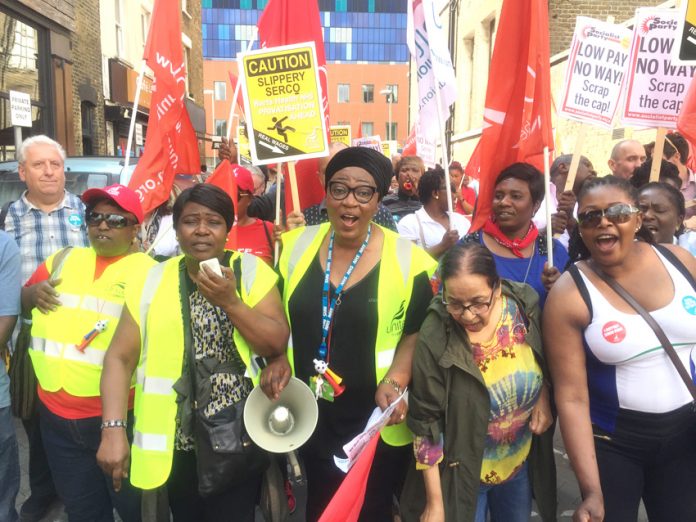 'WE WANT a pay rise!' said over 200 striking Bart's NHS Trust ancillary workers employed by privateer SERCO at the trust's four London hospitals.
The Unite union members marched and rallied at the Royal London Hospital, Whitechapel, east London yesterday lunchtime on the first day of a 48-hour strike to demand a 3% pay rise and defend their pensions.
Unite said this will be followed by a seven-day stoppage starting on Tuesday 11 July and then a 14-day strike starting on 25 July. Further strike action will also be planned for August and September.
Mary, one of the strike leaders, told the rally: 'If we stand as one we can win.
'We are fighting for our rights, for what we deserve.
'We want that 3%. We must unite all workers.
'Don't say I'm just a cleaner, I'm just a porter. Without us there is no hospital.
'We will strike until we win!'
Barts striker Lorenzo said: 'We're sending the message. This is about fair pay, we've had enough.
'No more – we're not going to rest until we get justice.
'We've got to make an example for the rest of the NHS.
'If you can destroy the pay cap here, you can destroy the pay cap across the whole of the NHS.
'We're going to be there to the end. We are going to win that cap is going to be off!'
Unite assistant general secretary Gail Cartmail declared: 'I bring you the support of the whole of Unite the union.
'On behalf of our 1.5 million members – thank you.
'You keep our hospitals moving and you protect our patients from infection.
'Without your work, the NHS won't be able to do its job.
'This strike is about inequality. The person who runs SERCO is on a salery of £1.2m. SERCO made £84m profit.
'This inequality is across London, across the whole of the country, across the whole world.
'That's why we say workers united will never be defeated.
'Thank you for your stand against low pay.'
She concluded by leading the chant: 'What do we want – 3%! When do we want it – Now!'
Unite London Region official Pete Kavanagh told the Bart's strikers: 'Bus workers, dockers, health workers support your struggle.
'The pages of the newspapers are full of Tory confusion about the 1% pay cap.
'The Unite members at SERCO in east London have shown the way.
'We've recruited 600 new members, 28 new elected shop stewards. Now we've the confidence to take on your employer in a full all-out strike.
'I bring you the support of the British Airways workers who are also striking against low pay. Also support from the Bank of England workers who are taking strike action on 31 July.
'Len McCluskey your general secretary has decided to increase your strike pay to £50 a day.'
Whipps Cross Hospital Unite branch secretary Len Hockey told the rally: 'This is a magnificent demonstration.
'At 5am this morning, workers came off the night shift and took their place on the picket line.
'We've seen a 13% reduction in our pay. We're only asking 3%. The SERCO boss got a bonus of £1.2m.
'Theresa May's pay cap doesn't fit any more.
'We will be fighting all the pay cuts. I call on everyone to join the demonstration on July 15 through London to Bart's Hospital.
'Everyone deserves a pay rise, we will fight for success.'