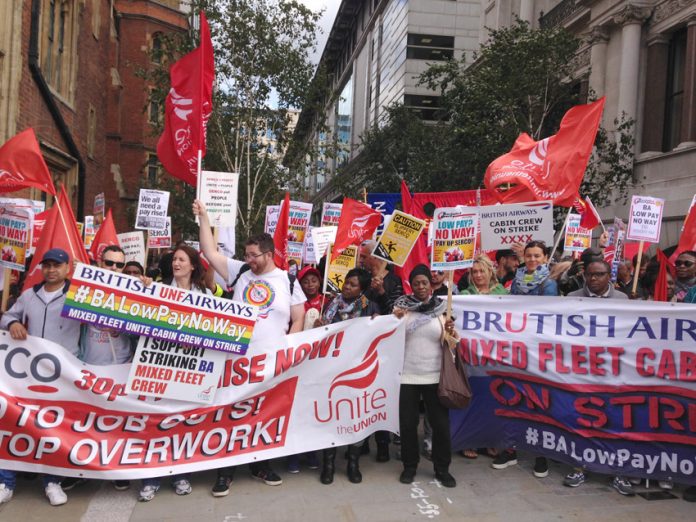 THREE sets of strikers fighting low pay came together at the Bank of England yesterday lunchtime.
The morning began at 8am outside JP Morgan new Blackfriars, where auxiliary workers employed by Serco at four Bart's Health NHS Trust hospitals lobbied the Serco shareholders meeting there. The Serco strikers were joined by BA mixed fleet strikers.
Unite shop steward at the Royal London Hospital, Millicent Manso told the crowd: 'We are going to win. We are fighting low pay for all of us. The way they are treating us is wrong. We are fighting for a 30p an hour pay rise. We cannot afford to live.'
BA striker Zimeon Jones told the crowd: 'Today is our 57th day of strike action. We are asking for a fair pay increase from a company that makes millions of pounds. We are going to fight all of these big companies. We are going to fight against the Conservatives.'
Addressing the Serco strikers he continued: 'Your fight is about privatisation, we are fighting a private company whose directors have had an 18% pay rise. Our members would have to work for ten years to earn the money that they get for just two hours. We are now in a low pay emergency. This is an emergency and this we will resolve together.'
Following the lobby of the Serco shareholders meeting, the BA and Serco strikers marched to the Civil Aviation Authority (CAA) in Holborn Kingsway. The chair of Unite Mixed Fleet branch Gareth Theobald handed a letter in. He spoke to Mick Stevenson a CAA executive. Theobald told the assembled strikers outside: 'I spoke to Mick Stevenson, it was a good natured conversation. I explained that workers did not want to have to be on strike. I called on the CAA to stop exploiting a loop hole to allow Qatar Airways to fly for BA while we are taking our action.'
The BA and Serco Strikers went on to join Unite members on strike at the Bank of England. Unite regional officer for the Bank of England Mercedes Sanchez told News Line: 'The strike is going very well. We have had a lot of support from the public and international media as well.
'The bank are using agency staff to control the entrances of rooms inside. We have been informed that people are not trained at the level of our security members. They have also been using Human Resources personnel and managers. They are spending money on this, but not on giving their workers a pay rise.
'Talks at ACAS failed on Monday. We will be taking more action across other areas of the Bank. The pay rise is for everyone and people are determined to win.'