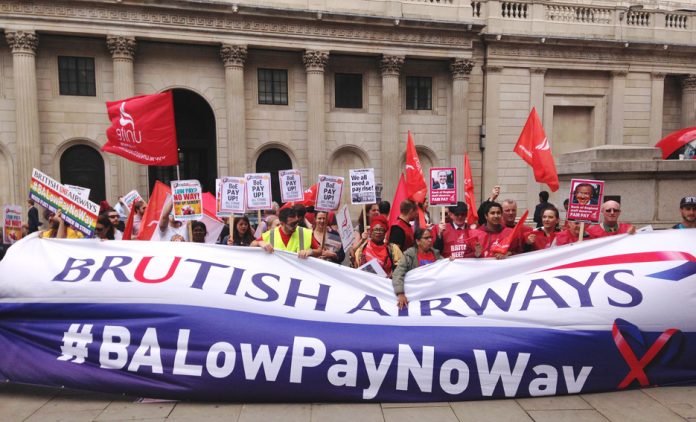 'WE are not quitting until we are winning! We will keep on striking until we win,' Unite member and Serco worker Yomi Sogbesan told News Line on the picket line outside Whipps Cross Hospital yesterday on day 11 of their two-week strike.
Waltham Forest Council Unite branch came down to support the strike and present the Serco workers with a strike fund cheque for £200. Sogbesan continued: 'We do not care about the money we are losing through coming out on strike. It is hard but we have to do what we have to do. It is important for strikes to come together, that is what we need.
'The Bank of England staff, the BA cabin crew, Serco workers, we are all in the same struggle. Everybody is feeling the pain. We don't want a 1% pay rise. That is not a pay rise. What are we going to do with 1%? We don't want it. We have been here for three weeks now. It is not just about the money, it is about the conditions of work. They are making us work harder, they are overworking us. We need to be employed directly by the NHS.'
On Thursday, 3 August striking hospital workers, cabin crew and Bank of England staff came together for a series of protests in London to highlight their fight for better pay. The Unite members from Bart's Health NHS Trust, British Airways mixed fleet and the Bank of England, who are all separately taking industrial action, came together under the banner of 'London United'.
The protests started at 8am outside JP Morgan, near Blackfriars station, where Serco was presenting its half-year results to investors. Unite members employed by Serco as domestic staff, porters and security workers at Bart's Health NHS Trust are battling for a 30 pence an hour increase. The workers are currently taking part in a 14-day strike that started on 25 July. It follows an earlier 48-hour stoppage and seven-day walkout in July.
Serco strikers were joined by BA mixed fleet strikers for a lively protest lobby outside JP Morgan.
Royal London Hospital cleaner and Unite member Florence Kwao told News Line: 'We're lobbying the Serco shareholders' meeting. We need a pay increase. We've been striking almost one month but Serco are not listening.
'Unison should join the strike. They need to support us because what we are doing is for all of us.'
Unite organiser William Howard said: 'There should be a national demonstration against low pay and against NHS privatisation. There should be a joint union effort, potentially strike action, against privatisation and to bring down the Tory government.'
Ward host at Royal London and Unite member Sara Gyasi said: 'The strike is OK but Serco aren't listening. Everybody should come out on strike – all the unions.'
Unite member Martine Yosawaokay added: 'Serco are not listening but we have to make them listen. There should be a national demonstration against low pay because we are the only ones fighting. Unison should come out on strike as well. Everybody needs a pay rise. All the unions should take action because if we win everyone else will benefit too. We are fighting for everyone, not just us.'
Mixed fleet striker Ben said: 'At the moment we've just announced another 14 days of strikes.
'We're going to be striking until 30 August, now. BA have offered our staff travel back. By striking we've lost over £1,200 on bonuses which they aren't willing to give us back. And they still continue to "wet lease" Qatar aircraft and crews. Rather than give us a pay rise, they are paying other companies to do our flying. BA's half-year profits are £633m. For 2016 they were £487m. Our salaries are still £12,192. BA are making an example of our union.'
Unite regional officer Lindsey Oliver told News Line: 'The mixed fleet strike is going very well. The members are extremely strong. It's a great show of solidarity today, along with other low pay campaigners. We've just announced another two-week strike which will take us to the end of August. There's been no movement from the company whatsoever.
'We've been trying to get them around the table but they haven't taken up our offer. We will not cancel strike dates to go to ACAS as talks there are not fruitful. BA say they won't talk unless we call the strikes off. We are at a stalemate and members want this dispute resolved.'
One of the BA strikers, Anna, said: 'We are struggling to make ends meet month after month.
'We are surviving on overdrafts and credit cards. We are determined to get what we deserve – a living wage and not poverty pay. We've come so far and we're continuing to grow.'
Strikers and their supporters moved on to the Civil Aviation Authority (CAA) in Kingsway, Holborn, for a protest at 11am over the approval for British Airways to 'wet lease' nine Qatar Airways' aircraft to cover striking cabin crew on British Airways' mixed fleet.
Unite argues that the approval breaks regulations covering the wet leasing of aircraft. Unite BA mixed fleet chair Gareth Theobald took a letter into the CAA where he had talks with CAA executive member Mick Stevenson who came out and shook hands with Theobald in front of the lively protest.
After the CAA man went back inside, the Unite officer said: 'We had a good natured conversation. I told him they should stop exploiting a loophole that allows the CAA to let Qatar Airways fly for BA while we are taking our action.'
The protests concluded at 12.30pm with a gathering outside the Bank of England, where workers were striking for the first time in 50 years. Their dispute centres on the imposition of a derisory below-inflation pay offer and the refusal of management to engage in meaningful negotiations with Unite over the pay deal for the second year running.
Yesterday, saw the final day of a three-day strike by workers in maintenance, parlours and security departments. Unite regional officer for the Bank of England Mercedes Sanchez told News Line: 'We've had a lot of support from the public and also international media. The Bank are using agency staff to control the entrances and the rooms inside.
'We have been informed that the people are not trained at the level of our security members.
'The Bank has also been using HR personnel and managers. They are spending money on this but not on giving their workers a pay rise. Talks at ACAS failed on Monday. We will be taking more action across other areas of the Bank. The pay rise is for everyone and we are determined to win.'